Most babies use an estimated 3000 disposable diapers in just their first year. And no surprise, there are many designs out there! 
From the easy-to-wear all-in-one baby diapers to pull-up styles for potty training, as well as extra-absorbent disposable designs, there's something for everyone. On top of that, there are over 28 well-known brands on the market.
While this may sound great, it also means it can be a challenge for new moms and dads to navigate the various options. An unfortunate result is that parents are carting home more toxic diapers than ever. Responding to this, manufacturers have started rolling out non-toxic branded makes, catering to the growing shift towards sustainable diapers. 
For retailers aiming to target this segment, this guide offers an overview of the diaper market, as well as easy to follow steps to ensure you're supplying the best baby diapers available in 2023! 
Table of Contents
Market overview for baby diapers
Your guide to selecting safe baby diapers
Conclusion
Market overview for baby diapers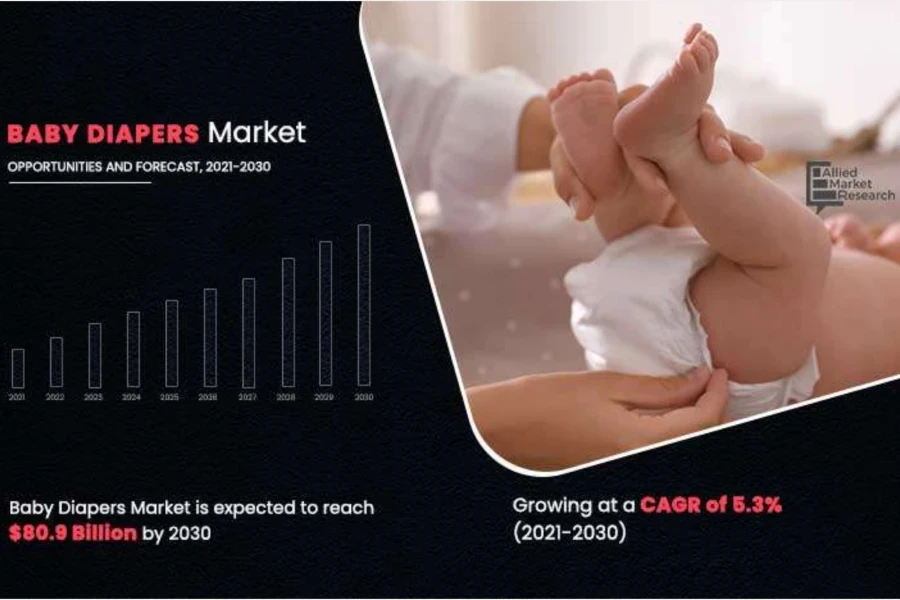 Five years from now, the baby diaper market size will reach a projected US$ 59.10 billion, after crossing US$ 47.58 billion in 2023. With a 4.43% compound annual growth rate (CAGR), it will continue to maintain its position as one of the fastest-growing markets in the industry. However, further studies point out that disposable baby diapers own the largest share of this growth. Disposable diapers are generally safer and they are comfy for babies. They are also convenient and super-easy to use for end users, who are mostly busy working moms.
Disposable diapers are commonly biodegradable diapers, a category with a market size of  US$ 775.107 million in 2021. And with the growing awareness of environmental concerns among adults, especially parents, this market has a 2028 projection of US$ 1,566.112 million. However, it's not just eco-friendliness, but the safety of the diapers that matters the most to moms. Unfortunately, it has been discovered that some disposable diapers contain dioxins, organotins, superabsorbent polymers, and other toxins. These chemicals not only cause rashes but are also the cause of latent diseases such as cancer. That's why offering safe baby diapers is essential for retailers aiming to appeal to health conscious moms and dads globally.
Your guide to selecting safe baby diapers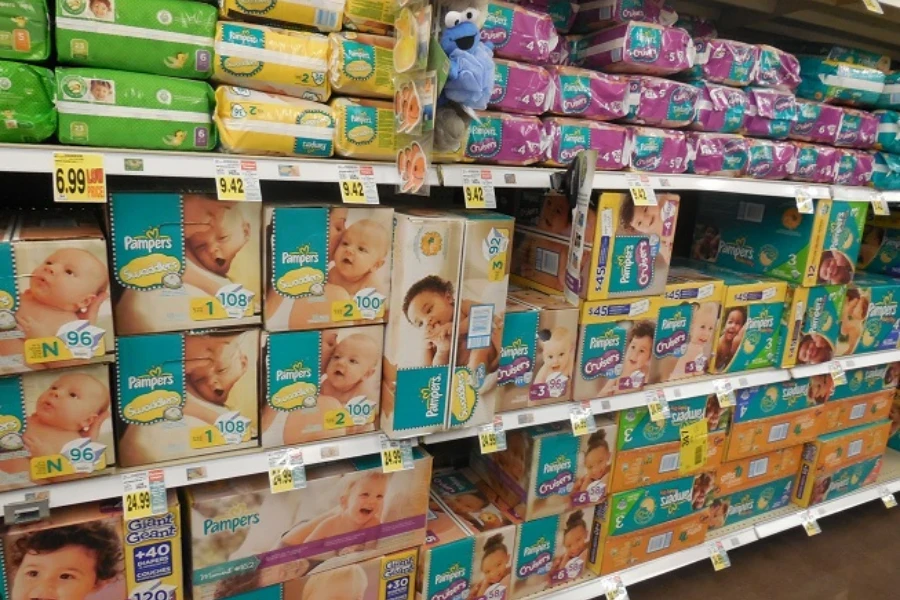 The following steps will ensure that you select high quality diapers that don't compromise on safety:
Perform brand research
Do this before you start browsing lines of allegedly chemical-free diapers online. Make a long list of available brands. Research each of them and cross out those that do not meet the following criteria:
Well-established
Good reputation
Quality customer service
Great return policy
Transparency
Check for safety certification and endorsement
By now, you have a shortlist of potentially reliable brands. The next step will give you your first eye-opener into the product's safety. This time around, keep an eye out for brands with dermatology endorsements and safety certificates from trusted organizations. Brands with certificates such as Global Organic Textile Standard (GOTS), B Corp certification, and Oeko-Tex Standard 100 are your best bet.
Examine the disposable diapers' absorbent material
Among others, diapers with superabsorbent polymer (SAP) have the highest absorbent capacity, they offer the best leakage protection and prevent rashes in babies. The SAP is that gel-like thing that comes out of wet used disposable diapers. However, it is a potential agent for skin irritation. It contains residual impurities that can also cause urinary infections in baby girls. Even in a new diaper, the SAP powder can cause nasal or eye irritation. This is usually only the case for the SAPs made with synthetic petroleum-based sodium polyacrylate, however. Some generous manufacturers have adopted bio-based superabsorbents. This sustainable alternative is common in nontoxic newborn diapers and nontoxic overnight diapers. To be sure, look out for "Bio-based superabsorbents" claims on the packaging before adding a diaper to your store.
Examine the cloth diapers' absorbent material
Are cloth diapers safe? Well, it depends. The absorbent material in a cloth diaper can be either minky, zorb, hemp, cotton, microfiber, or bamboo fleece which, though a synthetic material, keeps babies comfortable even when wet. Cotton, on the other hand, is natural and affordable but not as absorbent as bamboo fleece. Microfiber is also synthetic but absorbs liquid better and is fast-drying. Minky is just like microfiber. However, it doesn't feel rough or spongy to the skin. It is not bulky and is easier to clean. Hemp-made absorbers are super-durable and highly absorbent. Finally, a zorb is a two to three-layer of cotton, bamboo, microfiber, or viscose. It is claimed to possess 20× the absorbent capacity of cotton.
Check the chemical composition
Whether shopping for nontoxic cloth diapers or disposable ones, it's important to opt for those without irritants and allergens. Ensure your brand of choice doesn't use parabens, phthalates, bisphenols, dioxins, adhesives, fragrances, dyes, organotins, and skin-conditioning agents. Also, avoid brands that use chlorine-based techniques. Nonplastic diapers are also a great choice. Finally, check that the brand you're going for has tested its product for contaminants and harmful ingredients.
Conclusion
In conclusion, choosing safe baby diapers is of paramount importance for the well-being and comfort of our little ones. As an online retailer, you have a responsibility to provide parents and caregivers with reliable and trustworthy products. By following the guidelines outlined in this guide, you can confidently select safe baby diapers for your online store.
Was this article helpful?