The popularity of ball pits among children shouldn't be understated. Ball pits for kids are the perfect addition to any indoor recreational space, whether that be indoor playgrounds or within a restaurant, and they create hours of fun for children of all ages in a safe environment.
The number of ball pits available in today's market shows that there is a higher demand than ever before for them and they can be built in different sizes and designed with different themes to suit the needs of the consumer.
Keep reading to learn more about the top ball pits for kids in 2023!
Table of Contents
Global market value of indoor playground equipment
Top selling ball pits for kids in 2023
Conclusion
Global market value of indoor playground equipment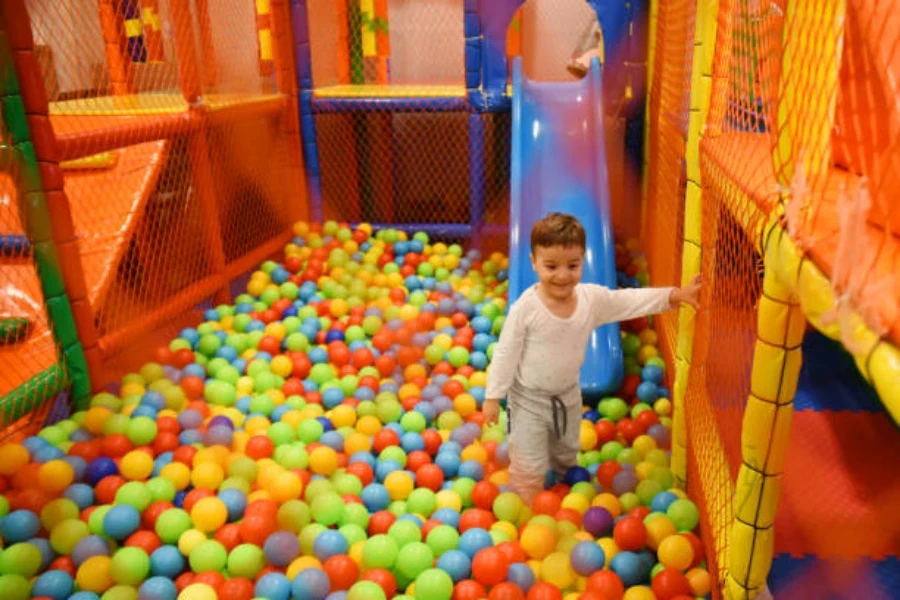 The entertainment industry is seeing a large increase in growth which is partly down to the indoor playground industry. As more families look for a safe and entertaining way for their children to play indoors the demand for indoor playground equipment has begun to steadily increase in recent years. This type of equipment covers ball pits, indoor slides, climbing walls, and larger indoor playgrounds, also referred to as jungle gyms.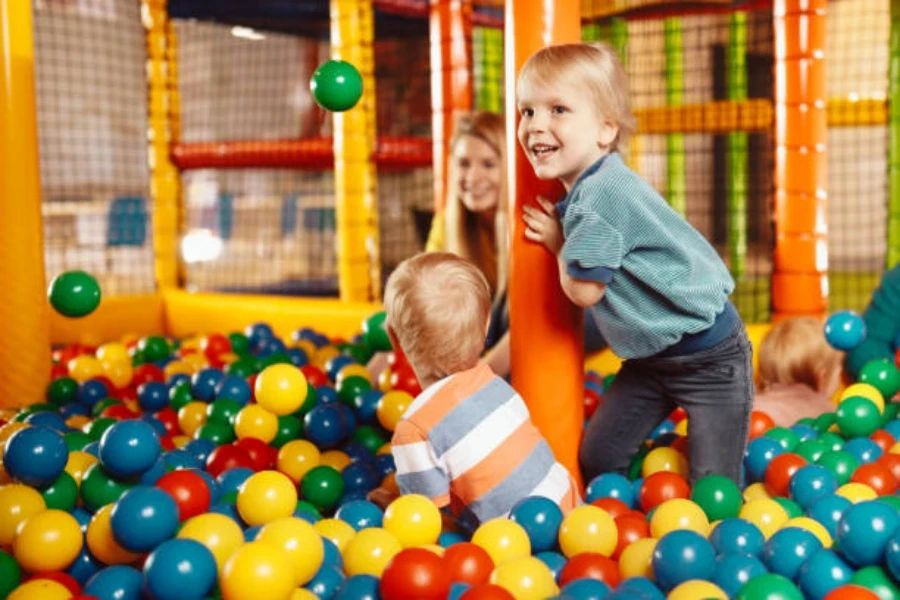 Between 2021 and 2028 the global market value of the family entertainment center is expected to increase by a compound annual growth rate (CAGR) of at least 9.79% which would bring its value to USD 42.64 billion. Of this number, the value of global playground equipment is set to reach USD 7.99 billion by 2026, which is a steady CAGR of 10% from 2019.
Top selling ball pits for kids in 2023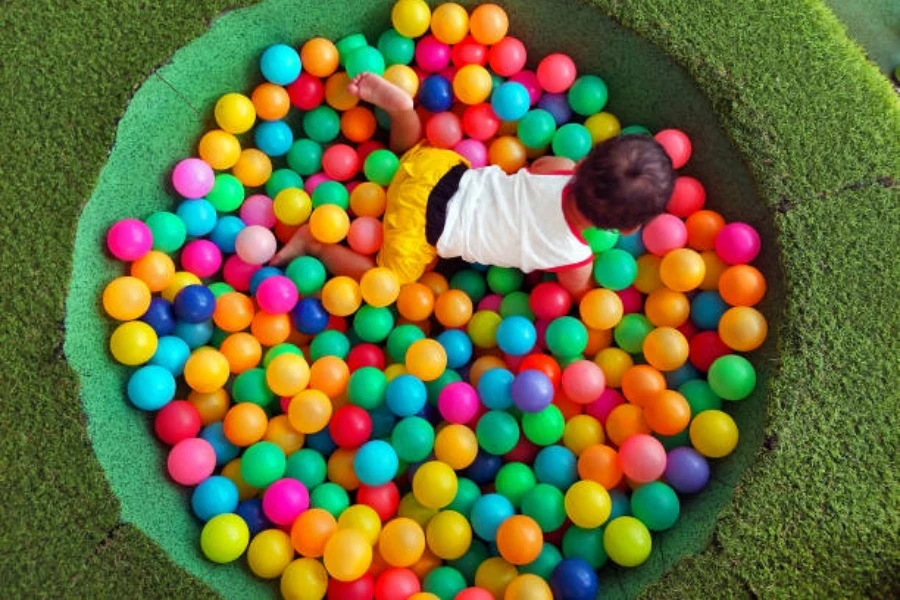 Ball pits for kids once offered a fairly straightforward playing experience for all ages and most ball pits were similar to one another. The explosion in popularity of indoor playground equipment has sparked a change in how ball pits are designed however, meaning there are now several different types of ball pits for kids on the market to choose from. Not all are designed for every space so consumers will be looking at their key features before making a purchase.
Looking at the data provided by Google Ads, "ball pits" has an average monthly search volume of 135000 with the highest number of searches coming in November, December, and August at 165000 searches. Between March and September the search volume has remained the same at a steady 135000 searches.
The ball pit with the highest average monthly search result is the "inflatable ball pit" at 3600 searches. This is followed by "indoor ball pit" at 1900 searches, "ball pit playground" and "soft ball pit" at 1300 searches, "colorful ball pit" at 390 searches, and "ball pit obstacle course", "personalized ball pit", and "glow in the dark ball pit" at 70 searches each. This indicates that consumers are looking for safe and kid-friendly ball pits above other types.
Colorful ball pit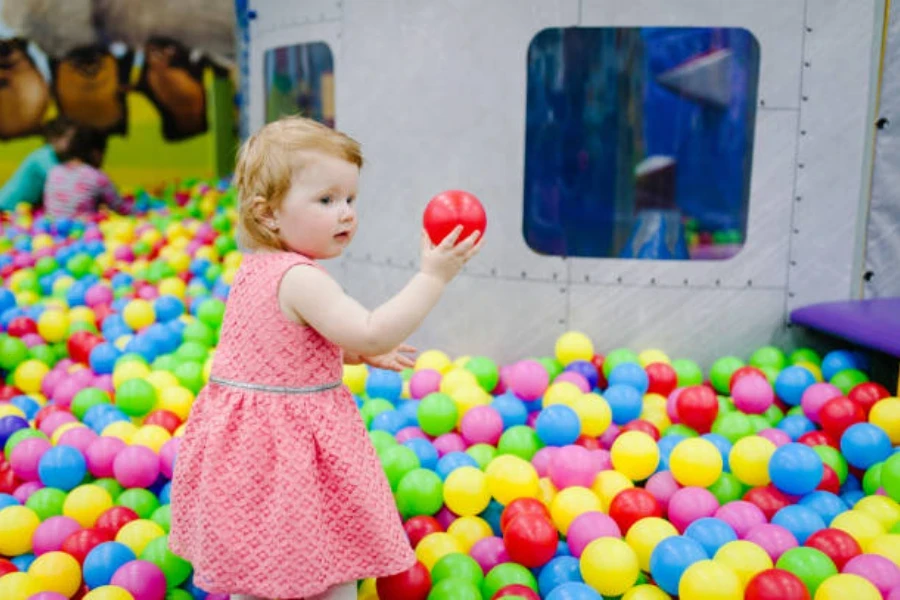 One of the most popular types of ball pit on the market is the colorful ball pit. These ball pits bring children's imagination to life with their unique designs that often reflect certain themes such as being underwater, climbing through a jungle, or even exploring new universes. The balls used will reflect the theme of the pit as well and in some instances consumers can add a variety of unique shaped balls to the ball pit such as animals or stars. 
To really get children engaging with the colorful ball pit it's also important to have an equally eye-catching entrance to add to the excitement as well as interactive props or even lighting effects to enhance their sensory experience. By having an appropriately themed ball pit for children to play in it will entice them to come back time and time again while at the same time helping to develop their skills and creativity.
The term "colorful ball pit" is most searched for in March at 590 and least searched for in January at 320. Over the last six months, between March and September 2023, the search volume has dropped 22% but is expected to level off over the next several months.
Indoor ball pit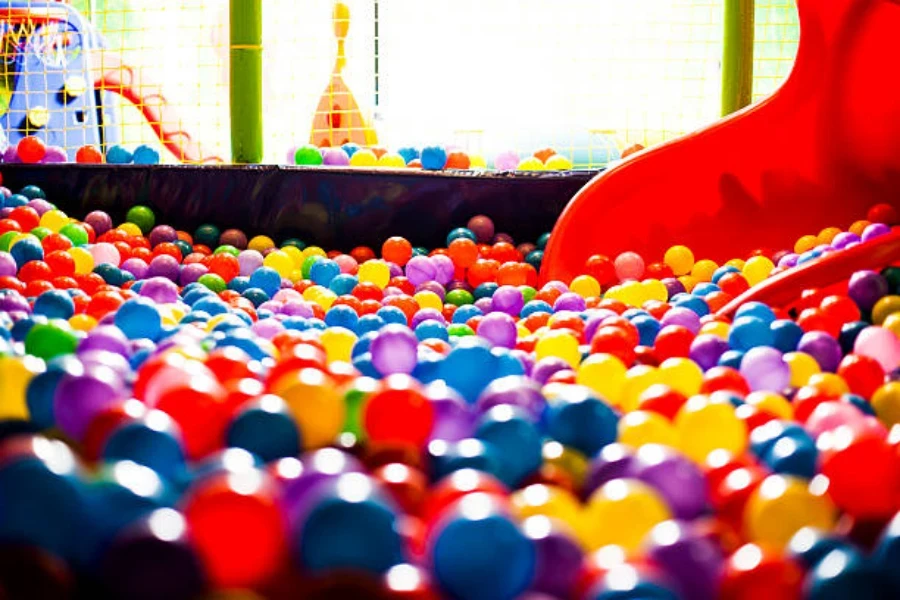 The classic indoor ball pit has never really gone out of style and is the basis from which other ball pits have been designed. This type of ball pit for kids is designed with a shallow enclosed pool or pit that's safe enough for kids to jump into but not too deep that they struggle to get out. The pit is then filled with colorful plastic balls that are soft and lightweight making them easy for children of all ages to use. The balls act as a cushion to soften the impact from kids jumping into the pit.
The classic indoor ball pit helps to spark imagination, social interaction, and a safe play space for kids. The size can vary depending on the space where it will sit, so children can enjoy ball pits at home or play in large sized ones in an indoor play space. Big enough ball pits can even have slides going into them to add a special element of fun to the experience too.
Consumers are searching "indoor ball pit" most frequently in December with 2900 searches on average being recorded by Google Ads. Between March and September 2023 there has been an 18% drop in monthly searches but that number is expected to increase around the holiday season and in January 2024.
Ball pit obstacle course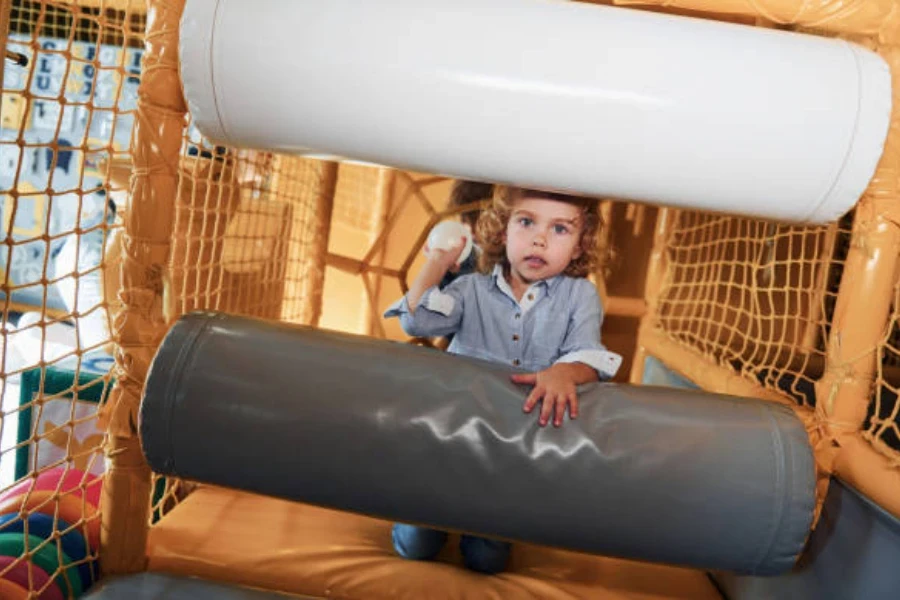 A fun version of the classic ball pit is the obstacle course ball pit. As the name suggests children will be challenged physically and mentally through a series of obstacles that could include tunnels, slides, ropes, and balance beams. This is a very interactive version of the ball pit and may not be suitable for all age groups depending on the difficulty. The obstacle course ball pit is predominantly inflatable for safety reasons and can have a theme to it as well to make children feel like they're climbing through the jungle or are in outer space.
According to Google Ads, "ball pit obstacle course" is searched for the most in September and December. In the past 6 months, between March and September 2023, the average monthly search volume has increased by 22%.
Soft ball pit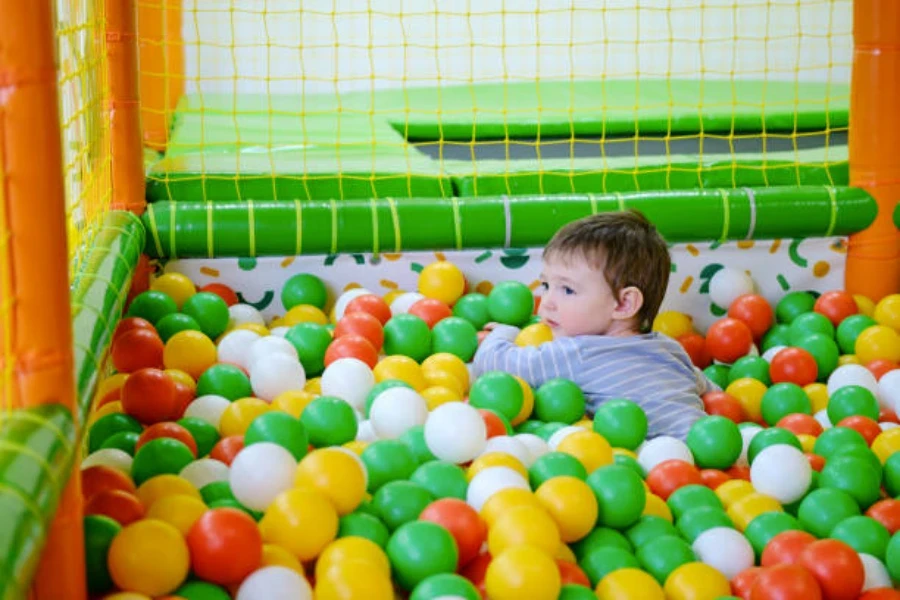 Safety is key when it comes to children's playground equipment and although ball pits are soft to jump into there are several factors that need to be considered in order to make the pit itself safe for kids of all ages. The safety ball pit will have soft edges that are usually padded to minimize the chance of injury and it will have a secure base as well. The materials used in the construction of the ball pit need to be made of a non-toxic material since children will be coming into close contact with the elements of the pit (and most likely chewing on them). 
The safety carries over to the balls that need to be of a high enough quality that they don't break easily and cause choking. Regular maintenance is key with ball pits too so consumers will be looking for easy to clean ball pits that offer good ventilation.
According to Google Ads, "soft ball pit" is most commonly searched for in the month of December with 2400 searches. Between March and September 2023 the search volume has had a 0% increase, remaining steady at 1300 searches on average.
Inflatable ball pit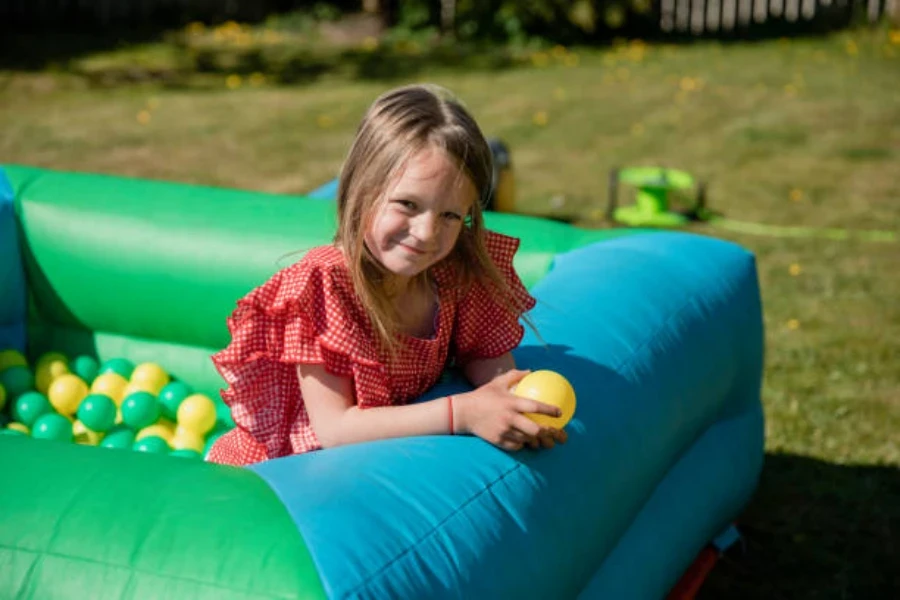 Not all ball pits are made to be stationary which is why the inflatable ball pit is a very popular choice among consumers. The portability of this ball pit for kids means that it can be temporarily placed in areas for events and parties, offering a quick setup and an attractive design that will help to draw in children to use it. There are different sizes and styles available with the inflatable ball pit and the high quality vinyl or PVC materials makes it extra durable as well as easy to clean before being put away into storage. 
Google Ads shows that "inflatable ball pit" is the most searched for in December with 5400 searches. In the past 6 months, between March and September 2023, there has been a 0% increase in searches, which have remained steady at 3600.
Ball pit playground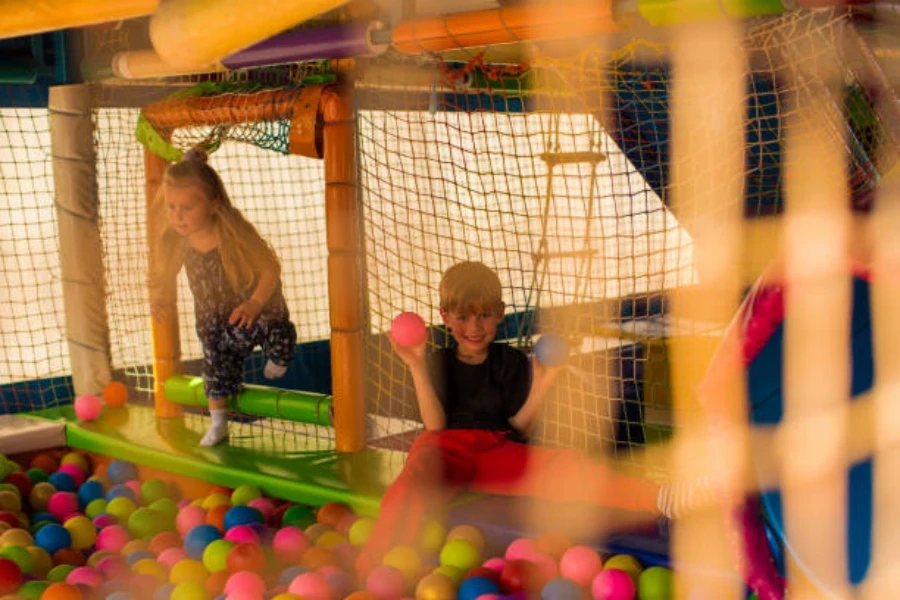 Interactive ball pits are a popular alternative to regular ball pits and are often found as part of an indoor playground. These ball pits will often have extra sensory elements added to them which will help to encourage play and exploration among children. These elements could include, but aren't limited to, LED lighting effects either within the ball pit itself or around it, balls of different shapes or textures, unique sound effects to match the theme of the ball pit, pressure sensitive pads that are triggered by movements, and interactive props around the ball pit to encourage experimentation, imagination, and education.
The interactive ball pit won't typically be found inside a home but it's quite common to find them in large indoor play centers where parents need to pay for their children to experience this type of modern playground equipment.
The term "ball pit playground" is the most searched for in the month of August with 2400 average monthly searches. Over the past 6 months, between March and September 2023, the average monthly search volume has increased by 15%.
Glow in the dark ball pit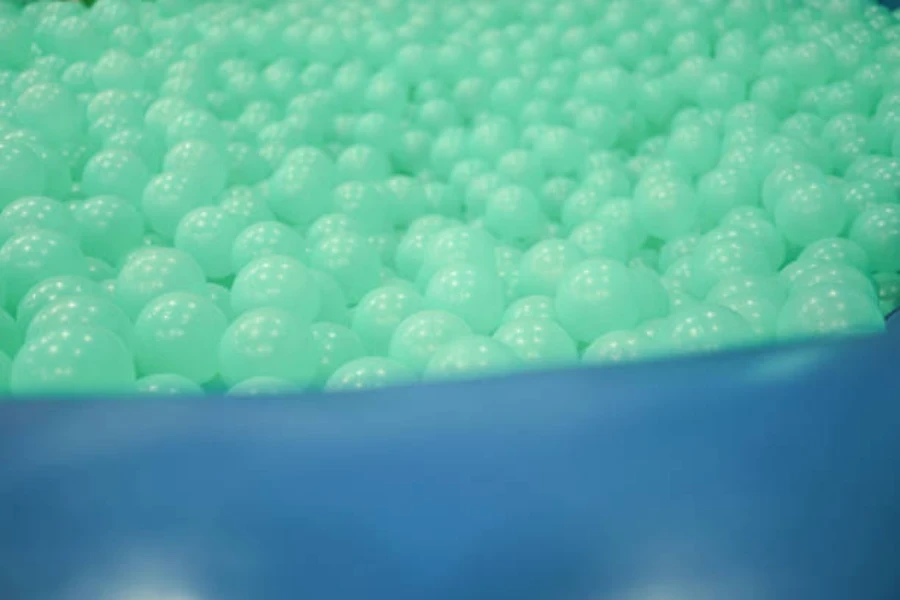 For a unique playing experience some indoor play centers have turned to glow in the dark ball pits which are found in a darkened environment that allows the balls to shine brightly. The pit itself won't be glowing but the balls will! It's important to make sure that the balls are non-toxic since they'll come into close contact with the children. The glowing balls help to make the ball pit more visually appealing and create a new sense of wonder too.
Both April and May see the highest number of average monthly searches according to Google Ads, with 210 searches being recorded. Between March and September 2023 the number of average monthly searches remained steady.
Conclusion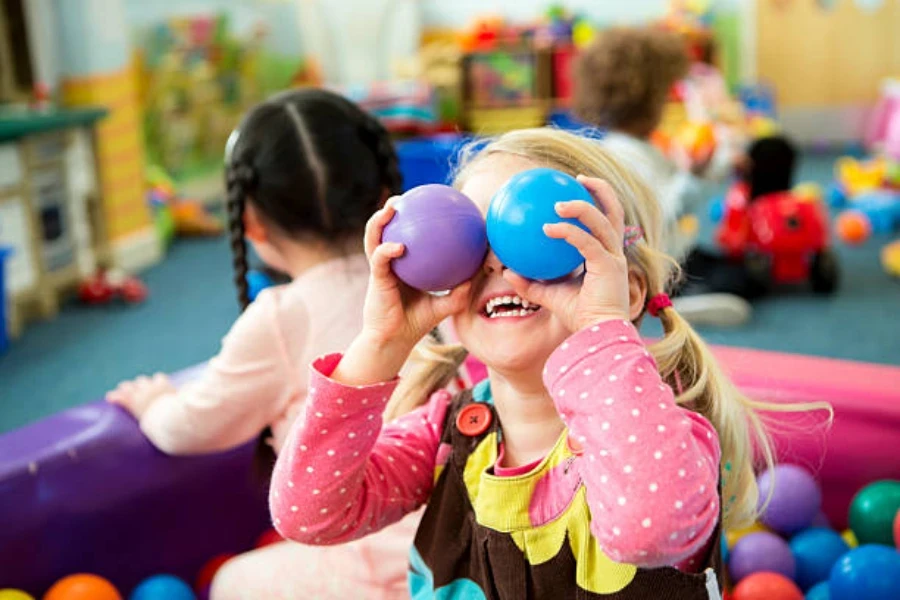 Ball pits are popular worldwide with children of all ages. They're not only fun for kids to play in but in some cases they can be educational and help to stimulate imagination. Ball pits can be found outside but the majority of them will be found in indoor spaces such as restaurants, shopping centers, museums, amusement parks, and play centers.
The rise in popularity of families participating in indoor activities has led to an increase in sales of indoor playground equipment such as ball pits. The market is expecting more interactive versions of ball pits to emerge in keeping with modern times.
Was this article helpful?