The entrance is the first area people see upon entering a home or building. An entryway table for the foyer helps give guests a lasting first impression by setting the tone for the rest of the space. These are the most popular entry console table trends customers may be looking for to liven up their entryway. 
Table of Contents
The entryway furniture market
Top entryway table trends
Rising demand for entry tables
The entryway furniture market
The entryway furniture market consists of any type of furniture that is placed in the entrance or foyer of a building or home. Entry furniture is designed to provide a welcoming, functional, and organized space at the entrance.
Globally, the entryway furniture market was valued at USD 4.4 billion in 2022. With a compound annual growth rate (CAGR) of 4.5%, the market is expected to expand to a value of USD 5.6 billion in 2031.
One of the key factors driving market growth is an increasing focus on aesthetically pleasing and functional entryways in both residential and commercial spaces. There is an especially growing demand in the business industry due to a need for high quality and trendy commercial furniture. 
Additionally, the rise of urban living and smaller apartments necessitates the growth of multi-functional, space-saving furniture to maximize usability in compact entryways. This need can be fulfilled by entryway tables, which are long and narrow tables designed to offer surface area for decorative or functional purposes.
Top entryway table trends
Narrow entrance tables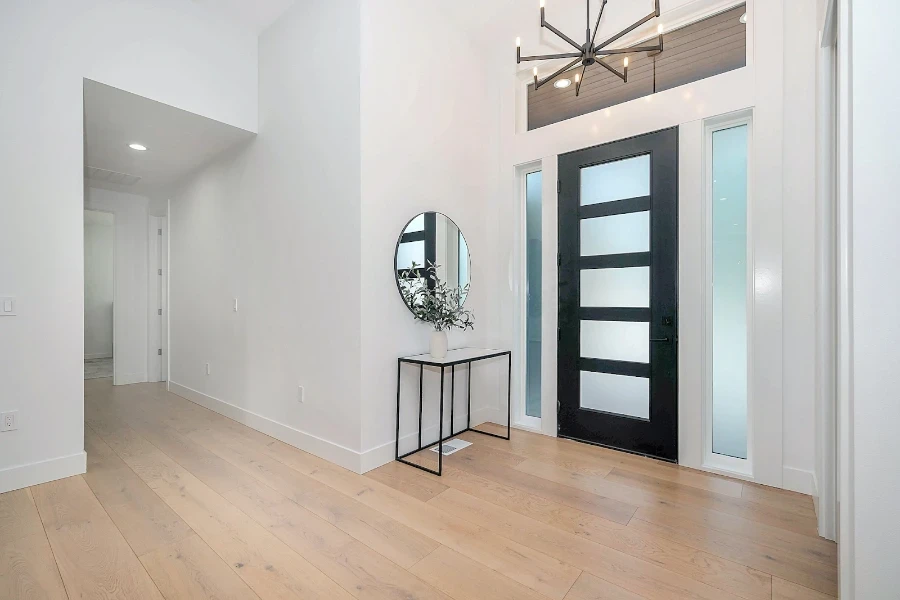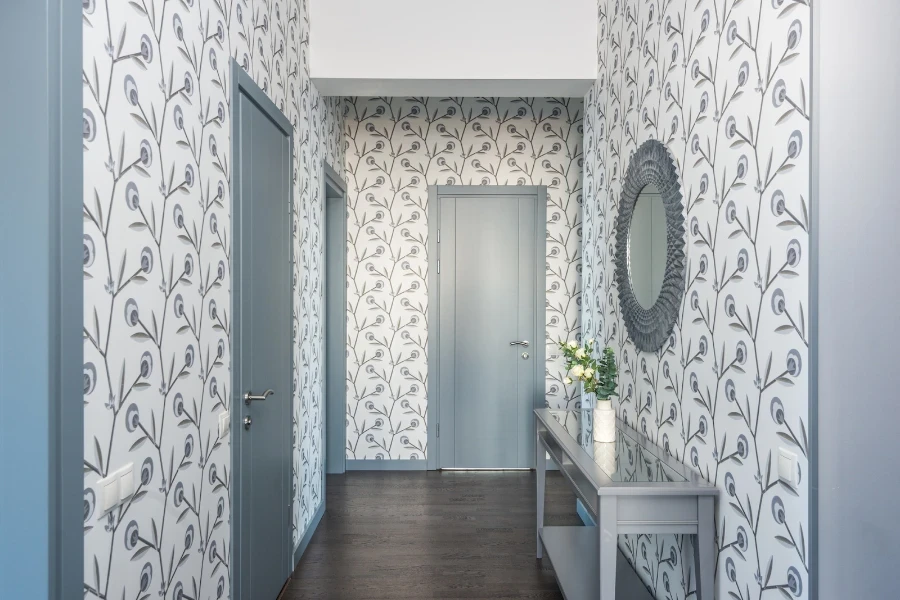 With rising urbanization becoming a trend, many people are living in smaller homes and apartments. As a result, entryway tables that can fit into smaller spaces are becoming paramount. Long and narrow entrance tables offer lean and streamlined designs that make them a proper fit for entry hallways that require compact furniture.
A narrow hallway table is frequently constructed with a tempered glass or marble tabletop set into an iron frame finished in black, bronze, gold, or silver. These narrow console tables are ideal for customers seeking a combination of sleek design and durability. Thanks to the minimalist design, the open space underneath a narrow hallway console table can also be used as storage space for larger items like baskets, bins, boot trays, or ottomans.
Curved entryway tables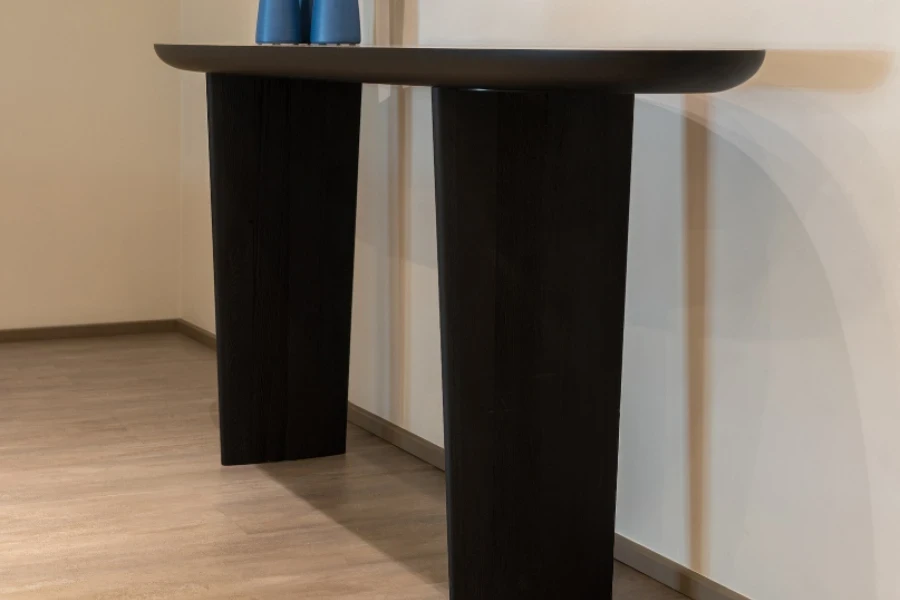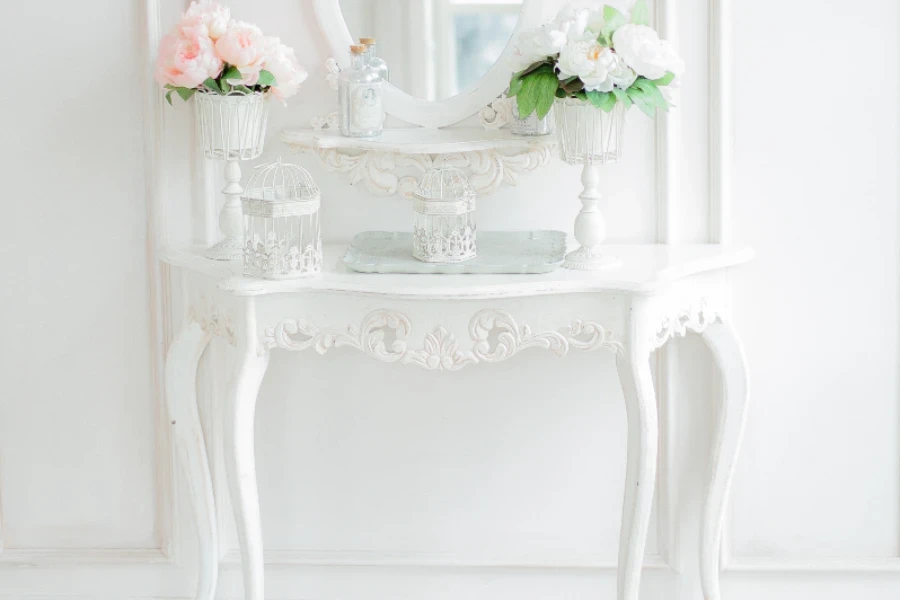 Curved furniture is making a big return this year. The trend is inspired by the 1970s embrace of soft and sculptural interior design. When it comes to entry furniture, curved console tables are having their moment as unique pieces that can double as works of art in a front entry.
An oval-shaped entryway table offers an unexpected take on the traditional rectangular console table while still boasting the same amount of storage space. Half-moon console tables also fit seamlessly against a wall, making them perfect for smaller spaces or hallways.
For modern spaces, a curved entrance console table in the shape of a C will serve as a stunning showstopper. A curved design can even be incorporated into the bottom half of the foyer table using a C-shaped base or round and chunky '80s-inspired cylindrical legs. 
Waterfall console tables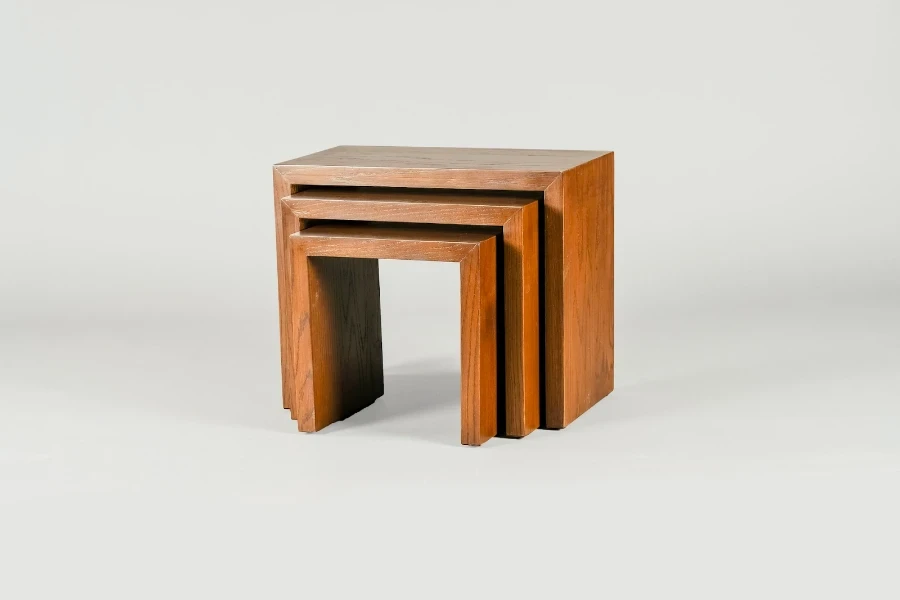 For a unique and eye-catching statement in the main entrance of a building, the waterfall console table is a striking trend. A waterfall console table features edges that form a continuous line from the horizontal to the vertical, emulating the appearance of a waterfall. 
As customers place greater importance on interior design, there is an increasing emphasis on displaying home décor in all areas of the house or building. Waterfall entryway tables are ideal backdrops for tabletop art and décor due to their clean and futuristic design. 
Transparent materials like acrylic or glass can also be used to emphasize the minimalist and unusual shape of a waterfall console table. Glass or clear acrylic waterfall tables even come with the added convenience of arriving fully assembled as one piece for easy set-up. 
Multi-functional tables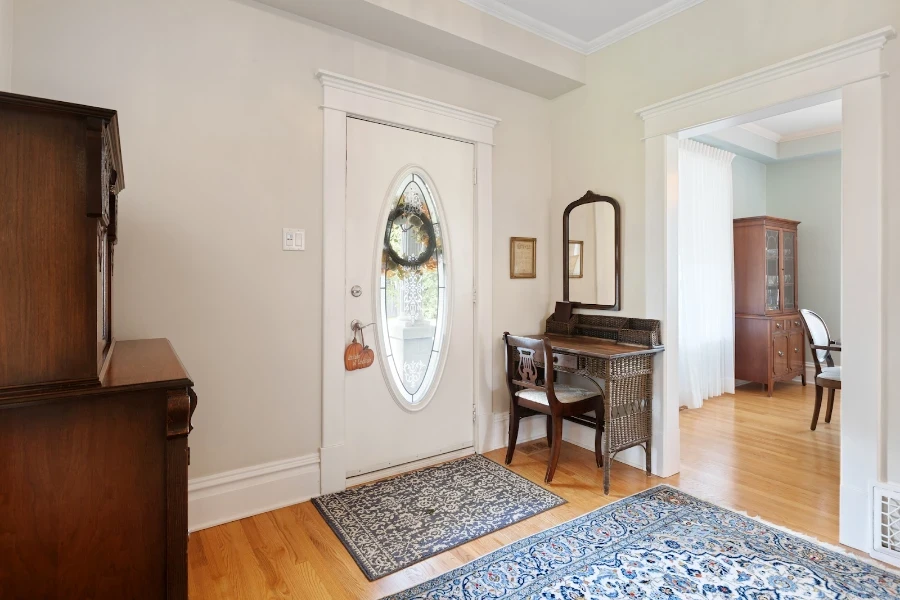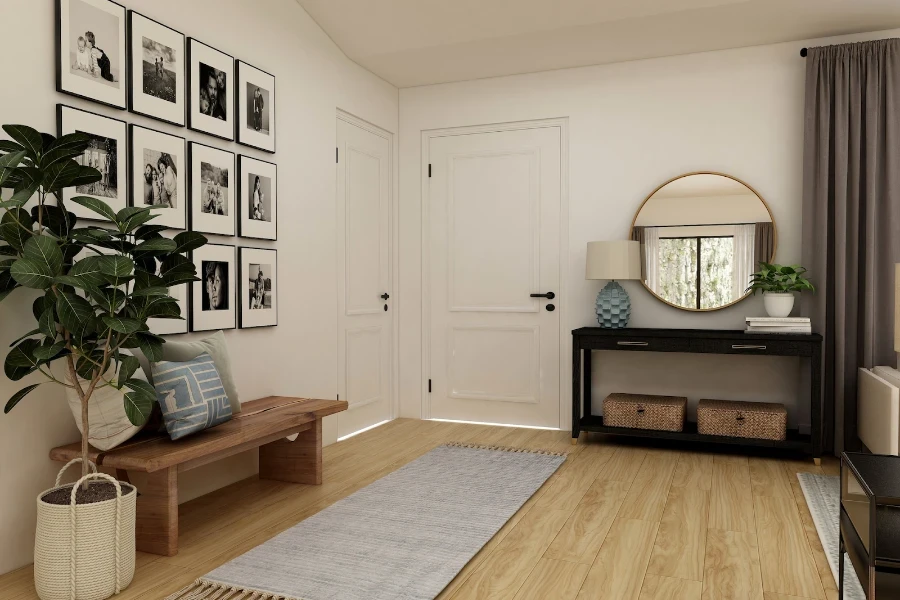 A major trend this year is entryway tables that can fulfill more than their intended purpose. Consumers are increasingly seeking ways to organize their living areas to maintain clutter-free spaces. 
Entrance tables with storage compartments are ideal for organizing essential items. A drawer, cabinet, or shelf storage compartment can keep keys, flashlights, batteries, seasonal accessories, or throw pillows and blankets out of the way in the foyer. 
Multi-functional coffee tables that come with built-in shoe racks or benches are particularly useful in houses that do not come with a full mudroom. A small apartment can even benefit from a console table that doubles as a desk or dining table. For technologically savvy customers, entry console tables can also come with integrated technology and smart home features like USB or wireless charging capabilities or voice-activated controls.
Wood entry tables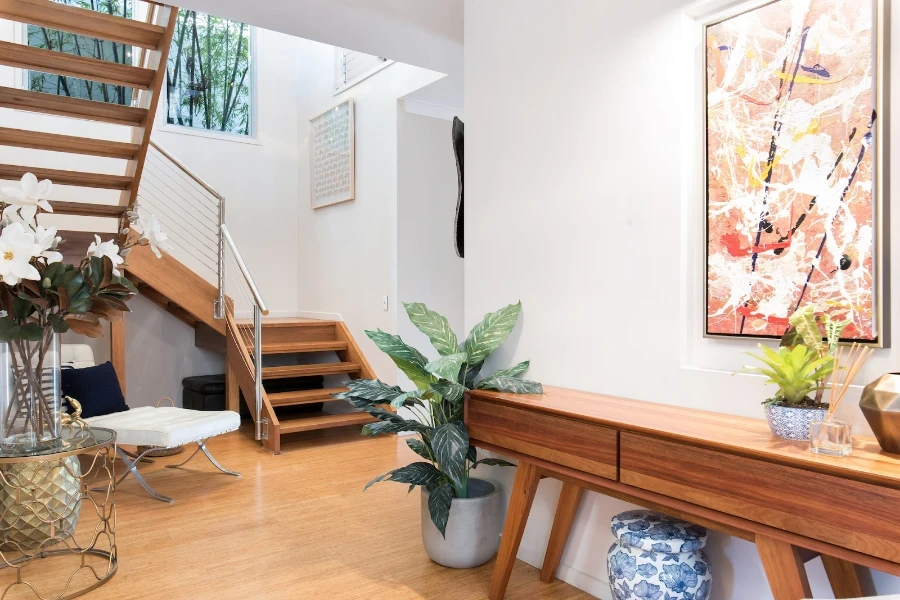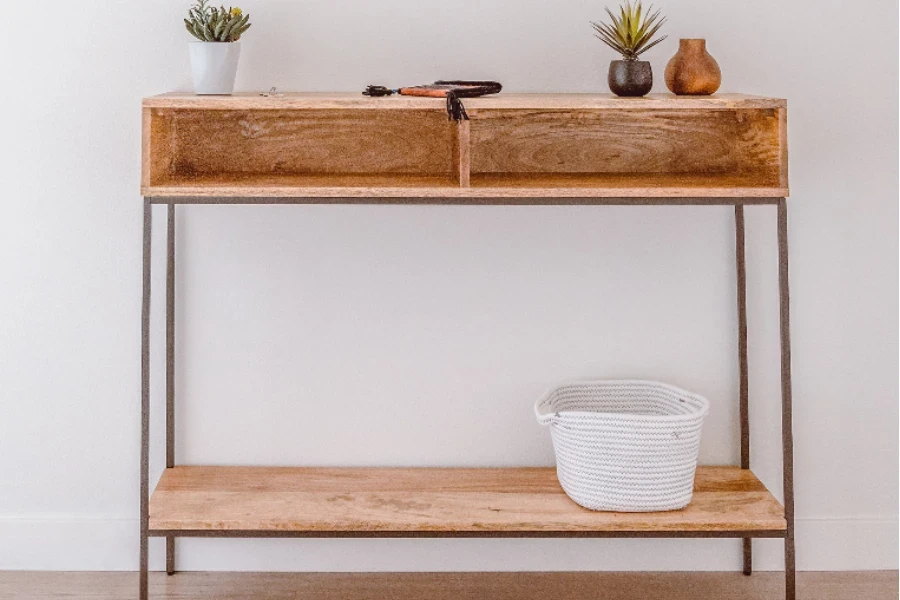 The latest trend in console entryway tables involves a growing emphasis on the use of environmentally friendly materials. A front entryway table made from reclaimed wood is a sustainable option that can also bring the beauty of nature indoors. 
Influenced by Scandinavian or Japanese aesthetics, wooden console tables with clean lines and natural light wood tones like oak or ash blend simple style with timeless functionality. In line with the current nostalgia for retro designs, the mid-century modern era has a strong influence with tapered legs, metal accents, and high-quality solid wood as core elements of the trend. 
Wood entrance tables can come in rectangular or oval shapes with a natural, painted, or stained finish. For a striking take on the trend, a live edge wood or teak wood console table makes a more deliberate reference to the environment.
Rising demand for entry tables
The hottest trends in entryway tables give furniture businesses many opportunities to earn profit. Narrow console tables and multi-functional entry tables make the most of limited space by offering customers space-saving and multi-purpose options. Wood remains a key material for front entryway tables, while structural elements like curved shapes and waterfall designs add style to this staple piece of entryway furniture.
A shift in the industry towards online retail platforms offers customers significantly greater access to a wide range of furniture options with different styles and prices. This shift in the market has expanded the customer base and boosted potential revenue growth. Businesses are advised to stay updated on the latest trends in the entryway furniture industry to help bolster their profits in the coming year.
Was this article helpful?