In today's world, almost anything you wear can become part of the wearable technology trend, from rings and bracelets to glasses. And of course, one of the major wearable trends is smartwatches.
The smartwatch industry has seen remarkable growth in recent years owing to technological advancement and evolving customer preferences.
According to Impactful Insight (IMARC), the global smartwatch market size reached US$ 37.6 billion in 2022. IMARC Group experts expect the market share to reach US$ 113.9 billion by 2028, exhibiting a compound annual growth rate (CAGR) of 19.9% between 2023 and 2028.
Therefore, small businesses and retailers must stay ahead and understand the latest trends in this thriving, competitive smartwatch market.
This article will explore the ever-changing world of smartwatches and offer seven trends shaping the industry's future.
Table of Contents
Evolution of smartwatches
7 smartwatch trends to know in 2023
Conclusion
Evolution of smartwatches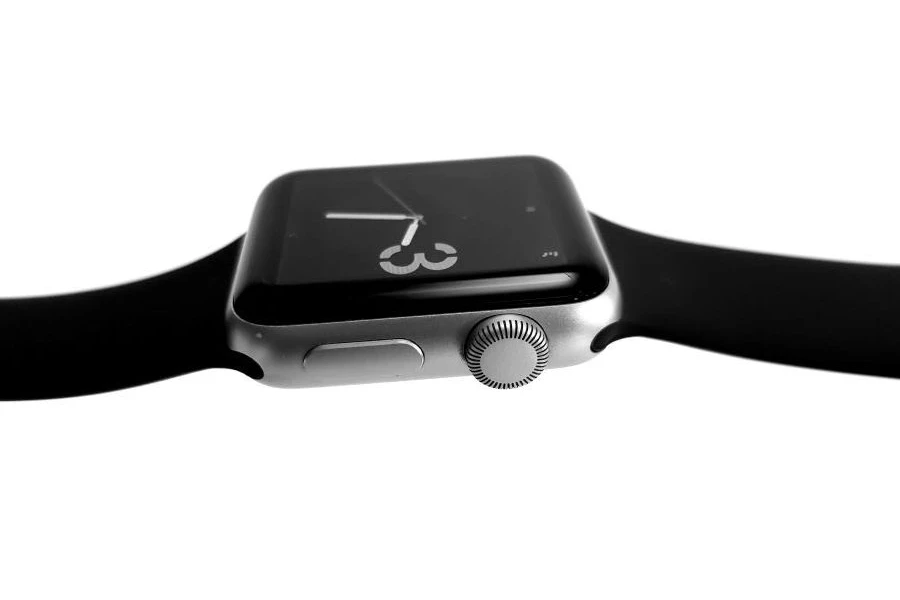 Smartwatches have come a long way since their inception, from the first wireless smartwatch, the Timex Datalink, in 1994 to the first modern smartwatch in 2012.
What started as a basic timekeeping device has transformed into a multifunctional gadget that is integrated into our daily lives. Today, they are fitness trackers, communication tools, and even fashion accessories.
Some of the prominent players in the smartwatch market include: Apple, Samsung, Fitbit, Garmin, and Xiaomi among others.
Today's smartwatch aims to give users a convenient way to access information and complete tasks without using their phones.
Small businesses need to stay updated with the latest trends in the smartwatch market to maintain a competitive edge.
7 smartwatch trends to know in 2023
Smartwatches evolve quickly in the fast-paced market. There are many trends that smartwatches manufacturers have adopted over the time that smartwatches have been in the market. Some of the key smartwatch trends include the following:
1. Health and wellness features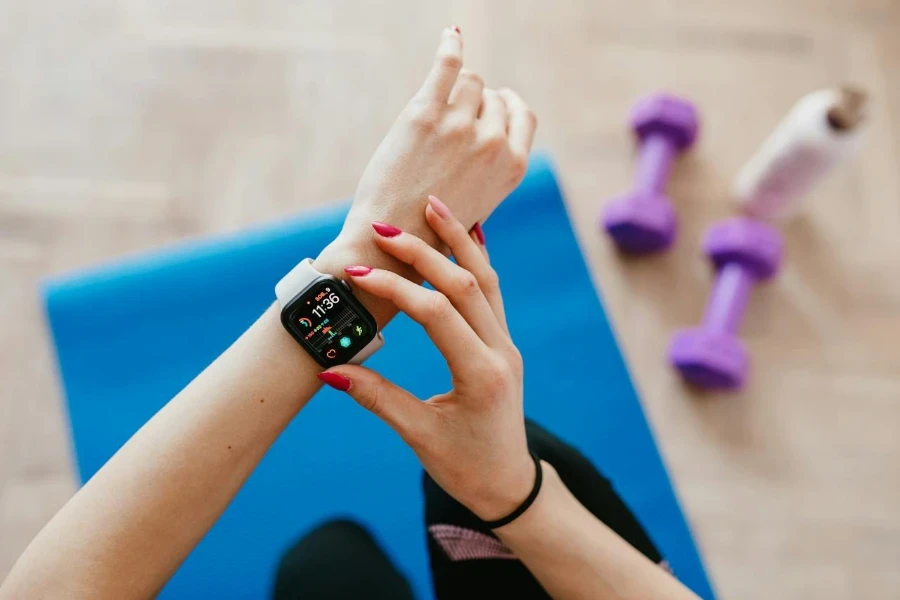 Health and wellness is among the top concerns for most consumers. Smartwatches are increasingly incorporating advanced health monitoring features, including ECG tracking, blood pressure monitoring, sleep analysis, heart rate tracking, and stress management tools.
As a small business, providing smartwatches with robust health-focused features can adhere to the growing demand for holistic well-being.
Many manufacturers have incorporated the health and fitness feature in their smartwatches. One such smartwatch is the Apple Watch Ultra. It has sleep-tracking capabilities, an advanced workout metric feature, and a women's wellness feature.
Other smartwatches with health and wellness features are the Apple Watch Series 8 and Garmin Forerunner, which many athletes use.
2. Connectivity and communication upgrades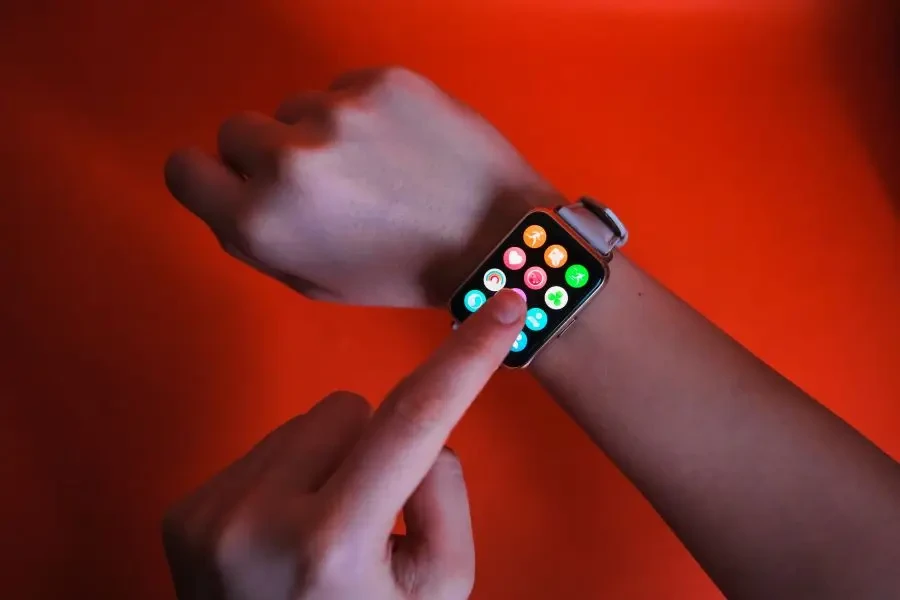 Seamless connectivity remains a top priority. Smartwatches are evolving to offer enhanced connectivity with smartphones. This allows the users to make calls, send messages, and receive notifications without reaching for their phones.
This trend is especially significant for customers seeking convenience and efficiency in their daily lives. Smartwatches are fitted with GPS, compasses, Google apps, fitness trackers, and sleep trackers among other smart features.
For instance, the Samsung Galaxy Active 2 is compatible with Android phones and iPhones.
The Samsung Galaxy Watch 5 Pro is a good example of a trending smartwatch and is good for outdoor activities. It is efficient for the customer as they don't have to keep looking at their phones while working or enjoying one's time outdoors.
3. Sustainability and eco-friendly designs
Consumers are becoming increasingly eco-conscious. Smartwatch manufacturers are responding to this demand by producing sustainable and eco-friendly designs. This includes using recycled materials, reducing electronic waste, and implementing energy-efficient technologies.
Retailers should consider eco-friendly options to attract environmentally conscious customers. The Garmin Vivoactive is a sustainable smartwatch with a five-day battery life, thus saving energy.
4. Customizable and fashion-forward aesthetics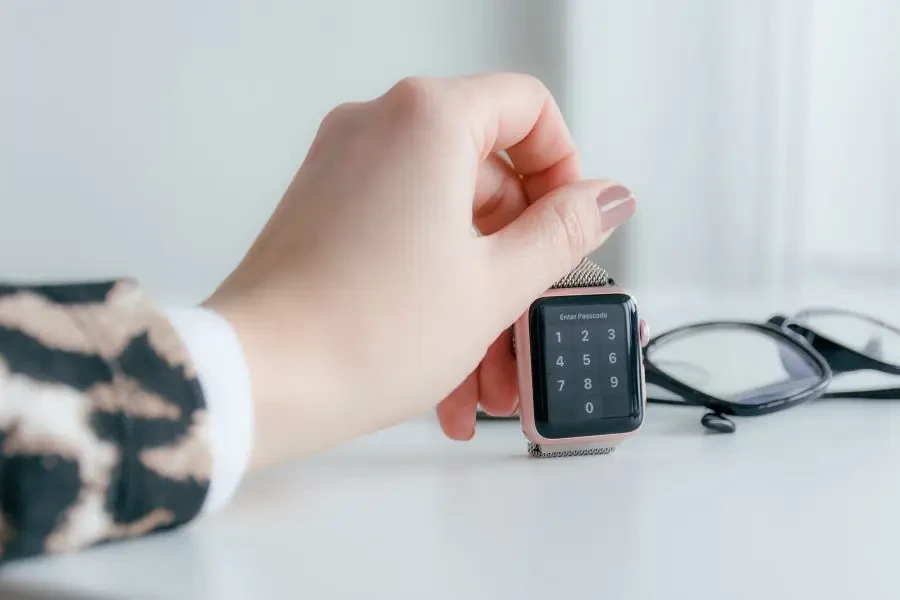 Fashion and personalization are gaining prominence in the smartwatch market. Consumers want devices that not only perform well but also match their personal style.
Offering customizable watch faces, bands, and finishes can attract fashion-forward consumers looking for a unique accessory. Many customers want a smartwatch they can wear to the gym and a wedding. 
Most smartwatches from Apple, Samsung, and Fitbit support third-party straps so customers can match the smartwatches to their style and mood. The Samsung Galaxy Watch 3 has a circular face that's easier to blend with different outfits. 
The Garmin Vivomove Trend is a hybrid smartwatch with an analog display that can blend well with many outfits depending on the customers' tastes and preferences.
5. Security and privacy enhancements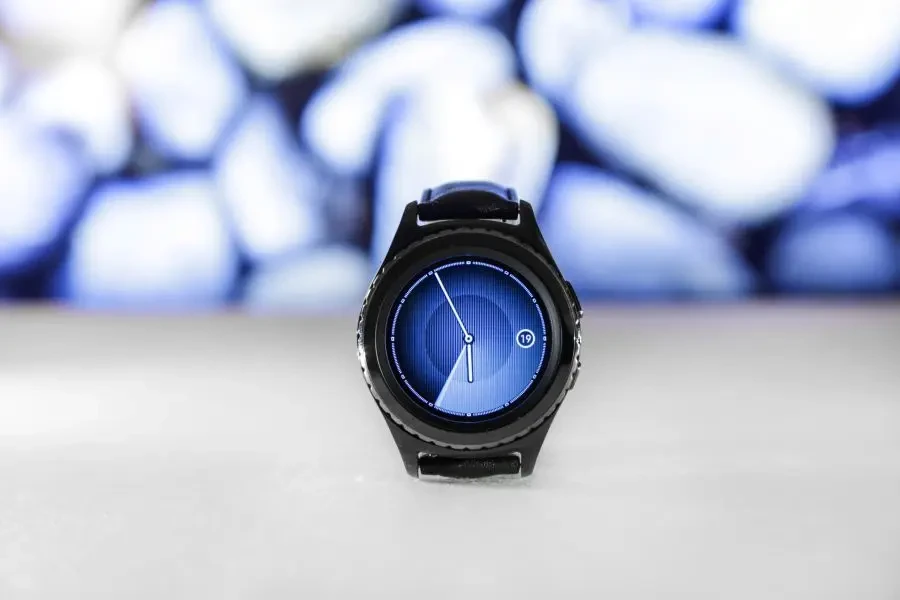 Security and privacy have become paramount with the growing reliance on smartwatches for personal data. Manufacturers are investing in robust security features, such as biometric authentication and encrypted data storage.
Retailers should prioritize products that prioritize user data protection.
6. Innovative user interfaces and controls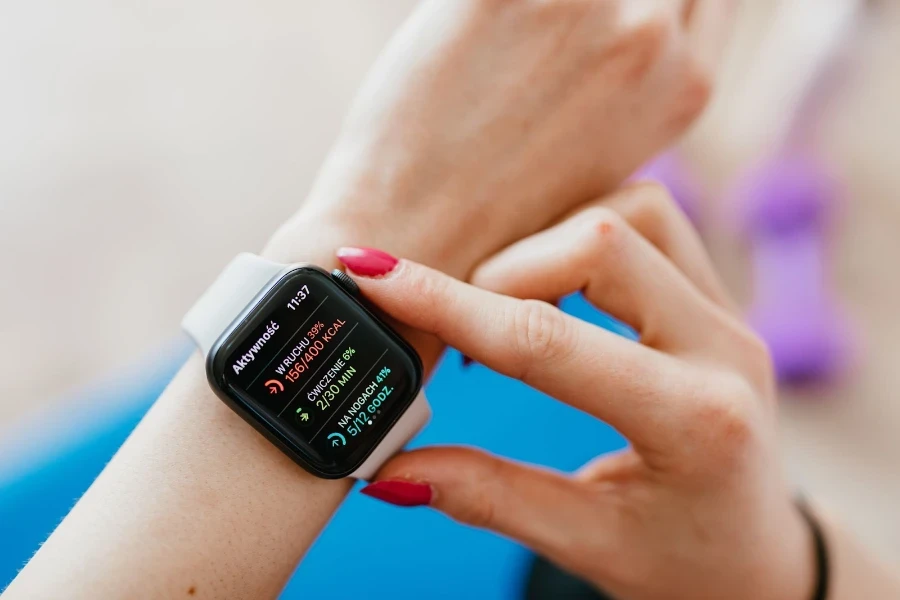 User experience is a major driving force behind smartwatch innovation. Smartwatches have gesture controls, voice recognition, and haptic feedback features to enhance the usability of these devices.
Retailers should look for watches that offer intuitive and user-friendly interfaces. For example, the Fitbit Versa 3 has Amazon Alexa built-in to enhance the user experience while others have Google assistant. 
7. Accessibility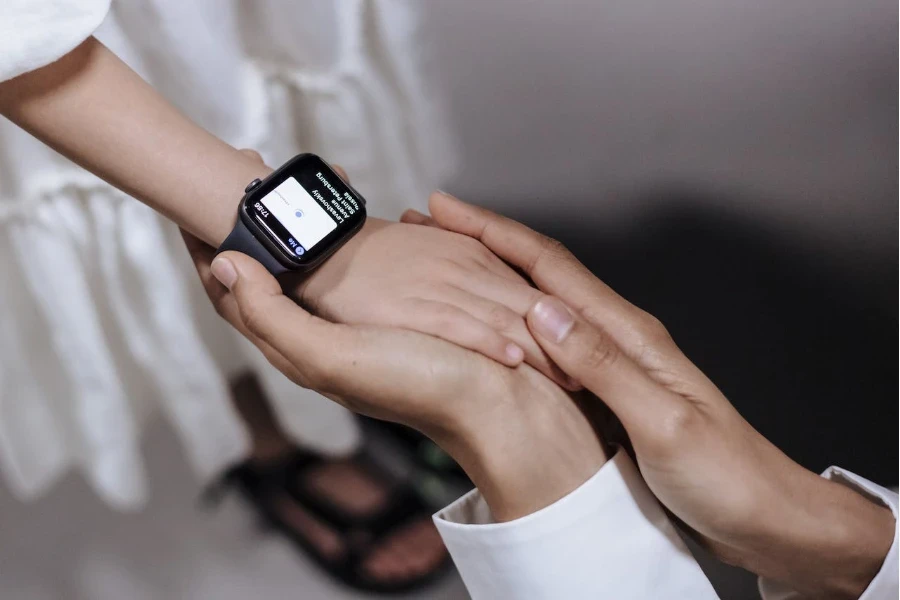 Accessibility is another critical aspect of smartwatch trends. Ensuring that smartwatches are usable by people living with disabilities is a growing concern. 
As a retailer, look for watches that offer features like voice assistants and adjustable text sizes to cater to a diverse customer base including the elderly and kids. 
Moreover, you should have smartwatches in different price ranges to cater to all customers. The budget-friendly smartwatches should not compromise on other features. 
The Apple Watch SE is a budget-friendly smartwatch. It allows the consumer to check messages and other notifications and receive calls.
Conclusion
As the smartwatch industry evolves, small businesses and retailers must stay attuned to the latest trends to effectively meet consumer demands.
The growing number of health-conscious customers, coupled with the rising demands for aesthetically appealing, multifunctional smartwatches, are the driving forces in the global smartwatch market.
In 2023, the trends revolve around health and wellness, connectivity, sustainability, personalization, security, innovation, and accessibility.
By aligning their product offerings with these trends, businesses can successfully navigate the expanding smartwatch market, catering to a diverse customer base and ensuring long-term growth and profitability.
Visit Alibaba.com to explore all trending smartwatches and their accessories. 
Was this article helpful?