E-readers were created to offer an easier alternative to carrying around physical books. Whether the consumer is a student, a traveler, or an avid reader, e-readers provide their users with the luxury and comfort of having an endless number of books in their hands with no heavy lifting required.
However, the market is filled with various models offering differing features and performance specs. This article will help businesses to spot the perfect e-readers to add to their catalog to boost profit in 2023.
Table of Contents
What are e-readers and how do they work?
What's the state of the e-reader market?
How to choose e-readers in 2023
Final words
What are e-readers and how do they work?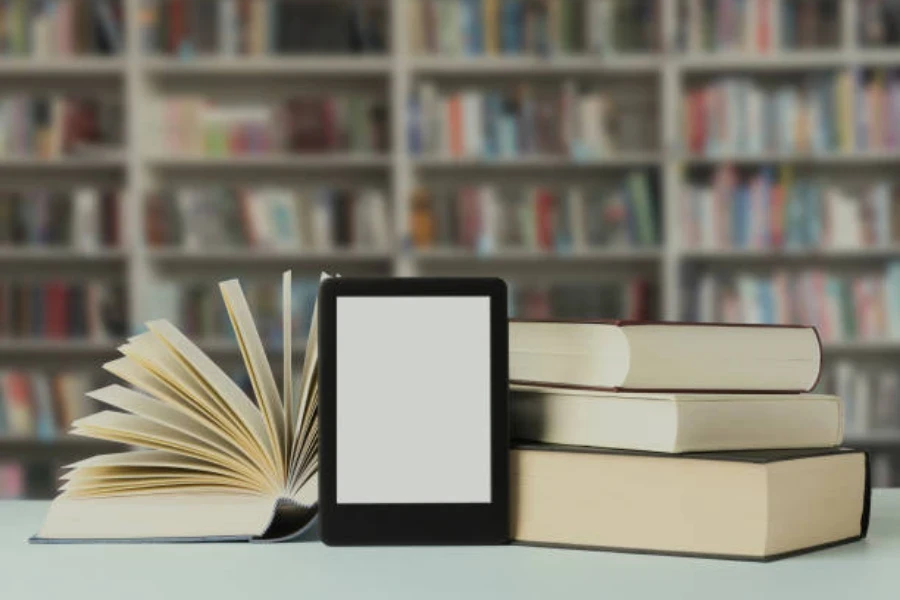 E-readers are cherished companions of true book lovers. They are electronic devices built exclusively for reading.
Harnessing e-ink technology, e-readers replicate the actual reading experience and are the perfect alternative to lugging around heavy books. With e-readers, consumers can enjoy that deserved holiday and say goodbye to excess luggage fees. An e-reader is an entire library that can fit snugly into the consumer's hands.
Although serving the same function of making the reading experience easy, e-readers come with different specifications. The choice of the ideal e-reader thus hinges on the user's specific needs.
Based on Google reports, the keyword "e-readers" get 40500 average monthly search queries from buying consumers. Also, the search term has maintained an 8% rise from November 2022 to October 2023.
What's the state of the e-reader market?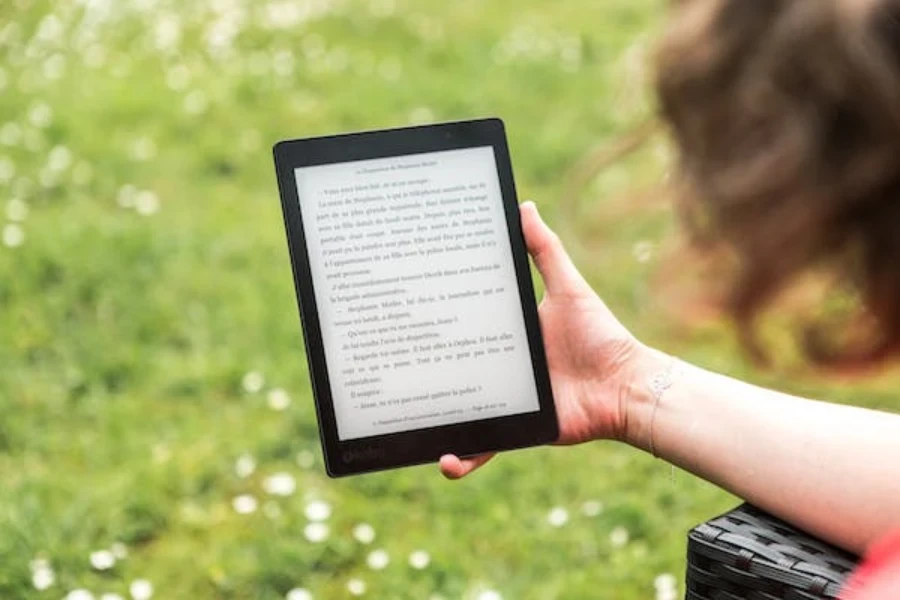 The rapid expansion of the e-learning industry has caused e-readers to grow in popularity among students.
Recent reports show that the e-reader market is currently worth USD 7.36 billion. It's on track to grow at an annual rate of 6.31% from 2022 to 2028, aiming to hit a market value of USD 10 billion.
A notable player in the e-reader market is North America. At the same time, the Asia Pacific region is showing some serious growth potential in the coming years.
How to choose e-readers in 2023
Opt for a good display quality and size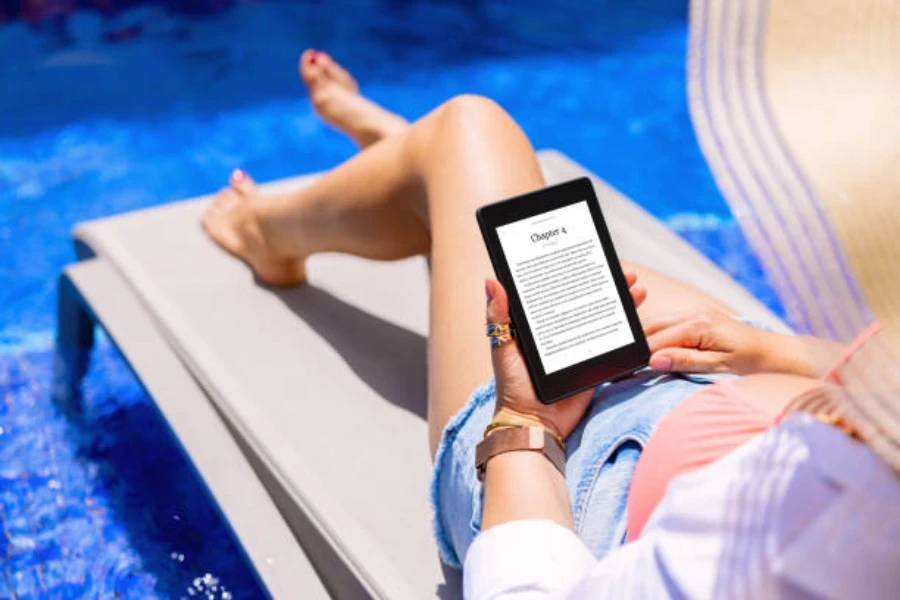 It's easy to pick a book off a shelf, but choosing an e-reader depends on several factors, one of which is display quality and size. First off, e-readers come in sizes, normally ranging from 6 inches to 10 inches.
A 6-inch e-reader resembles the size of a novel and thus provides a reading experience similar to a hardcopy book. However, the 6-inch e-reader may not be the best choice for consumers interested in research or studies.
The size of the e-reader not only influences the type of reading experience enjoyed by the consumer but also determines the device's portability. Smaller-sized e-readers are easier to carry, while larger ones will cause the same issue some consumers face when carrying an actual book.
Whether a consumer opts for a larger or smaller e-reader, the entire reading experience is influenced by the device's display quality. Display quality is determined by the technology used to create the e-reader screen. The display quality affects the clarity of the text, resolution, and lighting of the e-reader.
It is important to note that e-readers come with e-ink screens instead of LCD screens, commonly used on phones and tablets. E-ink technology helps mimic book texts and reduce eye strain, making reading easier indoors and outside.
Amazon Kindle Paperwhite 5 is one e-book reader popular for its display quality and size. The device has a 6.8-inch E Ink Carta 1200 display with a 300 pixels per inch (PPI) resolution. All text on its screen is sharp and easy to read, even in low-light conditions. Plus, the Paperwhite 5 also has a built-in adjustable front light for comfortable reading in any environment.
Choose user-friendly interfaces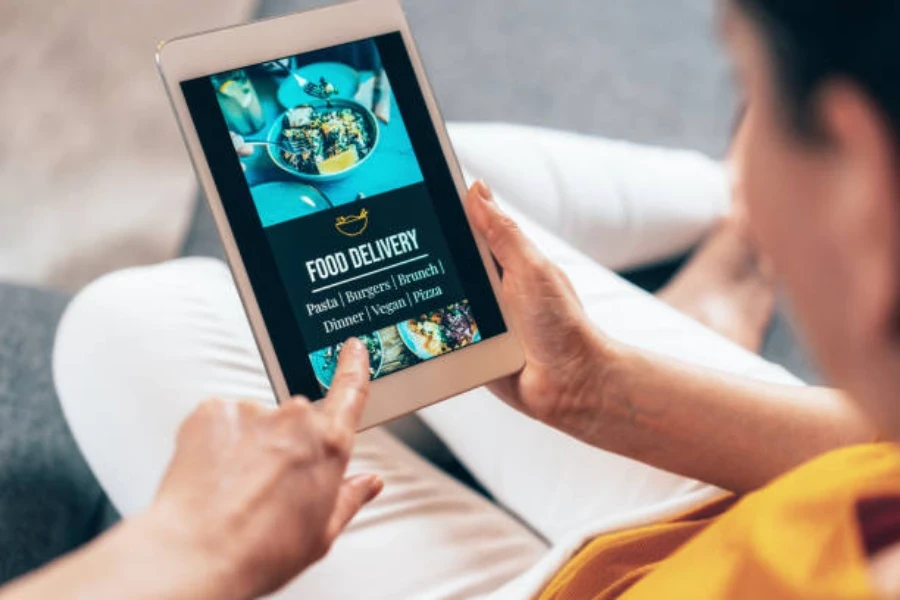 A user-friendly interface is important in shaping how consumers interact with their devices. For a pleasurable experience, businesses should look for e-readers with a user-friendly interface that enhances navigation without causing frustration.
With a good interface, consumers don't have to struggle to acquire new skills for e-reader navigation. A user-friendly interface should provide customization options for consumers to adjust their e-reader device settings to personal preferences.
The Kobo Libra 2 has an incredibly easy user interface. It's straightforward to use, boasting various features that make it easy to read. Two include a page-turn button on the device's back and the ability to adjust the front light's color temperature.
Will the readers have access to eBook stores?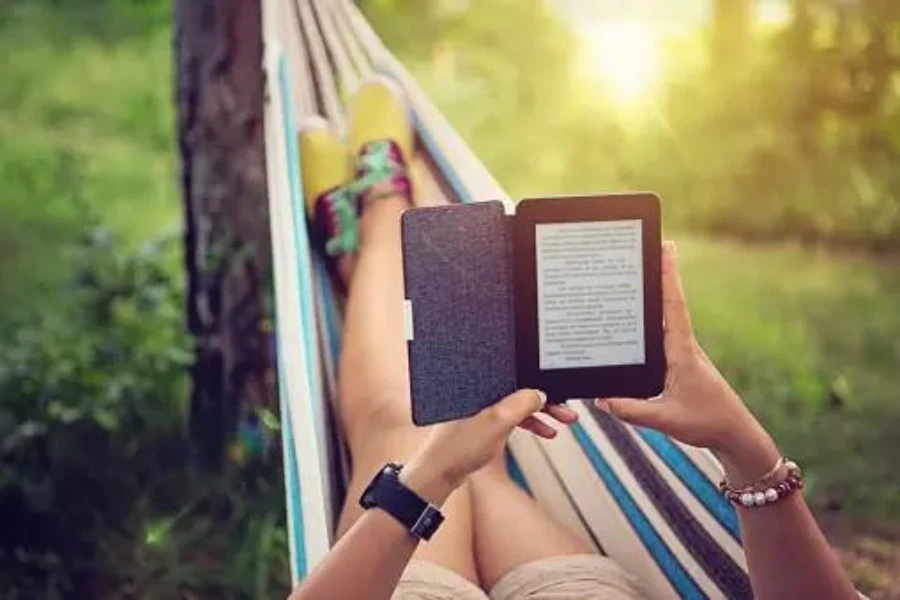 E-readers are portable libraries with a lifetime of ebooks and source materials. Access to these ebooks and source materials is, however, dependent on various factors. First, the e-reader model plays an important role as some are limited to the online platforms and bookstores permitted by the model.
For example, users of the Nook e-reader can only obtain ebooks from Barnes and Noble. Unfortunately, the catalog of books available at Barnes and Noble is limited. In such a situation, users may be forced to connect with their e-readers to a PC to transfer documents or ebooks.
In contrast, Kindle devices give access to the expansive Amazon store, which boasts a better collection of books for consumers.
Another factor to take into consideration is the geographical location of the user. Some online bookstores are only available to certain regions, potentially restricting book choice options to consumers.
Battery life is important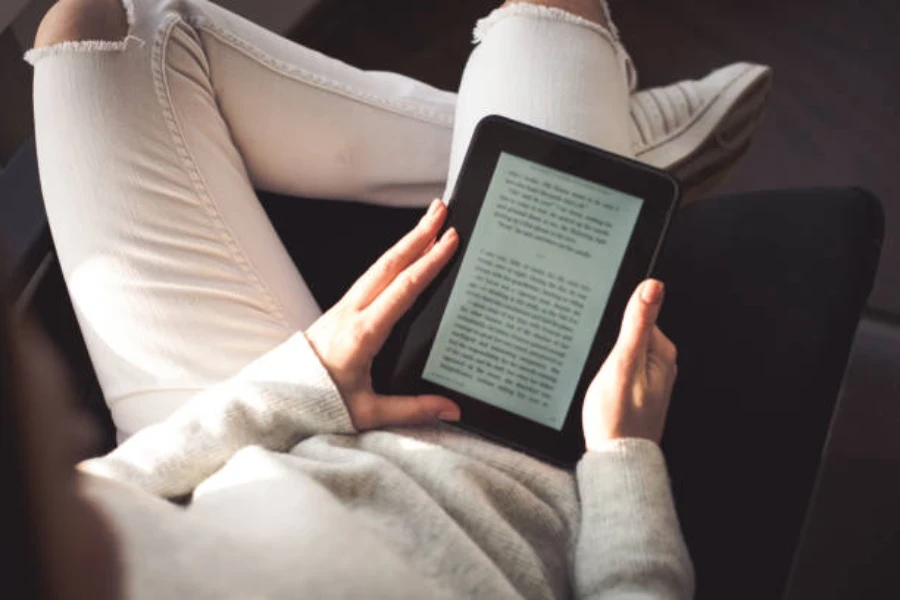 E-readers are widely praised for their remarkable battery life. Some models can even endure an entire month on a single charge.
The e-readers' exceptional battery life can be attributed to the e-ink display technology. Unlike LCD screens, e-ink displays consume minimal power, allowing consumers to enjoy their devices for a long period.
Below is a table comparing the most popular e-reader models based on battery life:
| | |
| --- | --- |
| Device model | Battery Life |
| Kindle (2022) | Up to 6 weeks |
| Kobo Sage | Up to 3 weeks |
| Nook GlowLight 4 | Up to 4 weeks |
| Kobo Libra 2 review | Up to 8 weeks |
Don't forget storage and connectivity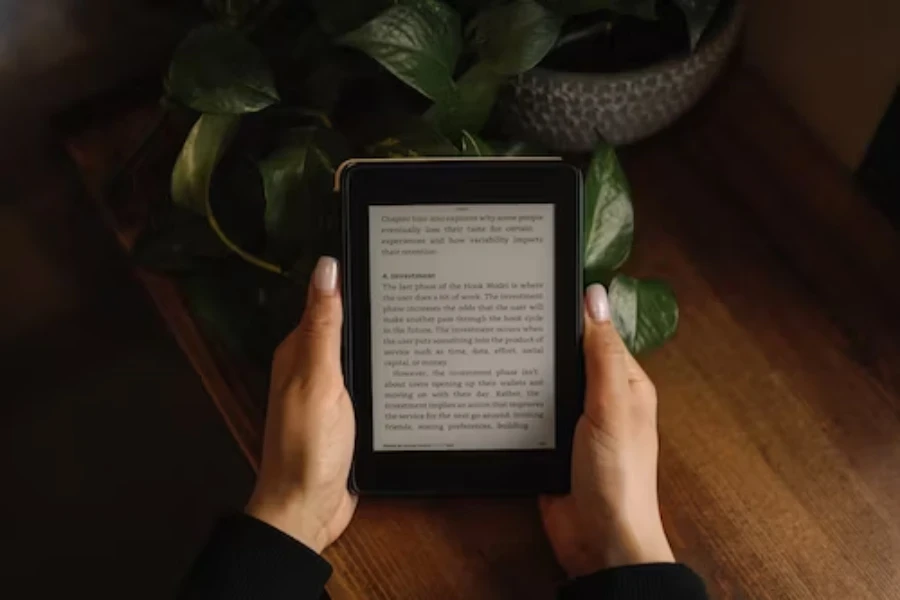 The charm of e-readers lies in their ability to store large amounts of ebooks and reading materials for the user's consumption. It is thus important that businesses consider the available storage space before acquiring an e-reader.
Typically, standard e-readers come with 8 gigabytes worth of storage, which is sufficient for many consumers. However, for consumers who require more storage, some e-reader models expand their storage options up to 32 gigabytes.
Newer models of e-readers seem to offer cloud storage options, which makes the capacity of the e-reader almost limitless. Some e-readers include a microSD memory card slot and built-in memory for more storage space.
For e-readers to function at full capacity, internet connectivity is a must. Connectivity allows e-readers to access online bookstores, receive software updates, provide audiobook functionality, and offer web browsing.
Depending on the model, some e-readers may include 3G/4G/LTE support, which enables wireless downloads from ebook stores. Others feature Wi-Fi capabilities, allowing consumers to share or transfer files over a local network.
Good connectivity also enables e-readers to facilitate online purchases of books, newspapers, and magazines. To enhance the reading experience, some e-readers boast Bluetooth connectivity functions that will allow the transfer of files between devices. With Bluetooth, users can connect speakers and wireless headphones to enjoy audiobooks.
The Kobo Elipsa 2 is a widespread e-reader based on these features. It has 32GB of internal storage, enough to store thousands of ebooks. Plus, it also has a built-in microSD card slot so that consumers can expand its storage capacity to 128GB.
That's not all. The Elipsa 2 has Wi-Fi and Bluetooth connectivity, so consumers can download ebooks from the Kobo store, sync their library with other devices, and listen to audiobooks.
File format support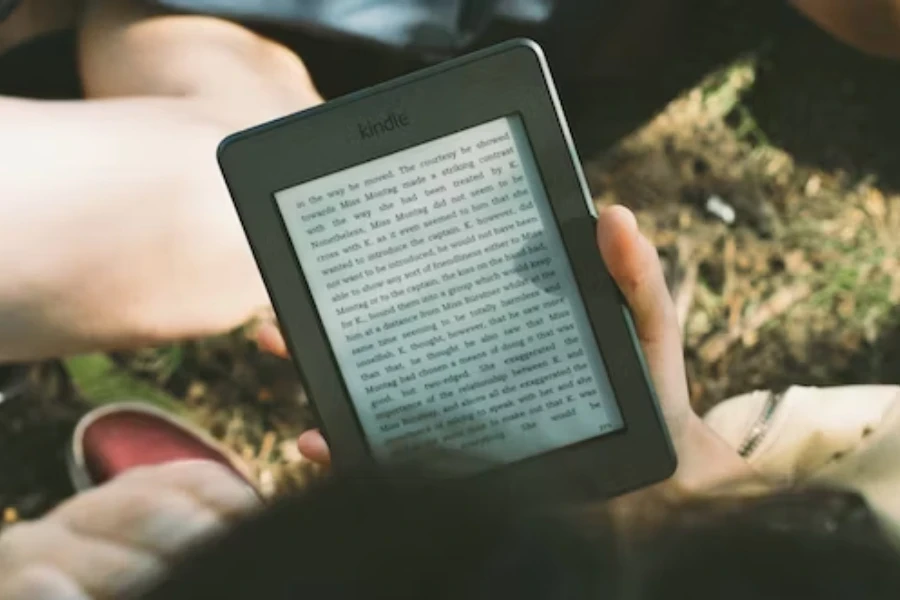 E-readers are not universally compatible with all file formats. The extent to which e-readers support various files depends on hardware, software, and manufacturers' specifications.
Businesses must choose e-readers most compatible with the books their target consumers are interested in reading.
Most e-readers (including the Kindle and Nook) can read ebook files in the popular EPUB format, and some others (Kindle, Sony reader, and Kitaboo) can read ebooks in PDF.
E-readers also have audio functionality. Depending on the specs of the e-reader, consumers can enjoy audio files and transfer music in formats such as MP3, AC3, OGG, and ZIP.
Check the build design and features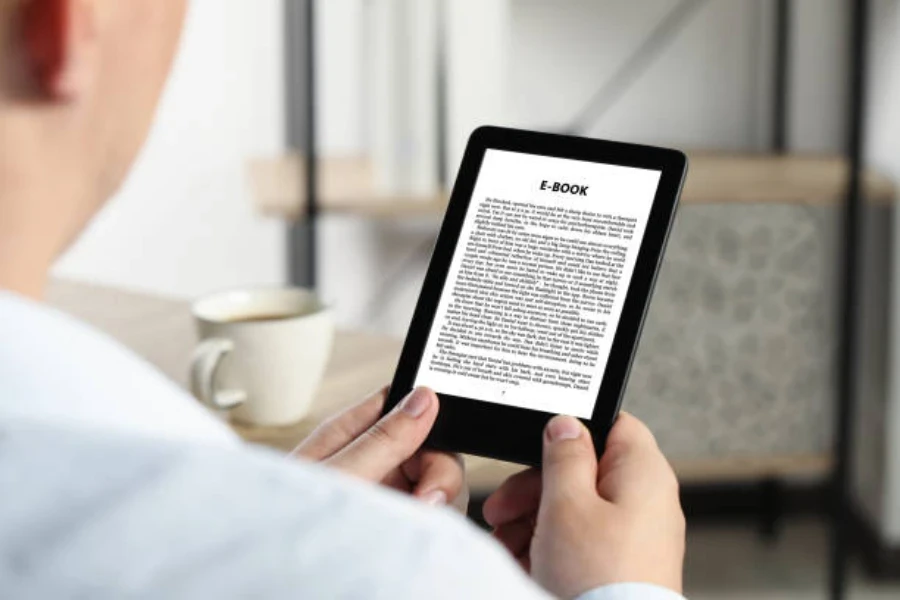 E-readers are available in different builds and designs. The table below illustrates how materials used to make e-readers determine their durability, weight, and aesthetics:
| | | | |
| --- | --- | --- | --- |
| Material | Durability | Weight | Aesthetics |
| Metal | High | Heavy | Clean and sophisticated |
| Plastic | Low | Light | Depends on quality of plastic |
| Rubber | Moderate/High | Medium | Eco-friendly appearance |
| Glass | High | Medium | Modern |
Final words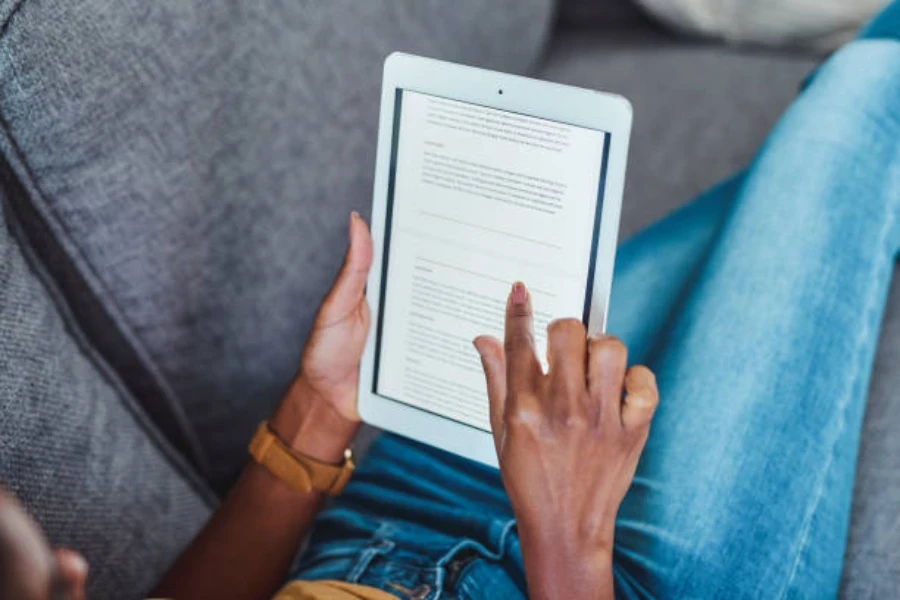 E-readers are the perfect digital library. They're more convenient than physical books and can last for extended periods on a single charge. Although ebook readers seem to be losing popularity to smartphones, the market is still strong in 2023.
For businesses interested in venturing into the e-reader market, this article highlights how to make the best picks and what specifications to look out for in e-readers in 2023.
Was this article helpful?