Key takeaways
Inflation is rampant and no one is coming out unscathed
Surprisingly, online retailers are seeing the highest price increases by a large margin
Supermarkets come second, with cosmetics and toiletries retailers squeezing in third
Retailers entered the new year on a positive note as widespread January sales sustained shopping momentum. Despite the positive outlook, spending lags behind double-figure inflation.
Data from the ONS Retail Index shows the amount spent in retail (excluding fuel) climbed by 3.7% in January 2023, while the quantity bought dropped by 5.3%.
The picture looks even bleaker if we look at January 2023 vs February 2020 – prices are up 13.4%, but volumes are down by 0.8%.

So, which retailers have the highest rate of inflation, if we compare January 2023 to January 2022?
1. E-commerce and online auctions – 26.2%
Surprisingly, online platforms like our beloved Amazon and eBay take the crown.
The cost of production across the globe is rising – that's not news. For e-tailers, the key concern is input cost inflation, particularly warehousing, transport and distribution costs. Inflation is compounding already high inventory prices.
Both sales and the cost of warehousing have shot up, as e-commerce and stockpiling boomed ahead of Brexit trade disruptions. Ballooning labour costs and real estate prices also played a part.
Vacancies, shortages in raw materials and logistics delays are trickling down to higher warehouse prices.
Automation and investment are the buzzwords of the year. Warehouse facilities are investing to up efficiency and meet the demands of e-commerce – and those investments aren't free. Businesses need to make their money back by passing costs on to retailers.
Transport and distribution costs are tracking upward, driven by expanding wage costs. UK regulation has changed, requiring minimum casual worker benefits like paid holiday and sick leave, inflating the wage bill. And we've all become accustomed to workers' strikes in recent months, with unions demanding higher pay increases to match the exorbitant cost of living.
2. Supermarkets and other food stores – 11.2%
Supermarkets and other foods stores come in second in the competition no one wants to win.
Food costs remain high. The effects of the Ukraine war have inflated fertiliser and energy prices, filtering down to the prices on shelves.
It's not good news for those who like a hearty breakfast in the morning. The cost of milk, cheese and eggs has rocketed by 31.1% over the year.
Things don't look so perky for those needing a morning caffeine fix either, with coffee, tea and cocoa prices shooting up by 13.8%. This is one of the lowest increases in the ONS's food basket. Food staples like oils and fats (26.7% increase) are bearing the brunt.
For consumers, bad weather in Europe and Africa and skyrocketing energy and fertiliser prices for farmers means seeing fruit and vegetable shortages on shelves and purchasing limits introduced once again. Industry-wide shortages will only aggravate existing pricing troubles.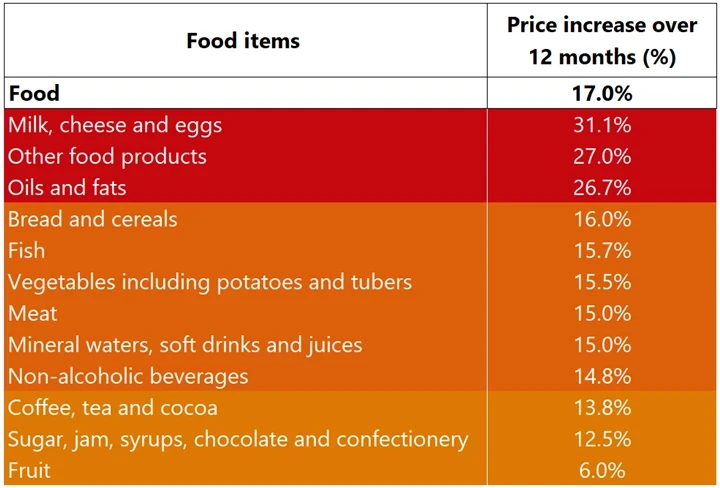 3. Cosmetics and toiletries retailers – 10.4%
While rocketing energy and grocery bills have pinched first, no area of our lives remains unscathed; cosmetics and toiletries retailers come in third.
If you don't think you've seen deals recently, you're not wrong – beauty products are more expensive than they used to be.
Experts at The British Beauty Council say the price of shower gel alone increased by 8% over the year through September 2022, while shampoo shot up by 11%.
So, what's causing the rapid increase? Well, the cost of production rose by a whopping 10.9% over the year through January 2023 and manufacturers have no problem passing on the increases to retailers. Most cosmetics and toiletries contain glycerin (made from animal fat) and petrochemicals; the cost of both inputs has increased since the start of the war in Ukraine.

What's ahead?
Consumer confidence is sinking and inflated costs are still being passed through the supply chain, so we aren't likely to see prices fall anytime soon. But retailers are trying to do their part, taking steps to cut costs and limiting increases where they can.
Source from IBISWorld
Disclaimer: The information set forth above is provided by IBISWorld independently of Alibaba.com. Alibaba.com makes no representation and warranties as to the quality and reliability of the seller and products.
Was this article helpful?