According to preliminary estimates, LV sales grew by 14.7% YoY in July, to 1.30 million units. The market's performance is still being somewhat flattered by weak year-ago sales, but nevertheless, this represented the 12th consecutive month in which volumes had increased YoY. Improved inventory levels, along with stronger contributions from fleet and a still-buoyant economy, were the main drivers of the growth.
Global outlook – The global Light Vehicle selling rate hit 94.3 million units in June, the highest selling rate since August 2019 and nearly 10 million units higher than June 2022. Light Vehicle volume rose to 8.0 million units in the month, up 11% from the same period last year. The outlook for 2023 is largely in line with last month, but volume is up 100,000 units to 86.4 million, or 7% higher than 2022, as concerns for a pronounced slowdown in the second half of 2023 are reduced.
US Light Vehicle sales totaled 1.30 million units in July, according to GlobalData. The annualized selling rate increased slightly from 15.7 million units/year in June, to 15.8 million units/year in July. Meanwhile, July's daily selling rate was estimated at 52,200 units/day, compared to 53,000 units/day in June. Therefore, although July broke a run of four consecutive months in which volumes had ranged between 1.35 and 1.38 million units, this streak would surely have continued had July had one more selling day – it had 25, compared to 26 in June. According to early estimates, retail sales totaled around 1,076,000 units, while fleet sales accounted for approximately 228,000 units, representing around 17.5% of total sales.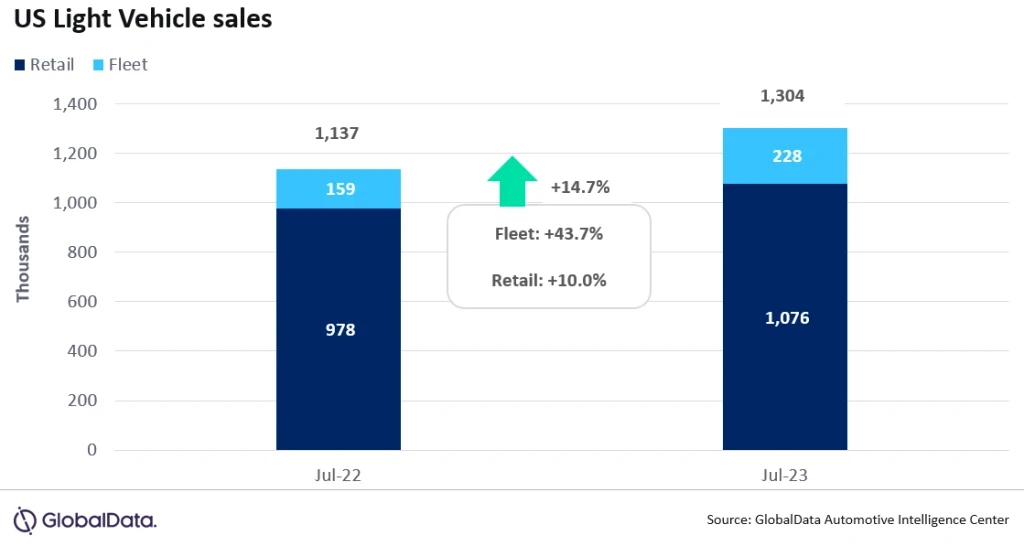 David Oakley, Manager, Americas Sales Forecasts, GlobalData, said: "At the risk of sounding like a broken record, July continued the trends that we have observed for several months now. As vehicle availability has improved, sales have grown, and the economy remains sufficiently strong to support the market's activity, despite high transaction prices, rising interest rates and fears of a recession later in the year or in 2024. The share of the market represented by fleet sales took a step back from the preceding months, but this is a normal seasonal trend for July, and fleet is still a driving force behind the increase in total sales".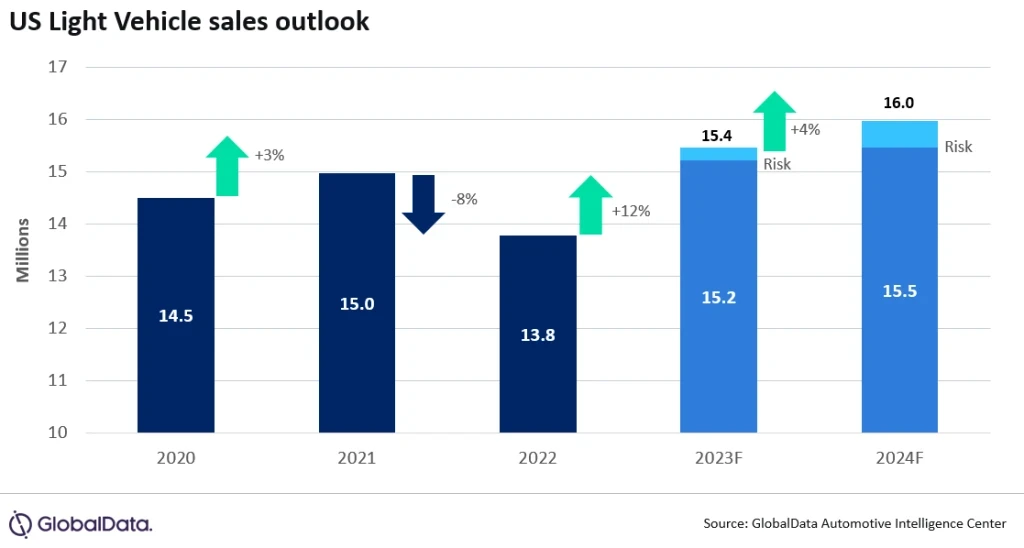 The outlook for US auto sales is holding at 15.4 million units, an increase of 11% from 2022. While both retail and fleet volume continue to recover, fleet share of total Light Vehicles is expected at 19%, the highest level since 2019. The forecast for 2024 remains at 16.0 million units with some upside if the economy avoids recession and begins to accelerate again.
YTD US inventory levels are up 14% from 2022 and volume has climbed to 1.9 million units. Days' supply remains suppressed at 36 but has risen from 28 days a year ago. With the upcoming union contract negotiations on the horizon, there is some expected inventory build expected through August to mitigate any short-term volume risk.
Due to summer factory shutdowns, inventory levels are expected to have declined slightly in July, but this should not be taken as a sign of a genuine tightening in supply. Indeed, the outlook for inventory is generally improving, notwithstanding the potential risks stemming from the end of contract agreements between the UAW, Unifor, and the Detroit-based OEMs, in September.
At an OEM level, GM led the market in July, rounding out a full year of being the number one manufacturer. However, the gap between GM and second-placed Toyota Group narrowed to around 23k units in July, the smallest differences since October 2022. The Ford F-150 retained its customary position as the bestselling model in the market, on 43.4k units, with the Toyota RAV4 appearing to comfortably finish ahead of the Tesla Model Y on 37.8k units, compared to an estimated 34.6k units for the Model Y. The Compact Non-Premium SUV segment led the way in July, with a 20.1% share, ahead of Midsize Non-Premium SUV on 15.0% and Large Pickup on 13.5%.
Jeff Schuster, Automotive Group Head and Executive Vice President, GlobalData, said: "Strength through July has reduced concerns of a pronounced pullback in demand and the outlook for the remainder of the year remains positive into 2024. Resilience in consumer purchases remains the driving factor that is supporting the industry and the economy."
Source from Just-auto.com
Disclaimer: The information set forth above is provided by Just-auto.com independently of Alibaba.com. Alibaba.com makes no representation and warranties as to the quality and reliability of the seller and products.
Was this article helpful?