Spring/Summer 2024 is all about men's bags that fit seamlessly into dynamic lifestyles and the resurgence of travel. From the catwalks to consumer demands, practicality and long-term appeal are the driving forces behind this season's must-have silhouettes. This article dives into the key silhouettes and styles that are shaping the market, backed by data and expert insights.
Table of Contents
Navigating the bag-scape of spring/summer 2024
The crossbody bag: A staple reborn
The everyday tote: A staple reimagined
The backpack: A declining trend?
The weekender: A new travel companion
The slouchy shoulder bag: The new carryall for modern men
Future-proof your inventory
Navigating the bag-scape of spring/summer 2024
Market size and growth data
The global handbag market, which includes men's bags, is expected to grow annually by 4.77% from 2023 to 2026, reaching a market volume of $74.32 billion in 2026. In 2023 alone, the market is valued at $64.62 billion, with the United States contributing $12.62 billion to this figure. These numbers indicate a robust and growing market that retailers can't afford to ignore.
Fashion Runway Refresh
Key new silhouette is the slouchy shoulder bag, aligning with workleisure lifestyles. The return of the weekender bag confirms the forecast for travel-friendly accessories. Update for the season with modern mariner, refined resort and reworked classic themes.
Bags to keep an eye on
Hero silhouettes like crossbody bags, weekenders, and slouchy shoulder bags are emerging as the styles to invest in, capturing consumer attention. Although the tote and backpack remain important staples, they're experiencing a slight decline.

The crossbody bag: A staple reborn
The crossbody bag is experiencing a renaissance, especially in the UK and the US. This bag style is no longer just a convenient carryall; it's a statement piece that reflects the wearer's lifestyle and fashion sensibilities.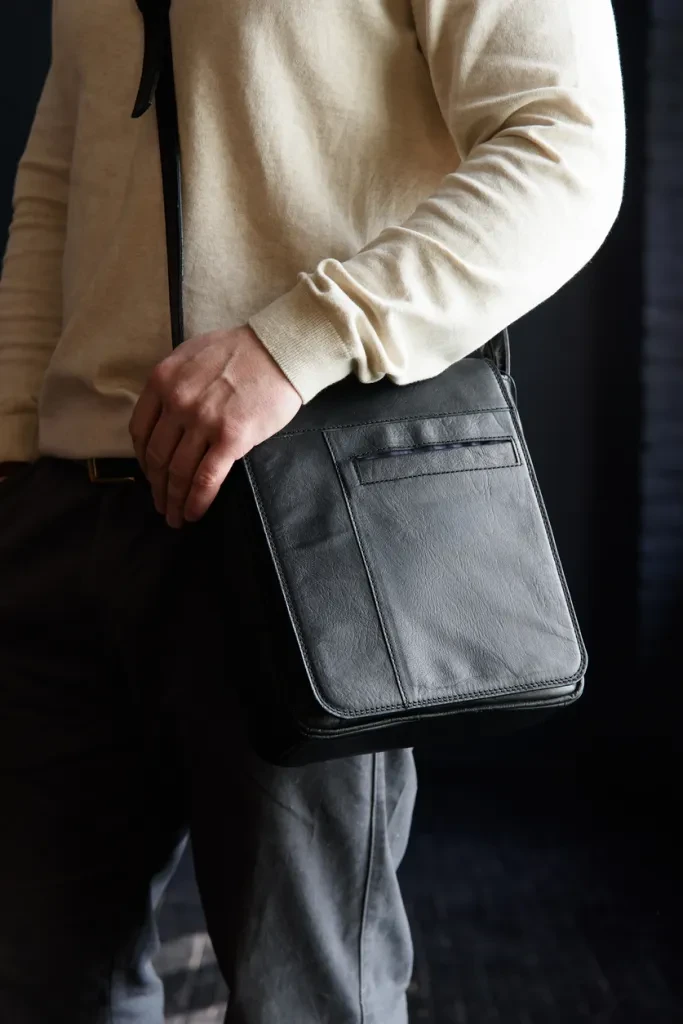 One of the driving forces behind the crossbody bag's resurgence is the rise of the workleisure trend. This bag perfectly complements the casual yet professional aesthetic that many are adopting. Brands are taking note, offering designs that blend practicality with style, such as elevated utility details and not-so-classic designs.
When it comes to materials and colors, the trend is leaning toward luxurious neutrals and sculptural hardware. These choices not only add a touch of sophistication but also ensure that the bag can transition seamlessly from a day at the office to a night out.
Another interesting aspect is the blurring of gender lines in fashion, making the crossbody bag a popular choice among men who are redefining masculinity. This aligns with broader societal shifts towards more inclusive fashion.
The everyday tote: A staple reimagined
The tote bag, a long-standing staple, is undergoing a transformation. While it has seen a modest growth in the UK, it experienced a slight dip in the US. The key to reviving this classic lies in aligning it with current lifestyle trends like workleisure and modern mariner themes.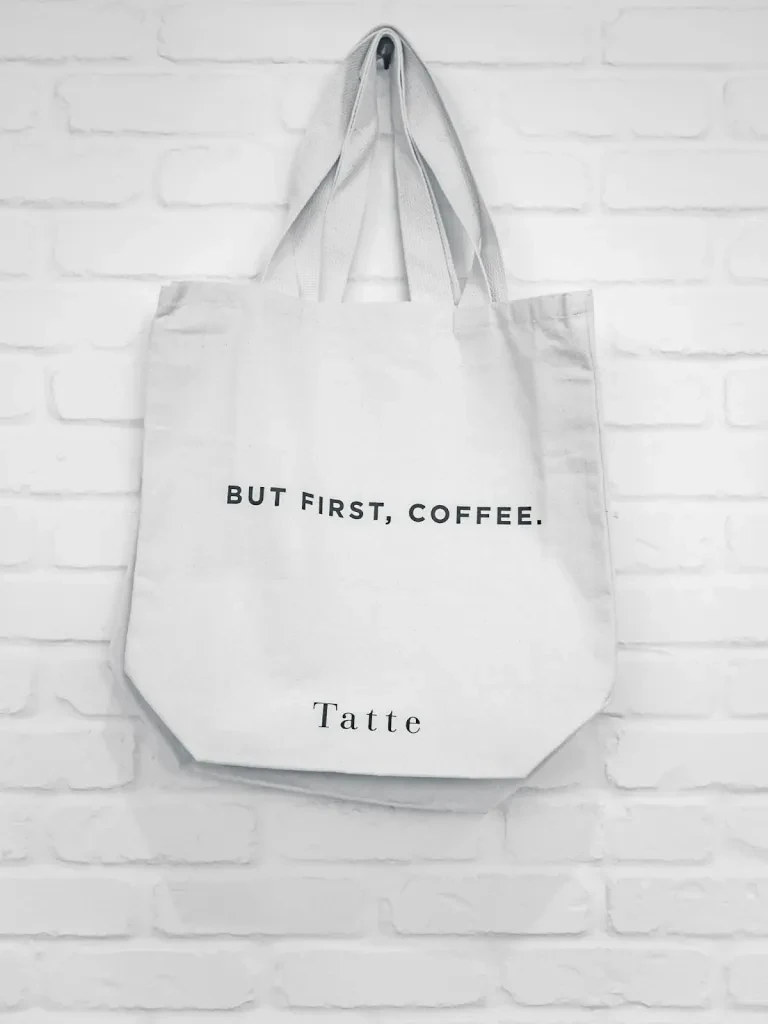 The tote is no longer just a bag; it's a lifestyle accessory. Retailers should focus on features like foldable constructions and multi-adjustable, detachable straps. These practical elements not only add value but also make the bag versatile for various occasions.
Sustainability is not just a buzzword; it's a necessity. The modern tote should incorporate responsible trims and weather-resistant padding, making it not only stylish but also sustainable.
One of the emerging trends is the introduction of colorful craft wovens into the design. This adds a touch of artisanal quality to the bag, making it stand out in a crowded market.
The backpack: A declining trend?
The backpack, once a staple, is seeing a decline in retail in both the UK and the US. However, this decline presents an opportunity for innovation. By focusing on minimalist, investment-worthy designs, retailers can breathe new life into this classic.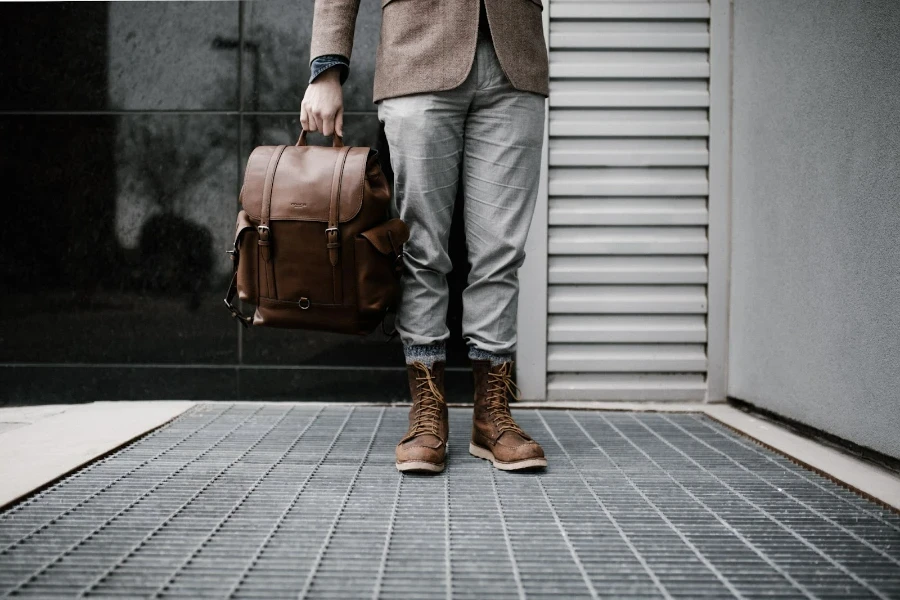 The focus is on functional details like modular designs, monograms, and multi-storage compartments. Quality materials in neutral tones add a touch of sophistication.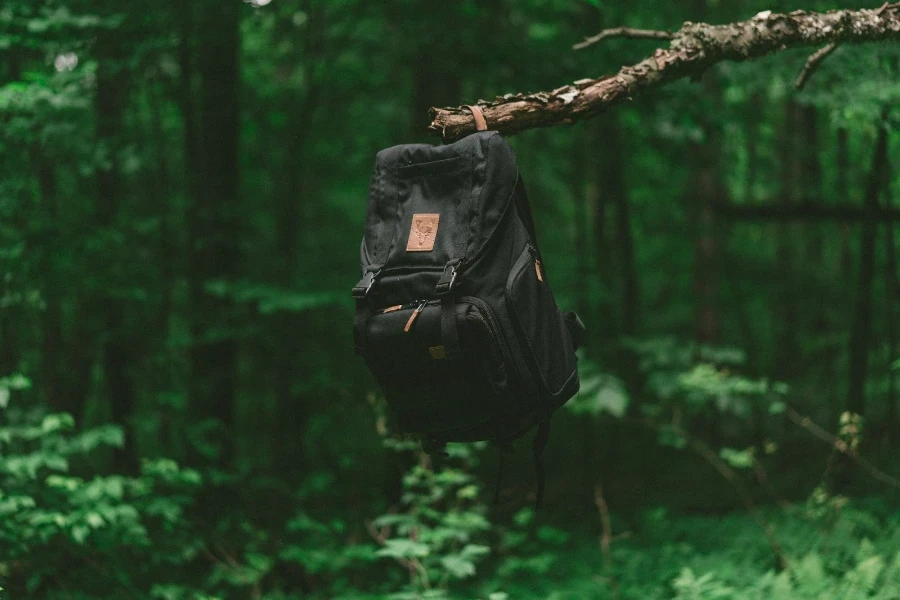 In line with the workleisure trend, the backpack is being reimagined to fit into both work and leisure settings. Think reworked handcraft and metal hardware that adds a touch of luxury without being over the top.
A minimalist black colorway is the go-to choice for the modern man. It's versatile, and timeless, and adds a touch of understated elegance to any outfit.
The weekender: A ultimate travel companion
The weekender bag is making a strong return, especially as travel resumes and people are looking for practical, yet stylish options. This bag is an essential part of the modern man's lifestyle, especially as work and leisure increasingly blend together.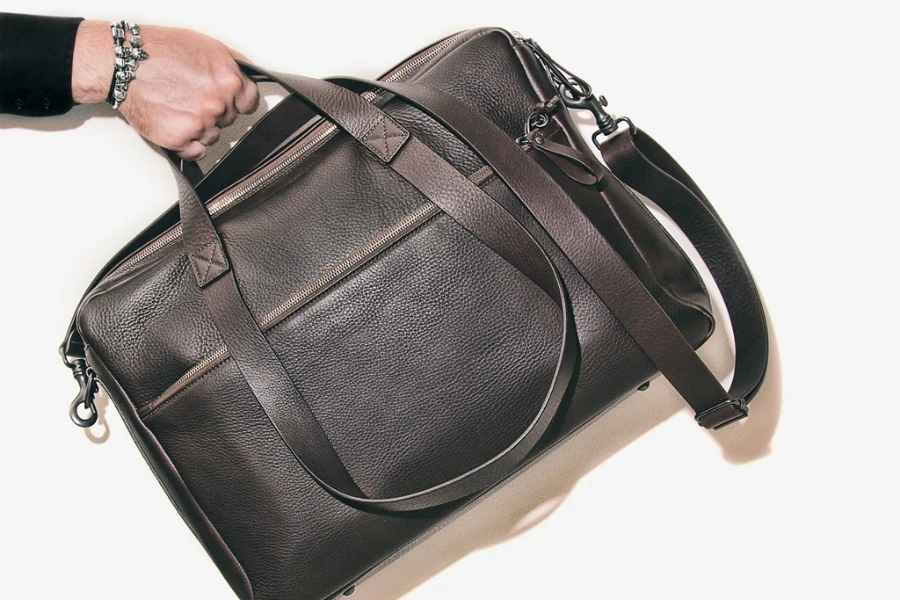 When it comes to the weekender, size does matter. Opt for cabin-size dimensions that make the bag travel-friendly and versatile. This style is expected to uptrend for Autumn/Winter 2024, making it a wise investment for retailers.
Sustainability is a significant factor in today's consumer choices. Using responsible leather and material mixes not only adds to the bag's appeal but also aligns with consumer values.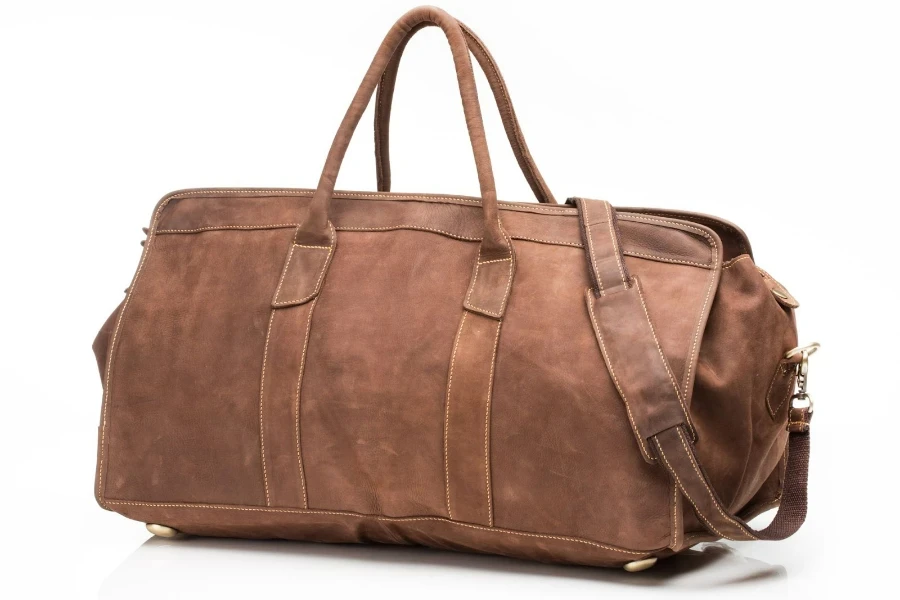 Modern mariner color blocking and natural materials add a layer of intricacy to the weekender bag. Features like outer storage and adjustable/detachable straps make the bag functional yet fashionable.
The slouchy shoulder bag: The new carryall for modern men
The slouchy shoulder bag is extending its reach into the men's market, offering a gender-inclusive, carryall silhouette that's perfect for today's flexible lifestyles. This bag style is particularly relevant for workleisure and modern mariner looks, making it a versatile choice for the modern man.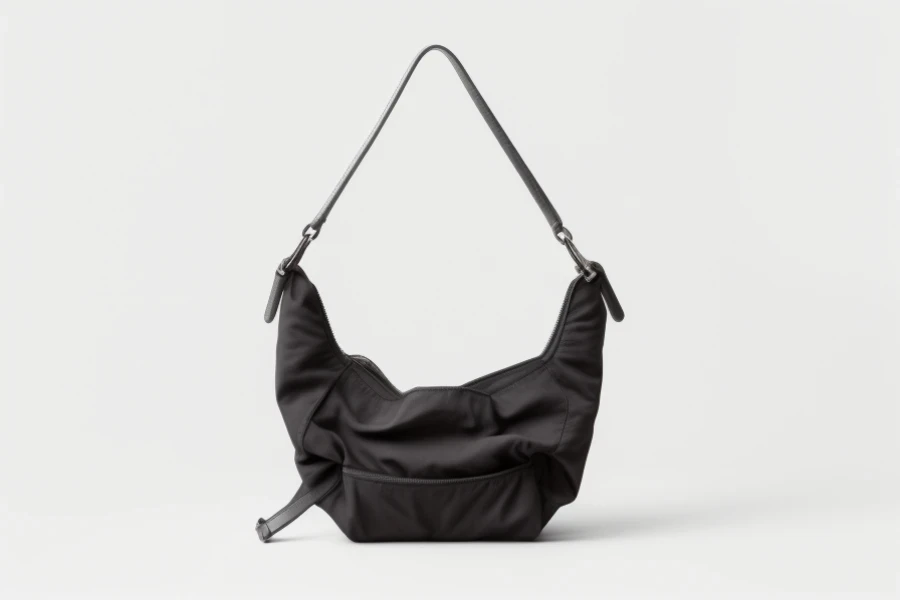 When it comes to materials, monomaterial construction is the way to go. This not only adds a touch of luxury but also aligns with sustainable fashion trends. Heritage logo details add a classic touch, making the bag instantly recognizable.
The design elements are where this bag truly shines. From bead craft to oversized, strapping proportions, these details make the bag a standout piece. Knotted details add an extra layer of intricacy, elevating the bag from a simple carryall to a fashion statement.
A monotone design scheme is not just aesthetically pleasing; it's also incredibly versatile. It allows the bag to seamlessly fit into a variety of outfits, making it a practical choice for those who are always on the go.
Future-proof your inventory
Looking ahead, brands should balance trend-led novelty with timeless quality when stocking men's bags. Core styles like totes and backpacks remain popular but avoid overstocking as sales may decline. Introduce fresh silhouettes and modern updates on classics. Use recycled and responsible materials. Consumers want practical, multi-use bags for flexible lifestyles. Crossbody bags allow easy access while traveling. Invest in travel-friendly carryalls, especially cabin sizes, to meet demand.
Was this article helpful?