The holiday season presents a golden opportunity for businesses to captivate their audience and leave a lasting impression. The activities and experiences during this period often boost economic activities and increase sales. For instance, the National Retail Federation predicted that US consumers spent approximately US $960.4 billion during the 2022 holidays. The eMarketer further estimates that this amount will increase to US $1.3 trillion for the 2023 holidays. This increase in sales significantly boosts the demand for Christmas packaging.
Businesses can leverage this opportunity by understanding that Christmas packaging is more than a protective wrap. It conveys a statement that can help enhance brand recognition and build customer loyalty. Here, we present insights to help businesses master the art of impactful packaging to attract Christmas shoppers.
Table of Contents
Christmas packaging market overview
Types of Christmas packaging to consider
Tips to consider when selecting Christmas packaging
Conclusion
Christmas packaging market overview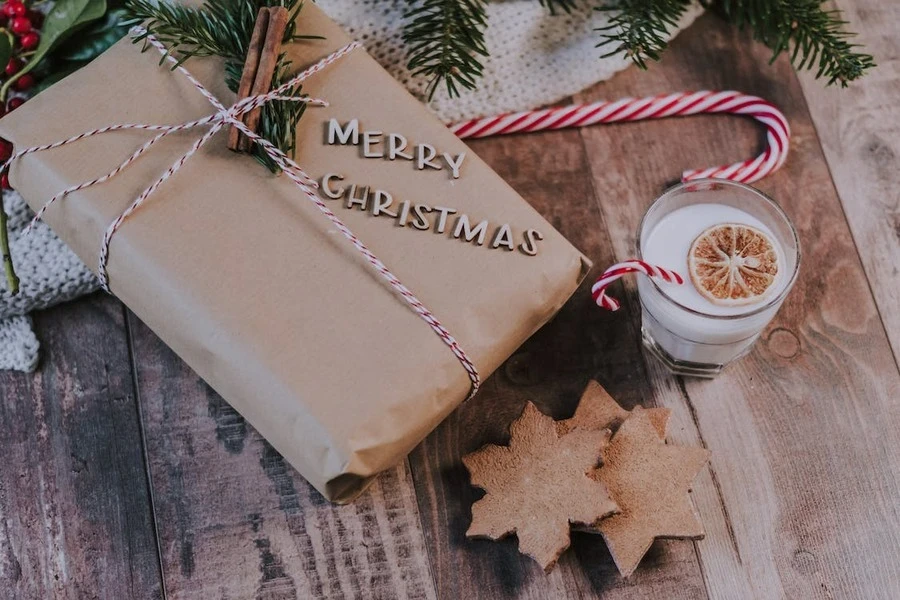 The Christmas holiday boosts sales as consumers buy Christmas decorations, gifts, and festive clothes and indulge in seasonal treats. These practices increase economic activity. As a result, the retail sales for the 2023 holiday season are projected to generate US $29.693 trillion and will continue to grow at a CAGR of 5.5%, reaching a forecasted US $34.895 trillion by 2027. Retail e-commerce sales will account for US $5.784 trillion, growing at a rate of 8.9%. 
This increase in holiday sales will increase the demand for Christmas packaging materials and products, leading to significant market growth. For example, Future Market Insights estimates that the gift packaging market generated US $24.032 billion in 2022 and is projected to reach US $36.965 billion by 2032. These numbers indicate the potential market growth and opportunities for businesses in the packaging sector.
Factors driving growth
Multiple factors are driving growth of the Christmas packaging market, including:
The widespread holiday gift-giving culture
The rapid growth of e-commerce platforms
Global seasonal and limited-time sales with customized Christmas packaging
Social media influence, where internet sharing festive unboxing experiences, creates increased demand that leads to more sales
Types of Christmas packaging to consider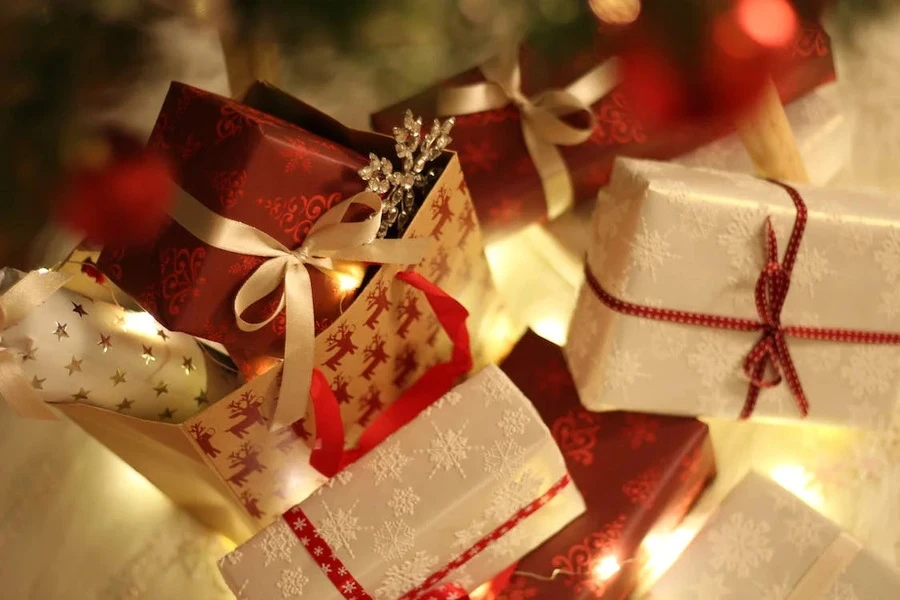 Businesses can take advantage of different types of Christmas packaging to cater to different consumer needs and preferences. Offering a range of options helps make gifts and treats more festive and memorable during the holiday season. Below is a list of various types of packaging to consider:
Christmas gift bags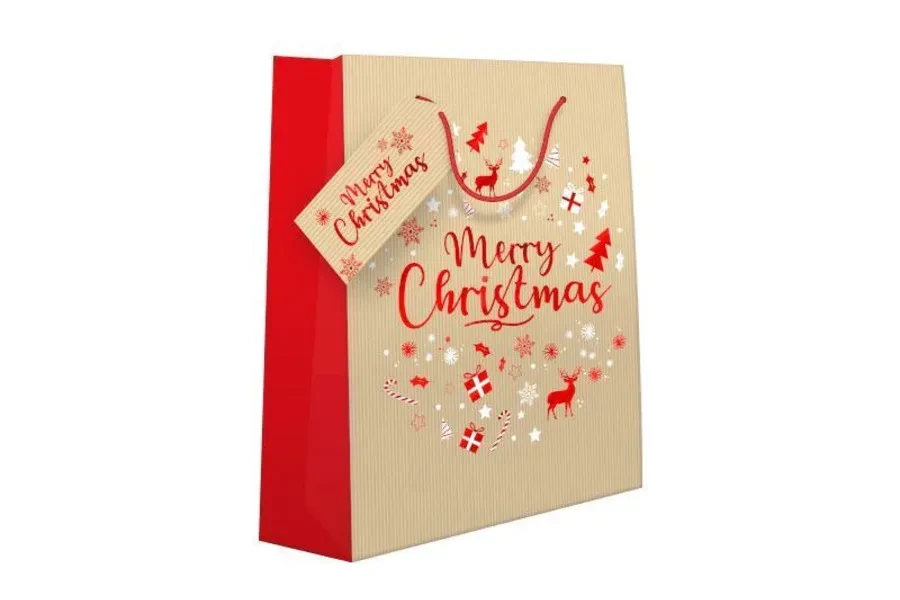 The global gift packaging packaging market was valued at US $22.5 billion in 2022 and is projected to grow at a CAGR of 3.9% between 2023-2028, reaching US $28.3 billion. Gift bags account for a significant portion of this market value due to their wide range of applicability and ability to carry multiple gifts and protect them from damage. Christmas-themed gift bags come in different colors and styles to cater to different customer segments. They are also easy to brand, thus enabling personalization and customization, and are convenient and reusable.
Christmas gift boxes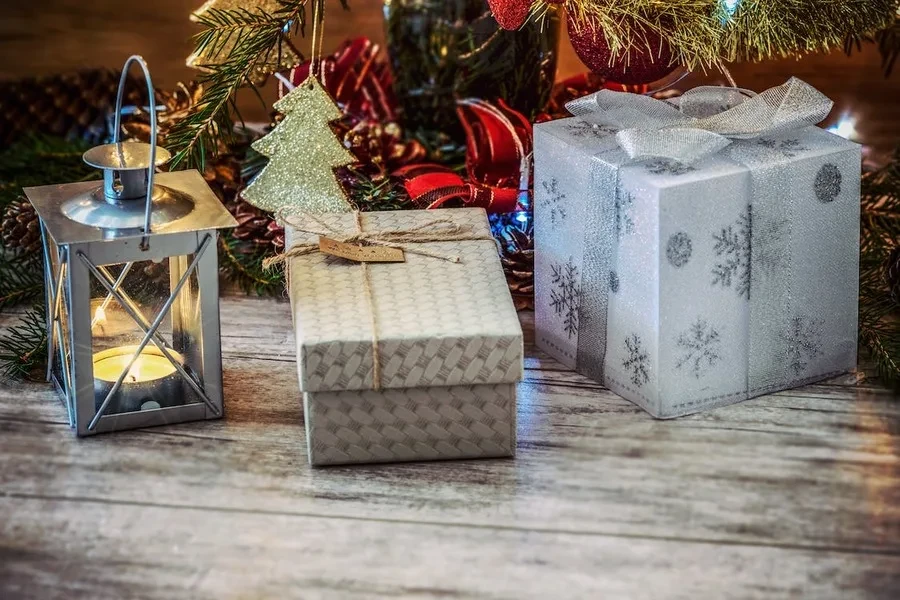 The global gift box market is estimated to generate US $2.018 billion in 2023 and is projected to reach US $3.753 billion by 2033, growing at a CAGR of 6.4%. Gift boxes are popular during the holiday season among customers looking to gift everything from food and beverages to jewelry, personal care and cosmetics, toys, and electronic devices. In addition, they are often made from cardboard or other materials, making them sturdy and ideal for providing protective and decorative enclosures for Christmas gifts.
Ribbon and bows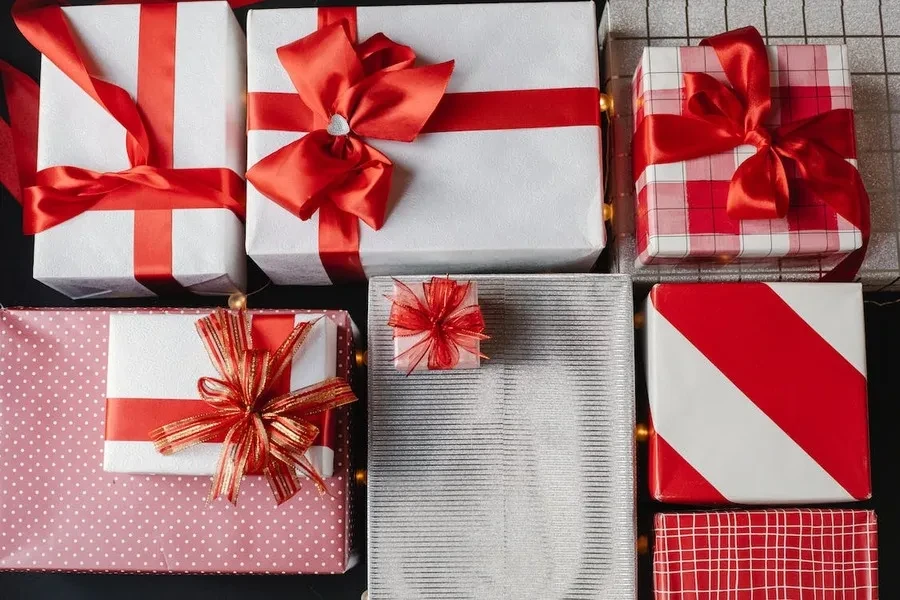 Ribbons and bows boast unwavering popularity and demand, especially during the Christmas holidays. For instance, Google Ads shows that monthly searches for the keyword "Christmas ribbons and bows" increased from 5% to 48% during the 2022 December holidays. Ribbons and bows act as a visual cue for the festive season, signaling that what lies beneath is not merely an object but a gesture of affection, gratitude, or celebration.
Gift-wrapping paper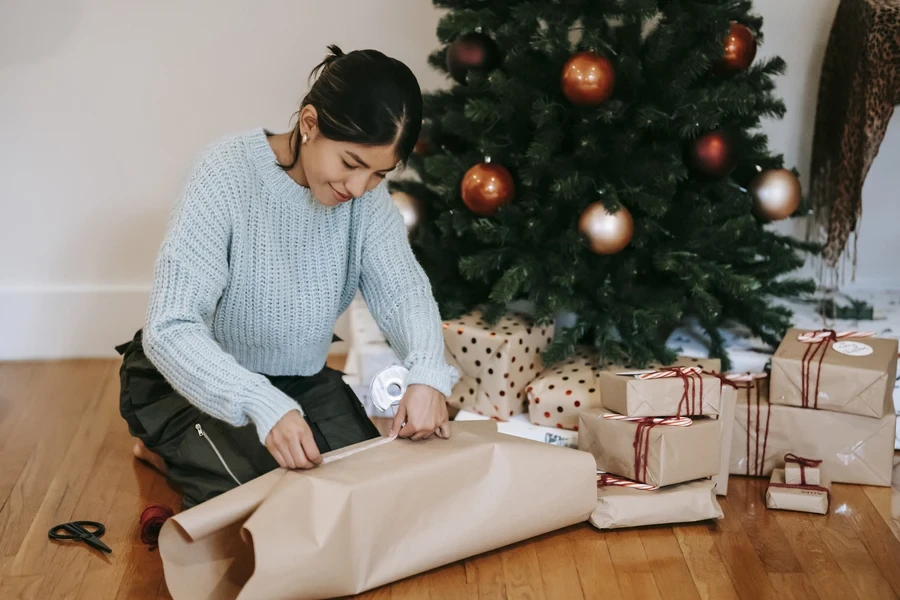 The global gift paper market is projected to reach a market value of US $4.486 billion in 2023 and US $6.645 billion by 2033, growing at a CAGR of 2-3%. Gift-wrapping paper accounts for approximately 29% of the global gift packaging market. This huge demand is due to their continuing aesthetic and cultural appeal.
Christmas shoppers use wrapping paper to wrap gifts in a decorative and colorful covering. This paper often comes in various patterns, colors, and finishes and can be complemented with ribbons, bows, and tags for added flair.
Advent calendar packaging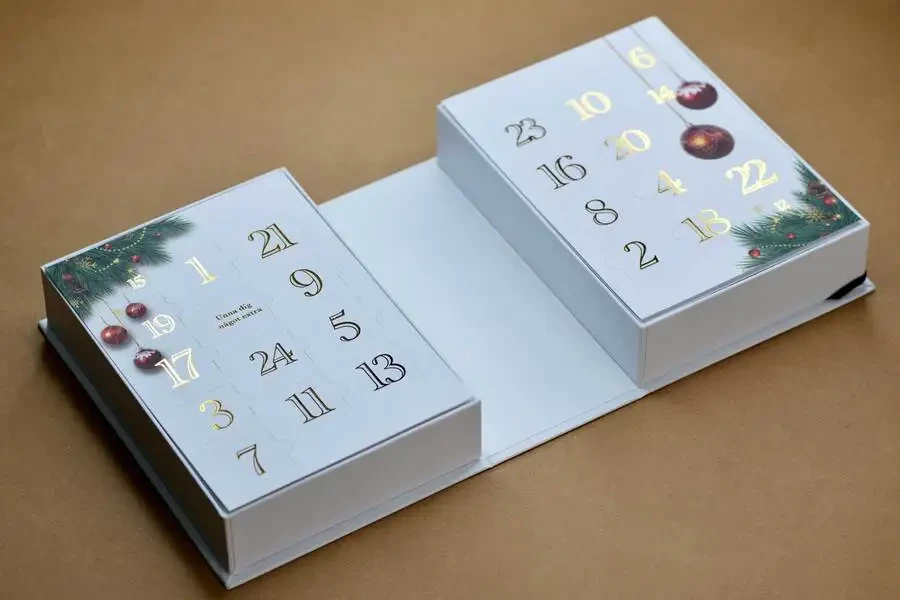 Advent calendar packaging adds a twist to regular packaging, allowing the receiver to count down the days leading up to Christmas. The limited-time nature of advent calendars encourages early purchasing, boosts revenue during the holiday period, and creates an engaging interaction between businesses and customers.
Christmas packaging labels and tags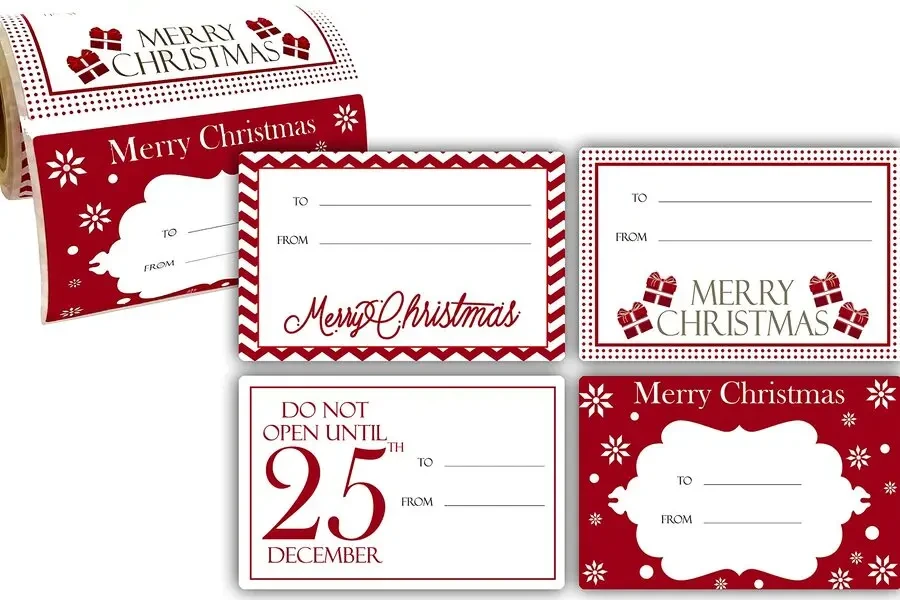 The personalization and sentimental value associated with Christmas packaging labels and tags contribute to their huge global demand during the holiday season. For instance, the worldwide labels market is projected to generate US $41.75 billion in 2023 and reach US $67.36 billion by the end of 2033, growing at a CAGR of 4.9%. Christmas packaging labels contribute to this market growth due to the increased holiday sales and the associated gifting culture. Moreover, most consumers perceive Christmas packaging labels as a way to transform ordinary packaging into a canvas for personalization and added thoughtfulness.
Tips to consider when selecting Christmas packaging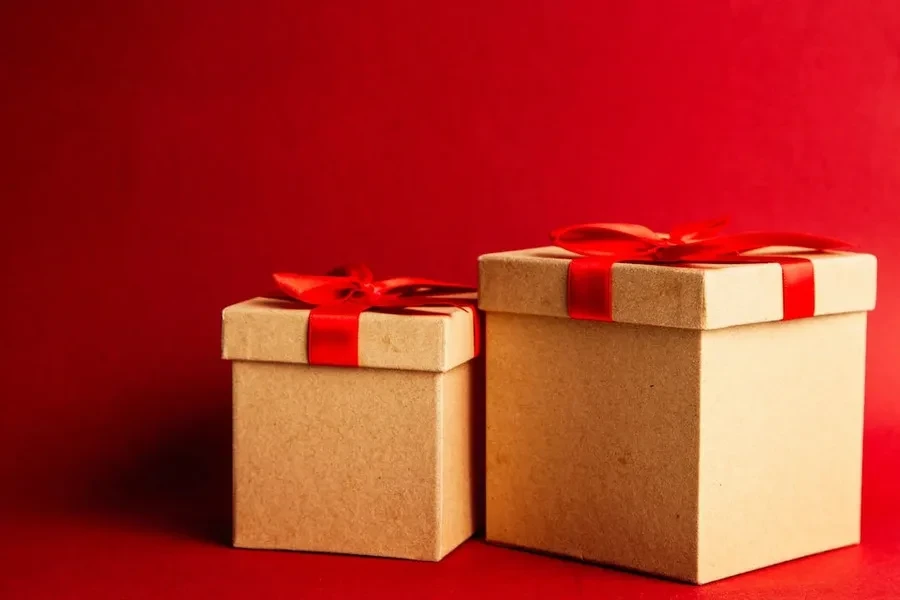 Businesses can significantly benefit from choosing the right Christmas packaging. For instance, selecting packaging designs that align with their brand image and resonate with their target audience can increase customer engagement and sales. However, there are various considerations that they should pay attention to, including:
1) Christmas packaging customization
Brands looking to improve their holiday presence should consider customization options that resonate with consumers and align with their brand identity. Customized packaging enables businesses to showcase their brand's unique aesthetics, colors, and logo. Therefore, they may also want to include custom printing, labels, or unique box shapes with their packaging, which can enhance customer-perceived value.
2) Integrating storytelling
Christmas packaging that integrates storytelling allows businesses to engage and captivate consumers. For instance, incorporating storytelling elements, such as imagery, graphics, or text that tell stories about the Christmas holidays, brand, or product, into the packaging design creates a more memorable experience. Moreover, using effective storytelling evokes emotions, sparks curiosity, and creates a deeper brand-customer connection.
3) Offering limited edition packaging
Limited edition packaging taps into the allure of exclusivity. It creates a sense of urgency and excitement among customers, encouraging them to purchase sooner. In addition, limited edition packaging can turn the holiday gifting tradition into a special experience with a collectible twist.
4) Using eco-friendly materials and designs
Modern-day consumers are environmentally conscious and are demanding eco-friendly packaging products. For instance, demand for eco-friendly packaging is projected to boost the gift packaging market by 15%. Businesses can consider offering eco-friendly Christmas packaging options that include biodegradable, recyclable, or compostable materials.
5) Adding foil stamping
Foil stamping is a premium technique that adds a touch of luxury and elegance to the Christmas box packaging. It involves applying metallic or glossy foil to specific design elements, thus creating a visually striking contrast with the packaging material. Businesses can use foil stamping to highlight intricate patterns, logos, or festive motifs, which add a lively sparkle that captures attention and conveys a sense of luxury.
Conclusion
The Christmas holiday period is associated with increased sales as consumers purchase products to celebrate the festivals and gifts to their families and friends. Consequently, high sales increase demand for packaging products and create an opportunity for businesses to embrace impactful, eco-friendly packaging that helps them stand out.
However, leveraging this opportunity requires these brands to provide a diverse range of packaging solutions that cater to different consumer preferences and needs. These can include the highly-demanded Christmas-themed gift bags and boxes, wrapping papers, advent calendars, labels and tags, and ribbons and bows. Providing such an extensive array of packaging solutions can help customers create unforgettable memories and elevate a business's branding.If you're in the market for eye-catching and evocative Christmas packaging products, be sure to browse the thousands of products on Alibaba.com today.
Was this article helpful?