When it comes to Amazon seller tools, Jungle Scout and Helium 10 have often been pitted against each other. However, a third contender is now fast catching up and giving these two well-known platforms a run for their money. Threecolts, a relatively new player in the game, has swiftly been making a name for itself since its launch in 2021.
In this three-way battle among the top Amazon Seller tools, each platform brings its own set of unique features and advantages to the table. As an Amazon seller, we're sure you are eager to find out which one dominates the rest and offers you the most value as you strive to achieve success in the Amazon marketplace. So we delved deep into the features, pricing, performance, and overall value provided by each platform to give you a comprehensive comparison of Threecolts, Jungle Scout, and Helium 10.
This article can serve as your guide in making an informed choice on which Amazon Seller tool can maximize your profits and propel your business growth.
A Quick Peek at Key Features
Before we delve into the detailed comparison, let's briefly highlight the key features of Threecolts, Jungle Scout, and Helium 10:
Threecolts
Real-time listing and inventory alerts
Multi-channel customer service integration
Recouping of unwarranted Amazon deductions
EnterpriseAPI for 3P monitoring
FBA fees monitoring
Product review and seller feedback automation
Product-level profit data analytics
Jungle Scout
Keyword research
Product and rank tracker
Opportunity finder
Listing builder
Review automation
Analytics
Inventory management
Helium 10
Product and keyword research
Listing optimization
Inventory management
Keyword tracker
Sales estimator
PPC audit
Marketing automation
Platform Overview
Let's start our comparison with a brief overview of each platform. Understanding their origins and evolution can provide insights into what their core principles are, how they adapt to changing needs, and their future roadmap. This can help you evaluate whether their vision aligns with yours.
Threecolts: The Ultimate Amazon Growth Suite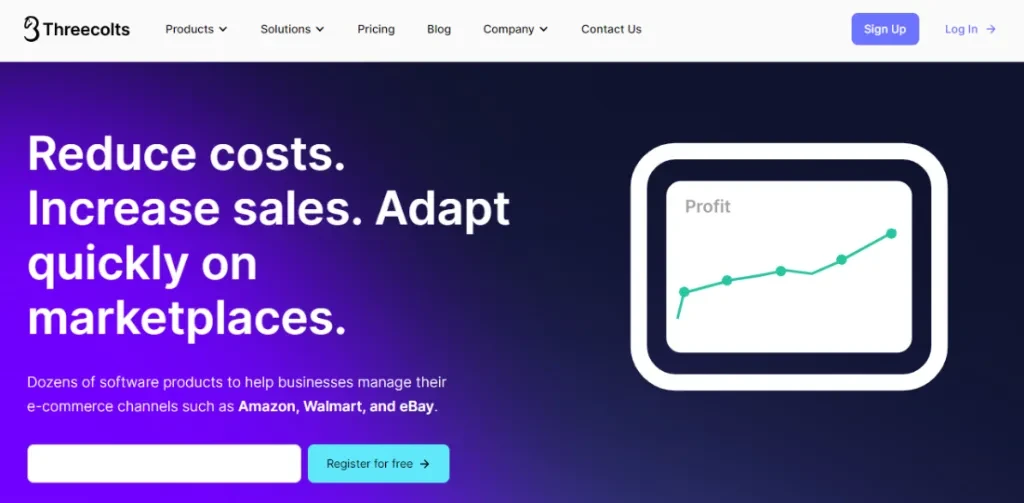 Founded in 2021 by the visionary CEO & Founder, Yoda Yee, Threecolts swiftly emerged as a game-changer in the world of Amazon businesses. With an impressive background at Amazon, Yoda Yee brought invaluable knowledge and expertise to the table. While coordinating with third-party sellers at Amazon, Yee saw firsthand both the opportunities and challenges faced by sellers in the marketplace. To address these, he first launched Old Street Media to provide a diverse range of agency services, M&A advisory, Amazon incubator support, and innovative software solutions.
Seeing the need for more advanced seller tools that propel business growth, he established Threecolts. Threecolts proudly boasts a comprehensive cloud suite tailored specifically for Amazon businesses. Its mission is clear: to empower sellers to grow faster, lower operational costs, and achieve unparalleled agility. With 17 products and counting, Threecolts has rapidly become a go-to platform for Amazon sellers worldwide. Spanning over 20 countries and with a team of 150 dedicated professionals, they have successfully catered to the needs of over 20,000 satisfied customers. Today, Threecolts continues to grow its product offerings through software development and acquisitions.
Jungle Scout: From a Lean Chrome Extension to an All-in-One Selling Platform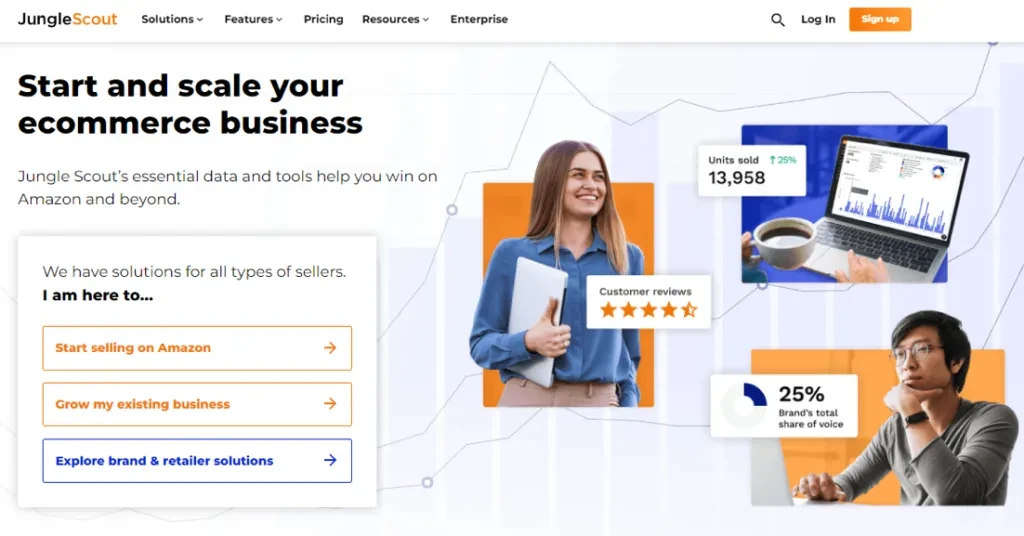 Initially designed as a simple Chrome extension for product discovery on Amazon, Jungle Scout was developed into an all-in-one platform for online selling. Founder and CEO Greg Mercer, a former engineer turned eCommerce guru, leads his global team in building business management solutions and market intelligence software for sellers. His passion for helping sellers succeed is evident in every aspect of Jungle Scout.
With a diverse team of over 200 experts spread across 17 countries, Jungle Scout is built by sellers, for sellers. This unique perspective ensures that the platform caters to the specific needs of Amazon entrepreneurs, equipping them with the tools and knowledge needed to excel in the competitive marketplace.
Helium 10: Helping Sellers Soar High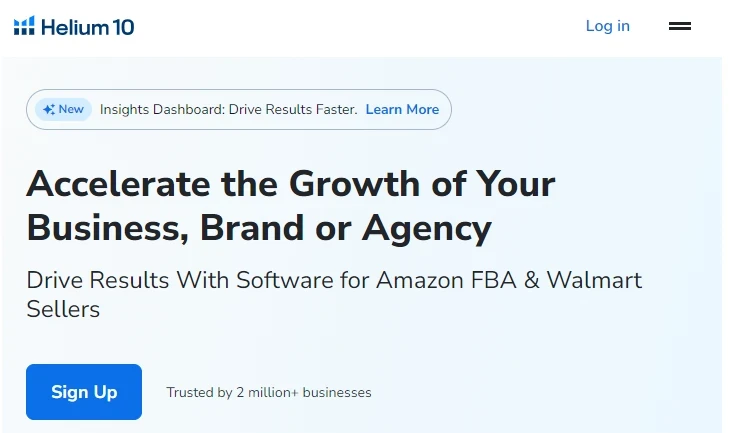 Launched in 2015 by eCommerce sales expert and serial entrepreneur Manny Coats and Guillermo Puyol, Helium 10 has been a driving force in the eCommerce software industry. Both actively engaged in eCommerce communities, Coats and Puyol recognized the pressing needs of Amazon sellers. Driven by the desire to empower sellers with cutting-edge solutions, they embarked on a journey to develop software that addresses these needs.
Originally launched as a listing optimization tool, Helium 10 evolved over the years to become a comprehensive sales software solution for Amazon sellers. Today, it proudly supports over 20 marketplaces and caters to the needs of thousands of sellers worldwide.
In-Depth Comparison of Threecolts, Jungle Scout, and Helium 10
Comparing software platforms for eCommerce businesses can be daunting. Here, we go through the core features of the three platforms to see how each one compares to the others. We try to do away with claims on accuracy that can be difficult to validate. Instead, we give you a rundown of what each platform offers and what their limitations are, if any. 
Core Features
Threecolts offers a unique blend of tools with a strong focus on profit recovery, review automation, and helpdesk integration. Its DimeTyd and SellerBench tools save businesses substantial amounts by automating savings and enhancing visibility into inventory conversion. FeedbackWhiz aids in generating reviews and improving feedback scores. Threecolts' customizable solutions provide flexibility to tailor tools to specific needs.
Jungle Scout shines in product research, featuring tools like Product Database and Opportunity Finder, as well as an educational hub in Jungle Scout Academy. It offers a well-rounded toolkit for sellers seeking profitable products and insights into the market. It's also a good option for beginner sellers willing to invest in training programs.
Helium 10 has a suite of tools that covers various aspects of Amazon selling, from product and keyword research to advertising management. Its Insights Dashboard and Market Tracker 360 provide valuable market insights, while Adtomic aids in effective advertising campaign management. While it's marketed as a comprehensive solution, it lacks many features offered by its competitors, including historical category trends, a global supplier database, a seller account performance dashboard, and 24/7 customer support.
Inventory Management
Threecolts offers a powerful inventory management suite, including SellerBench, RefundSniper, and SellerLocker. With the power of these tools, sellers can recover 3X more than the competition. This makes it an attractive option for optimizing profitability. Threecolts stands out with its transparent billing that provides sellers with weekly invoices for recovered amounts and allows payment only when the seller gets paid. The platform also offers case-level reporting and dedicated case managers to ensure you stay in control of your inventory management processes.
Jungle Scout's Inventory Manager takes a data-driven approach to Amazon inventory management. The platform allows sellers to accurately predict stock needs and order dates and avoid stockouts and costly storage fees. With its demand forecasting technology, sellers can analyze inventory-level metrics, such as cost and average profits. While its predictive analytics boasts high accuracy, it may not offer the same level of recovery and case-level reporting features as Threecolts.
Helium 10's Amazon Inventory Management Software simplifies stock keeping for sellers. It allows sellers to complete supplier orders and send inventory to Amazon in one place. The platform's focus on simplicity and control makes it suitable for sellers seeking a straightforward inventory management solution. However, its inventory management features might not be as comprehensive and recovery-focused as Threecolts, which offers a suite of tools specifically for this. Moreover, Helium 10's inventory management system may not have the same level of demand forecasting capabilities as Jungle Scout, which uses data-driven technology for predictive analytics.
Sales and Profit Analytics
Threecolts utilizes FeedbackWhiz Profit Analytics. Sellers can customize analytics by building expense categories to include all costs of inventory management that the Amazon financial management system may not track. This level of customization allows you to organize expenses precisely and gain deeper insights into profitability. With one dashboard to track profits and losses across all global Amazon stores, you can measure performance and identify areas for improvement with just a few clicks. The platform's customization and global tracking features make it a powerful tool for optimizing strategies for international markets.
Jungle Scout's Sales Analytics feature provides real-time data to help sellers focus on profit-building and cost-saving strategies. Its edge lies in its user-friendly interface and detailed product-level insights. The platform's ability to track inbound FBA shipments also ensures that sellers can manage their inventory effectively and reduce the risk of stockouts. However, these features are primarily focused on Amazon sellers, which might be a limitation for sellers who are actively expanding to other marketplaces.
Helium 10's Amazon & Walmart Sales Tracker serves as a centralized dashboard for sellers' most important selling analytics. The platform offers a Gross Revenue & Net Profit Dashboard that provides sellers with an accurate pulse on their financial health across all product listings. The platform's focus on presenting critical metrics by specific time periods allows sellers to identify increasing or decreasing sales trends.
Review Automation
Threecolts provides FeedbackWhiz, a review automation tool that empowers sellers to enhance their Amazon seller and product ratings. Its standout feature is the ability to target specific customer groups, excluding those who might leave negative reviews. Customizable feedback request templates allow personalized messages to be sent, and the tool can even automate the Amazon "Request a Review" button. However, it's important to note that its focus is primarily on feedback and review requests.
Jungle Scout introduces Review Automation as an Amazon ToS-approved solution that streamlines the review request process. This tool offers automated review requests for eligible orders, saving time and ensuring no review opportunity is missed. Sellers can manage and customize review requests to track orders and status in an organized manner. Although it concentrates on automating review requests, it offers a more holistic approach by integrating this feature into its suite of seller tools.
Helium 10 presents Seller Assistant, an Amazon Feedback Software designed to enhance brand reputation through improved reviews. It offers a convenient way to boost review probability with Amazon review automation while ensuring Amazon's Terms of Service compliance. Helium 10's focus on maintaining a reputable listing and helping sellers scale makes it a strong contender in the review automation realm.
In terms of review automation, Threecolts clearly stands out for its personalized and targeting capabilities. Still, Jungle Scout provides an integrated and efficient solution, while Helium 10 is great for reputation management and scalability.
Pricing
Pricing is a crucial factor for Amazon sellers when choosing a seller tool. Since it directly impacts the budget and ROI of your business, this should be among your primary considerations.
Threecolts takes a unique approach to pricing by allowing users to customize their toolkits based on their business needs and budget. You can choose from various third-party apps and their corresponding prices to create a tailored package. For $50 per month, you can get Tactical Arbitrage for product research and finding profitable opportunities. $10 per month for ScoutIQ will let you have unlimited live look ups. Multi-channel customer service integration with ChannelReply starts at $31 per month. Track up to 5,000 ASINs at only $59.90 per month through SellerRunning. Of course, there are also free tools, such as FeedbackWhiz, Bindwise, PrinceletSQL, and many more.
Jungle Scout offers a range of pricing plans to accommodate sellers with varying needs. At $29 per month on annual billing, its Basic Plan provides access to the Jungle Scout browser extension for Chrome and Firefox, a single-user license, and the review automation core tool. Its Professional Plan, which is the most comprehensive tier, goes for $84 per month. This gives you access to all the lower tier features along with the ability to track up to 1,000 ASINs, accommodate six users, access six months of historical data in the Product Tracker, and two years of historical keyword data.
To new Amazon sellers, Jungle Scout offers learning packages. Their Startup Suite goes for $189 for three months of access to training courses, checklists, priority onboarding, and weekly live Q&A sessions that help new sellers kickstart their Amazon journey.
Helium 10 provides three main pricing plans, each with varying levels of access to features. The Starter Plan, $29 per month on annual billing, offers limited access to features, including product research, keyword research, analytics, listing optimization, and operations. However, it does not include access to the Insights Dashboard. To get full access to all the core features, you'll need to shell out $229 per month for the Diamond Plan. Helium 10 also offers various add-ons, such as an AI-powered PPC tool, market intelligence, and exclusive training. But these also entail additional costs.
When it comes to pricing, Threecolts gives you the flexibility to allot your budget to the specific areas you need to improve. Unlike bundled plans where you may not always get value from every tool in the package, you only pay for the seller tools you actually need.
Threecolts vs. Jungle Scout vs. Helium 10 – Which Should You Get?
In a nutshell, the best Amazon seller tool for you is the one that fits your unique needs. When deciding which platform to get, consider the following factors:
Budget. Assess your finances and determine the amount you can allocate for seller tools. Choose the platform which offers the most suitable features within your financial range. All three offer a selection of free tools. Jungle Scout and Helium 10 have tiered plans bundled with the most commonly used tools. Threecolts lets you choose and pay only for the specific tools you need.
Features. Consider the specific features you require for your Amazon business. Threecolts' customizable approach may be advantageous for those who prefer to select individual apps based on their needs. Jungle Scout's tiered plans allow users to access additional features as they scale their business, while Helium 10's three plans cater to sellers with varying levels of experience and requirements.
User Interface. Even the most advanced tools will be of little value if they are difficult to use. So consider how user-friendly the interface is before deciding on a platform. Check for ease of use and smooth integration into your existing workflow.
Customer Support. Check how responsive the customer support team is when handling inquiries and software issues. One way to gain insights into this is by going through customer reviews and testimonials.
Adaptability. The business landscape evolves fast, especially in eCommerce. Technology can get outdated in the blink of an eye. So you'd want to get software solutions that are agile and adapt fast to changing needs. Threecolts, for instance, is constantly innovating and adding new tools to help online sellers meet their current needs and prepare for emerging trends. 
The Best Choice Is the One That Meets Your Needs
Threecolts, Jungle Scout, and Helium 10 each offer distinct pricing structures and features. Threecolts stands out for its customizable toolkit approach that allows sellers to tailor their experience. Jungle Scout's tiered plans are suitable for those looking for a progressive and feature-rich experience. Helium 10's three plans cater to sellers at various stages of their Amazon journey.
Ultimately, the best choice among the three depends on your unique requirements and goals as an Amazon seller. Evaluate your needs, budget, and business goals to determine the best fit for your Amazon selling journey. Whichever tool you choose, remember that investing in a reliable and efficient Amazon seller tool is crucial for maximizing success and achieving your business objectives.
Source from Threecolts
The information set forth above is provided by Threecolts independently of Alibaba.com. Alibaba.com makes no representation and warranties as to the quality and reliability of the seller and products.
Was this article helpful?