The StreetSmart Brights trend for 2023 represents a rebellious yet refined re-energizing of menswear essentials. By clashing vibrant colors with timeless tailored pieces, this optimistic aesthetic injects uplifting self-expression into wardrobe basics. Subtle surprising details and inclusive silhouettes allow retailers to implement StreetSmart Brights across everyday looks. Read on to discover how this lively trend sparks joyful nonconformity through reconsidered classics designed for longevity.
Table of Contents
The meaning behind vibrant tailoring
Key inspirations: Progressive menswear voices
Strategic pops of color
Versatile foundations reimagined
Conclusion
The meaning behind vibrant tailoring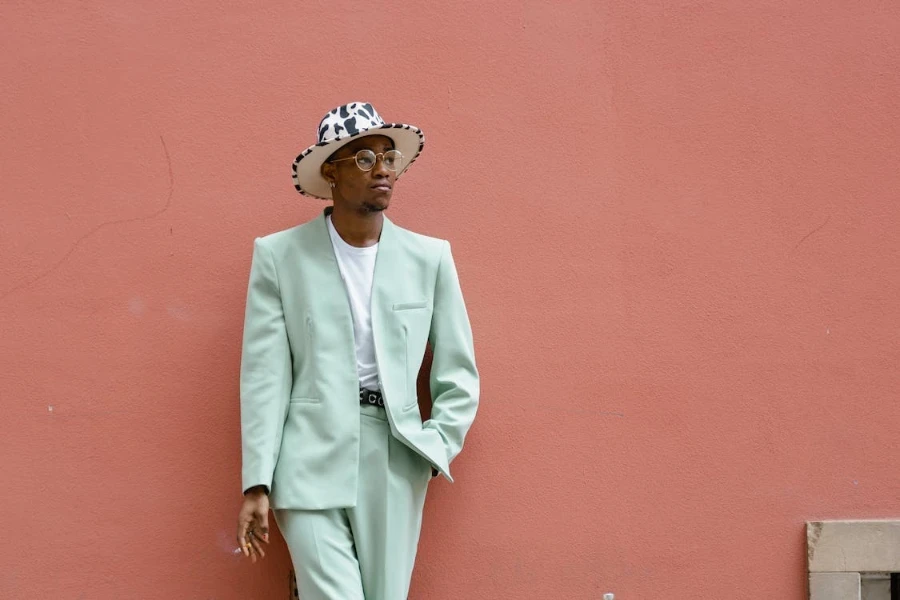 StreetSmart Brights represents a shift towards optimistic dressing in uncertain times. Against a backdrop of global challenges, the trend's saturated hues provide an uplifting antidote to minimalist convention. Vivid colors also symbolize a celebration of the full spectrum of human emotion. No longer relegated to casualwear, dynamic brights now energize formal aesthetics as well.
This vibrancy reflects youth's desire for cheerful defiance through style. Adding pops of color to traditional tailoring creates fashion that marches to its own beat. The mood is rebellious yet refined – perfect for the modern, progressive male consumer looking to rewrite outdated rules of dressing.
At its core, StreetSmart Brights embraces inclusive design to enable self-expression. Clashing bold hues symbolizes breaking free from the gendered conventions of menswear. With its optimism and boundary-pushing spirit, the trend champions maximalist emotion and non-conformist joy.
Key inspirations: Progressive menswear voices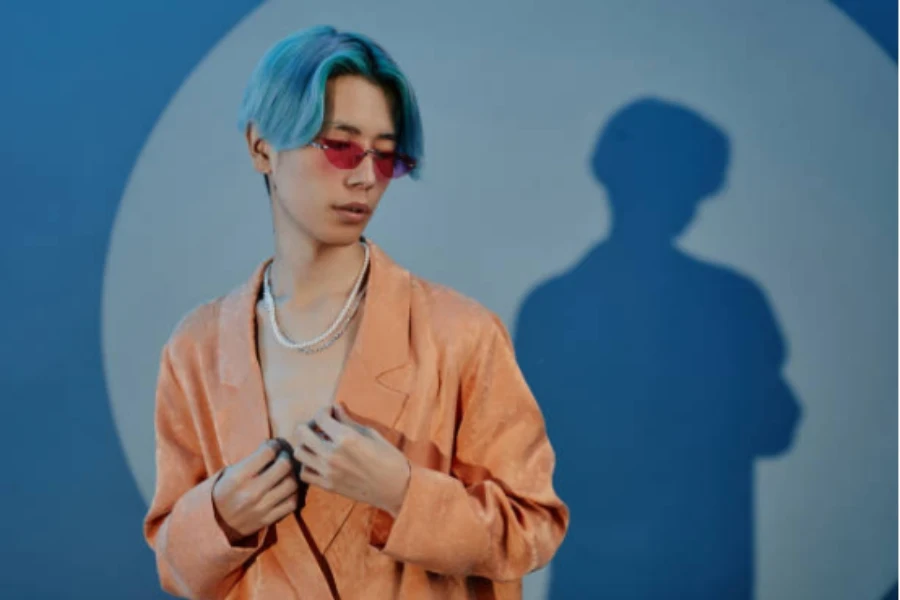 The vibrant and rebellious spirit of StreetSmart Brights is driven by innovative individuals thinking outside the box when it comes to menswear conventions. By fearlessly embracing color, these progressive voices are expanding the boundaries of tailored dressing.
One key influence is genderfluid designers creating pieces specially engineered for self-expression regardless of identity. Their designs feature expansive, non-traditional color palettes with adjustable details to enable wearing across body types. Silhouettes range from roomy to fitted to suit personal preference. These designers are leading the way in inclusive design that celebrates the beauty of non-conformity.
Streetstyle stars also provide inspiration for incorporating bold pops of color into modest formalwear. Bloggers like Ameni Esseibi from Tunisia use vividly hued turbans, caftans and accessories to liven up their looks. Their mix-and-match approach spotlights the creativity possible within formal parameters.
Sustainable menswear innovators demonstrate how vivid hues can be achieved through recycled materials and zero-waste production methods. By diverting textile waste from landfills, their conscientious designs offer a wide range of bold colors with a lighter environmental footprint. Their eco-friendly mission aligns with the optimistic ethos of StreetSmart Brights.
Diverse models of all ages, sizes and gender identities are also propelling this trend forward. Their presence on the runway and in advertising showcases how Statement brights can be worn by anybody wishing to express joyful non-conformity through style. They exemplify the inclusive future of vibrant menswear.
Strategic pops of color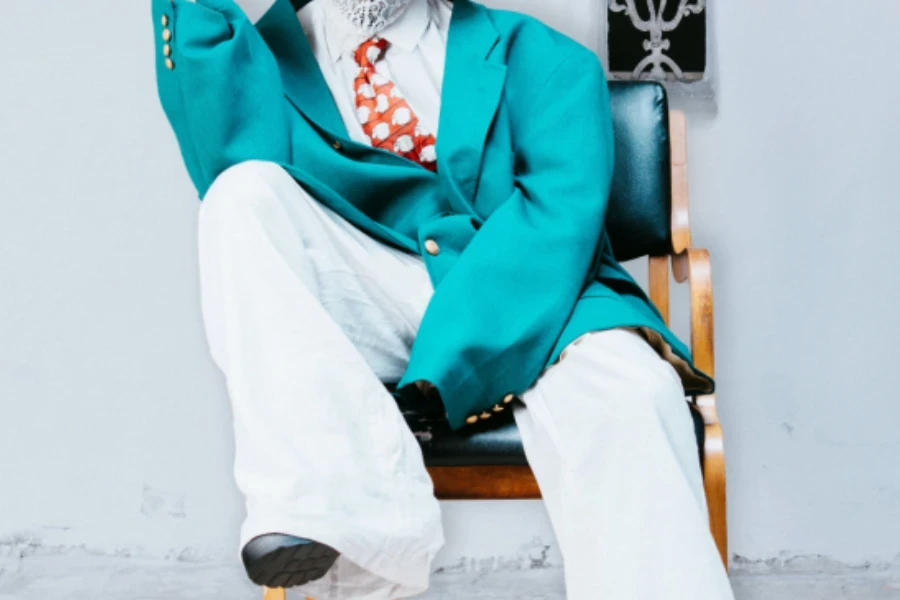 The key to smart commercial execution of StreetSmart Brights is finding thoughtful yet impactful ways to incorporate pops of vibrant color into classic pieces. Subtle surprises enliven traditional looks with a hit of dopamine.
One approach is revamping wardrobe basics like white button-downs and black trousers with bold trims and contrast stitching in signature 2023 hues. Vivid collar and pocket details feel fresh without overwhelming neutral foundations.
Men's accessories also provide easy ways to test bolder colors. Opt for saturated socks, pocket squares, neckties, and statement jewelry to complement muted suiting. Pops of fuchsia, citrus yellow, or cobalt blue become eye-catching focal points when keeping the outfit neutral.
Informal combinations create a rebellious mood while limiting investment in head-to-toe saturated looks. Pairing vibrant pants or footwear with neutral tailored pieces balances vibrant self-expression with commercial versatility.
Focus color on design details with room for adjustment like removable belts, adjustable jewelry, and oversized outer layers. This enables customization across seasons and body types.
Thoughtful yet daring pops of bright color modernize timeless pieces without alienating conservative consumers. Keeping vibrant accents subtle allows for creative self-expression with mainstream appeal.
Versatile foundations reimagined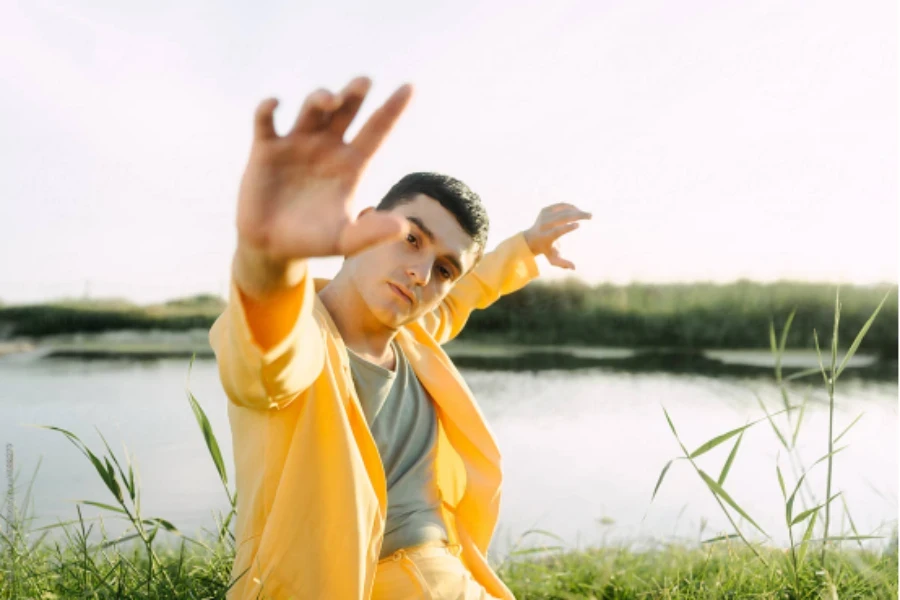 The StreetSmart Brights trend opens new doors for color experimentation, but the foundations of exceptional style remain timeless silhouettes and quality construction. Focusing on versatile, inclusive basics allows vibrant accents to shine.
Hybrid BusinessCasual styling bridges professional and casual contexts, expanding opportunities for color. Focus on polished yet relaxed aesthetics. Adjustable, roomy silhouettes designed for comfort enable personalization across body types and gender identities. Accommodate different forms of expression.
Use eco-friendly fabrics from recycled and renewable sources whenever possible. Sustainable production aligns with the trend's future-focused optimism. Source naturally vivid dyes, like those derived from avocado pits and beets. Avoid harmful synthetics.
Opt for seasonless, high-quality construction meant to last and become beloved wardrobe staples. Build in flexibility for users to make pieces their own.
By centering versatile design and conscientious production, the foundations of a timeless, inclusive wardrobe emerge. Vibrant accents can then be incorporated sustainably and commercialized smartly. The goal is dressing optimism for the long haul.
Conclusion
StreetSmart Brights brings vibrancy and optimism to menswear for 2023 through creative applications of bold color. By adding bright pops to classic tailoring, retailers can appeal to young male consumers who crave upbeat self-expression. Thoughtful details on trims and accessories allow for subtle experimentation while ensuring commercial viability. Most importantly, this trend represents the inclusive, progressive future of menswear through its genderless appeal and focus on longevity and sustainability. With its playful spirit, StreetSmart Brights paves the way for menswear that seamlessly transitions from #DayToNight while satisfying demand for uplifting, experimental style.
Was this article helpful?