DTC brands and ecommerce retailers invest in SMS marketing campaigns for a reason. According to VoiceSage, over 90% of SMS messages are read within three minutes of receipt. The engagement rate is three to seven times higher than with emails and SMS campaigns generate an almost six times higher order rate.
No other marketing channel can brag about such results.
Although SMS as a marketing channel isn't new, it's a lot more versatile now than ever before.
Let's dive into the particulars of SMS marketing and see how you can employ it in your business strategy.
Table of Contents
What is an SMS campaign?
How to do an SMS campaign
Is an SMS campaign template needed?
SMS opt-in and consent
How to track SMS campaigns?
SMS campaigns: Summary
What is an SMS campaign?
An SMS campaign is a marketing strategy that sends targeted text messages to promote products, and services, or convey information. It's cost-effective and allows businesses to reach a broad audience instantly and track the campaign's success through response rates and conversions.
SMS campaigns have limitations on visuals, with a character count of up to 160. Yet this marketing channel is fast and has proven to be effective.
By segmenting your SMS marketing audience, you can send different messages to different people. Automated text messages that confirm transactions, inform about shipping and remind about abandoned carts can all be automated. This way, they are sent only to customers who trigger them.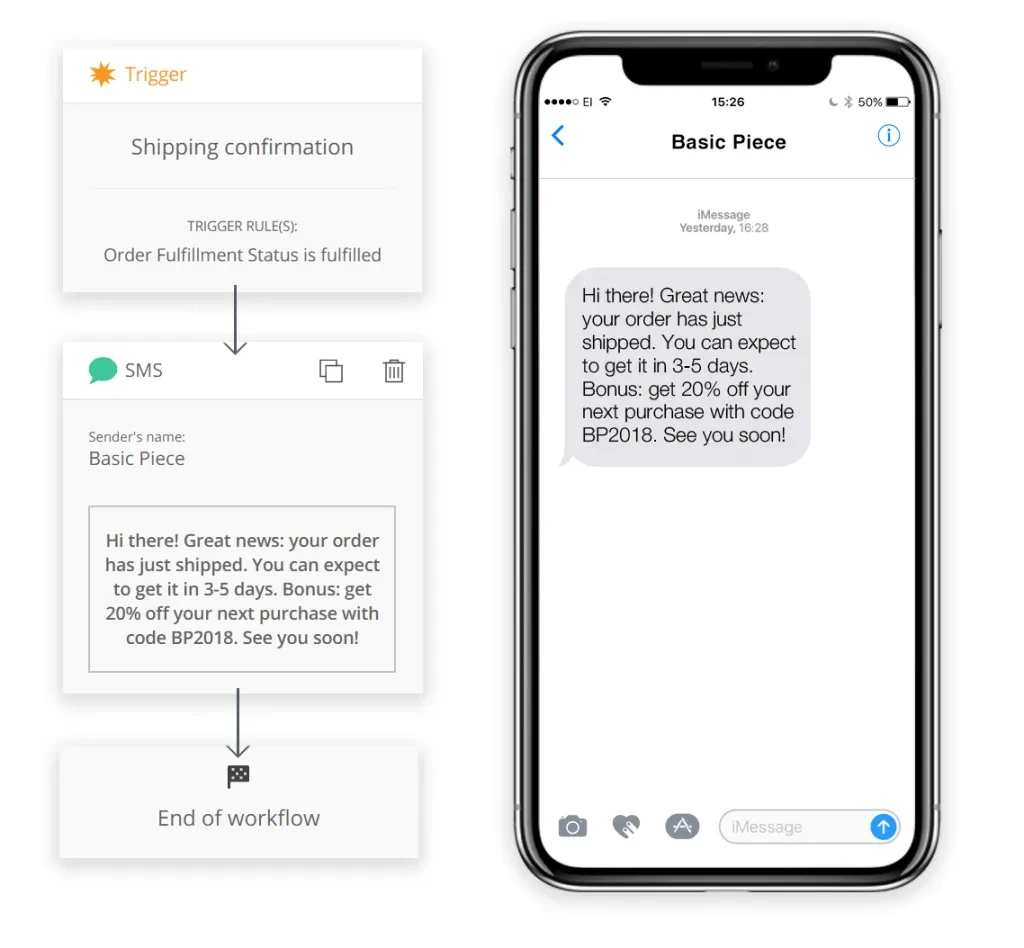 How to do an SMS campaign
Here are the essential steps to execute a successful SMS campaign:
1. Get an SMS marketing app
2. Create an SMS campaign
3. Add recipients
4. Estimate price
5. Review and send
1. Get an SMS marketing app
You can't send your SMS campaign simply by using your mobile phone.
Instead, you have to find an SMS marketing provider—our list of SMS marketing tools can help with that. Omnisend offers automated SMS campaigns that integrate with your emails, and also includes sales-per-campaign reporting.
On top of that, Omnisend boasts an impressive rating of 4.8 with more than 5,000 reviews on the Shopify app store, signifying exceptional performance and high level of customer satisfaction.
In Omnisend, navigate to Campaigns, select New Campaign, and choose Create SMS to initiate the process.
You can easily import your contacts from a file when using Omnisend. To import your contacts from the file, go to the Audience tab, click the Add Contacts button, choose File Import, and select your desired file. Check out this article to learn more about importing contacts.
2. Create SMS campaign
It's straightforward to create SMS marketing campaigns, as they're only text and don't have any design assets. However, you'll need to add the following information:
Campaign name
Sender information
Message content
Personalization
Recipient list
Scheduling information
A CTA (call to action)
Here's what creating an SMS campaign with Omnisend looks like: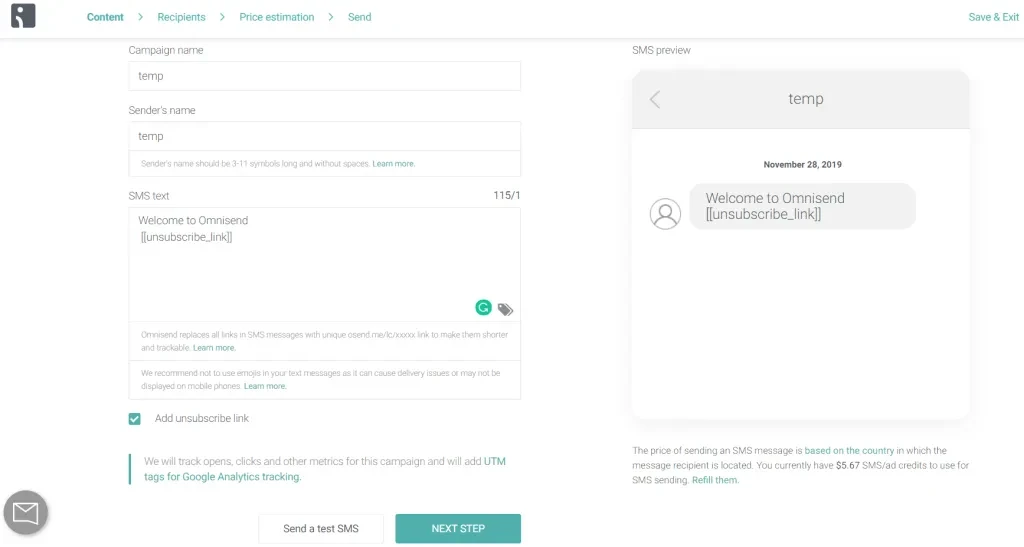 Go ahead and try it for yourself to understand how seamlessly you can create an SMS campaign. These text message templates can be of great help in creating impressive messages. 
3. Add recipients
If you already have contacts on your list, they can be added to your campaign easily by selecting the appropriate segments. You can also import users into Omnisend using the steps already mentioned, provided you have their permission to contact them.
The import process involves four steps: uploading files, mapping, organizing, and reviewing.

4. Estimate price
Omnisend's SMS Length Calculator will help you estimate the price for your SMS campaigns. As well as price, the calculator lets you see the number of characters in your text message.
You can paste or write the message directly on the calculator, choose the destination country, and instantly view message details, character count, and pricing.
Use the preview feature to ensure your message appears correctly on various devices, including iPhone, Android, and feature phones. The calculator simplifies cost estimation, ensuring transparency and effective budget management for your SMS campaigns.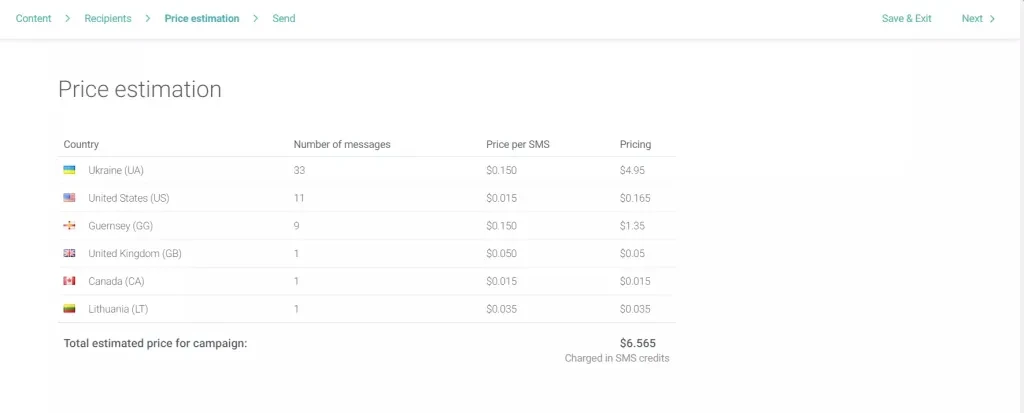 5. Review and send
Before sending your SMS campaigns, take a moment to review all the details. Ensure your message is clear, recipients are accurate, and scheduling aligns with your strategy. Once you're confident in the campaign's setup, send and connect with your audience seamlessly.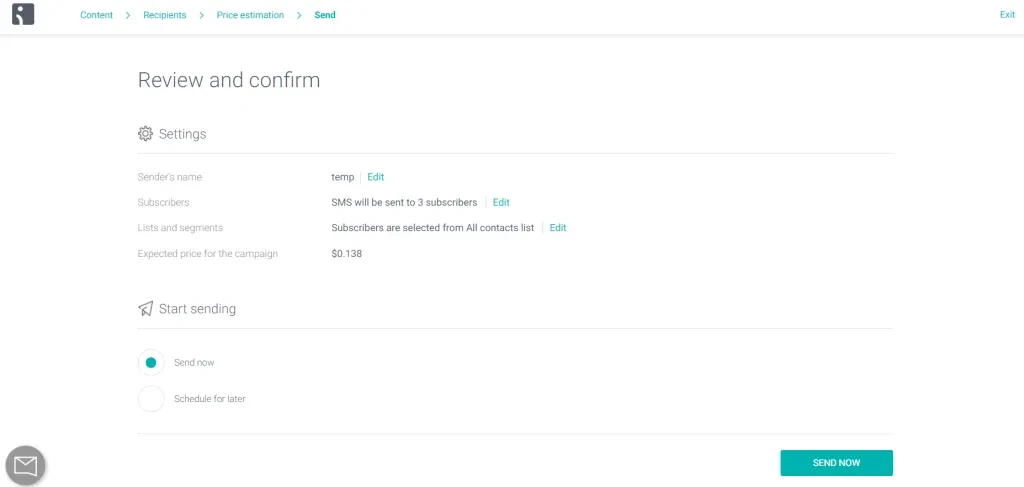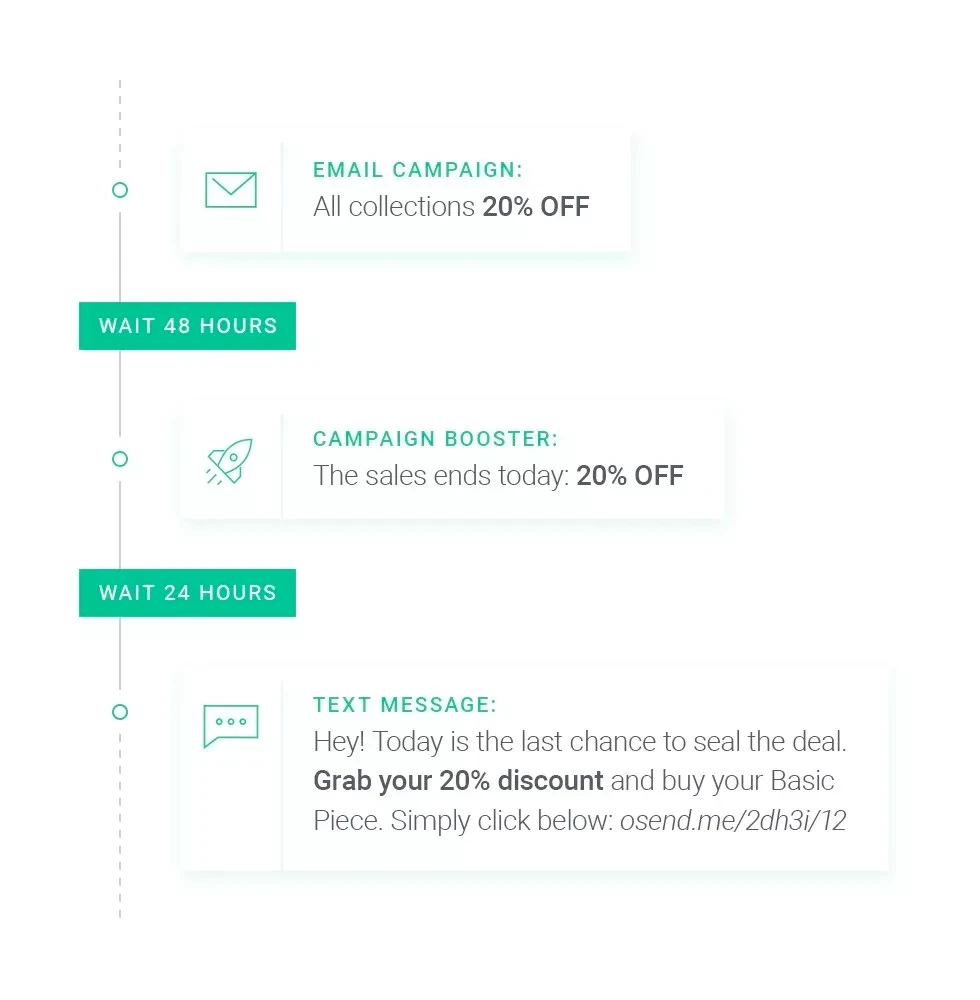 SMS is a great tool if you want to send a time-sensitive message, as they're usually opened quicker than an email if sent at the right time.
Simultaneously, you may also launch Facebook retargeting to the same audience. This way you will get more touchpoints with your customers and it will be easier to convince them to shop with you—particularly with holiday campaigns.
Is an SMS campaign template needed?
As SMS campaigns can be only text, the only template you might use is how you write.
Here are five great text messages that you can take inspiration from:
Hi! It's [brand name]. Your 10% off code is: [code] Shop now: [link] Text us at [phone number] if you have any questions!
[Brand name]: Our best offer just got even better. Buy a Hardcore Bundle and save an additional 20%, on top of the usual 25%. Seriously. Click the link below to access now [the link]
TWO HOURS LEFT to get 40% off your entire order at [brand name]! Use code: [code] at checkout! Sale ends TONIGHT Dec 1st, 11:59pm EST! [the link]
[Brand name] DEALS! Today all swim is BUY ONE GET ONE FREE! Code: [code name] expires tonight at midnight. [Brand name] will be offering a new deal every Friday in December, so stay tuned! Shop at: [the link] Unsubscribe: [the link]
[Brand name]: Here are some great gifts for you to give or to keep! All on sale are ready to ship. [the link] Unsubscribe [the link]
SMS opt-in and consent
Before launching your first SMS campaign, make sure your customers gave permission for you to send SMS messages.
Just as with email permissions, the law requires that your contacts opt-in for promotional content via SMS.
You can collect opt-ins in a few different ways:
By adding an extra field for phone numbers in your signup forms. You can utilize these templates that comply with regulations.
By asking for a customer's phone number at the checkout, which you can do with Shopify.
Using Text to Join, where people text a keyword to your number. Simply promote that number elsewhere to encourage people to text it and sign up.
Text to join is a particularly convenient method, not least because it isn't dependent on people already being on your site. Instead, they can find it anywhere you share it, such as emails, social media, or through partnerships with other companies. Omnisend users get their own Text to Join number completely free.
Watch this quick 3-minute video to see how you can build your list with SMS:
Besides the customer's permission, your SMS campaigns need to be compliant.
The main document that regulates SMS marketing is the TCPA (Telephone Consumer Protection Act). TCPA imposes specific rules and requirements on businesses to ensure that recipients of SMS marketing messages have provided proper consent and aren't being bothered by unwanted messages.
Its editions from 2013 and 2016 have introduced changes to the customer protection that had an impact on all organizations using SMS.
According to the changes, consent to receiving promotional text messages can't be a condition of any purchase. To agree on receiving text messages should be the customer's free choice and this has to be clearly displayed.
Don't forget to add an unsubscribe link to ensure customers can unsubscribe if they don't want to receive your text messages anymore (with the added bonus of you not getting reported as a spammer).
How to track SMS campaigns?
SMS campaign results' tracking looks a little bit different from email campaigns due to technological limitations. Most notably, we can't see open rates with SMS campaign reporting.
Instead, tools can track the number of:
SMS sent: Omnisend indicates the total number of messages that were successfully sent to subscribers within the chosen segments.
Click rate: Measures the engagement level of the recipients by calculating the percentage of recipients who clicked on any links in the SMS.
Sales: Identifies the number of customers who clicked on a link within the SMS and completed a purchase.
Unsubscribe rate: Measures the number of customers who opted out of receiving further SMS messages.
Bounce rate: The percentage of SMS messages that were not successfully delivered to recipients due to various reasons. These reasons include invalid phone numbers, full inboxes, or other delivery issues.
At Omnisend, an SMS campaign report looks like this:

SMS campaigns: Summary
SMS has come into its own as a marketing channel in recent years. Not only is it effective in its own right, but it also integrates perfectly with existing email campaigns. In fact, marketers who use three or more channels in their campaigns have a 494% higher order rate than single-channel campaigns!
Source from Omnisend
Disclaimer: The information set forth above is provided by Omnisend independently of Alibaba.com. Alibaba.com makes no representation and warranties as to the quality and reliability of the seller and products.
Was this article helpful?