We've all experienced it, that uneasy sensation of leaving home and wondering if the front door is locked. Luckily, there's an easy solution that means you'll never have to worry again: smart locks.
In 2023, smart locks have become a quintessential component of modern connected homes and a great way to enhance home access. However, various smart locks exist on the market, and knowing which ones to stock can be challenging.
Therefore, this article aims to dissect the different types of smart locks, examine their profitability, and highlight four factors to consider when choosing which to provide to customers.
Table of Contents
Are smart locks taking over the home security market?
Varieties of smart locks and their profitability
Four tips to help choose the right smart lock in 2023
Final words
Are smart locks taking over the home security market?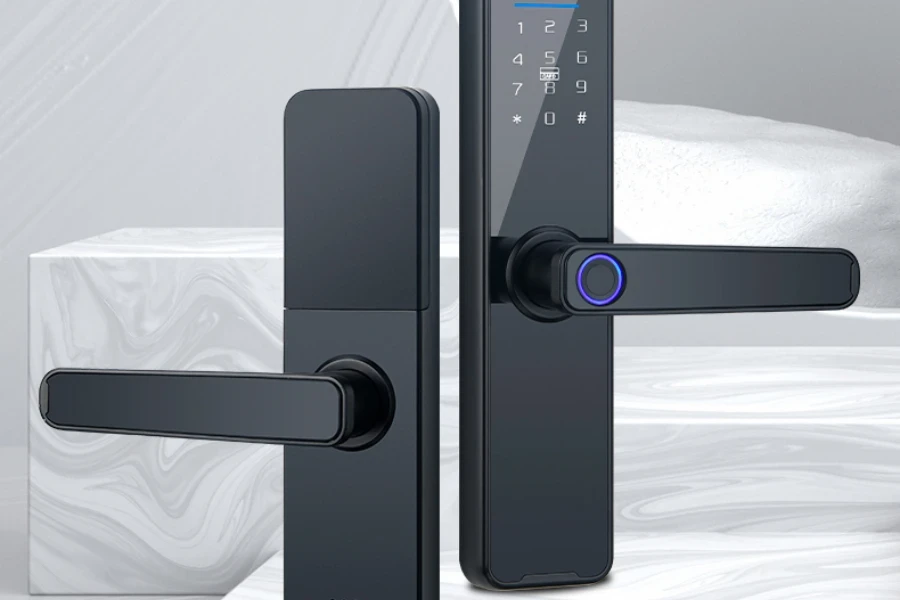 Technology is constantly advancing, replacing many of the tools and gadgets we have long relied on – and locks are no exception. With more homeowners looking to upgrade their security and automate their homes, smart locks are slowly but surely gaining traction in the home security market.
Experts valued the global smart door lock market at US $2.13 billion in 2022, and expect it to reach US $8.21 billion by 2023 at an estimated CAGR of 18.6%. North America held the largest market share, with about 60.4 million households actively using smart home devices in 2023.
Varieties of smart lock
The smart lock market is packed with various types of lock, depending on what specific functions the consumer requires. As a result, a business must first determine whether they should offer a specific type of lock for their target audience or provide a variety.
It should be noted that there are some downsides to smart locks, namely, they require power and so can sometimes fail if not charged. In addition, biometric sensors can sometimes prove inaccurate, especially if the user's finger is wet or dirty, and some varieties of smart locks, such a keycard smart locks, may be susceptible to interference from other electronic devices.
Finally, while hackers have been known to be able to bypass biometric locks, such incidences are uncommon, and smart locks are still considered preferable over regular key locks.
With that in mind, there are four main types of smart lock are available on the market today:
Fingerprint smart locks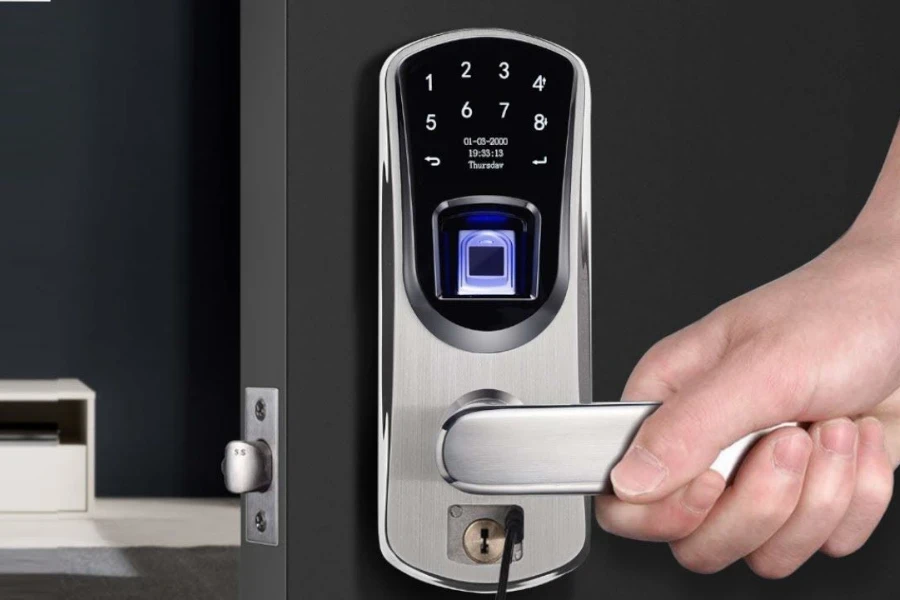 These smart locks use fingerprint recognition technology as the primary method for access control. They use a small scanner to capture and securely store consumers' unique fingerprint data, creating a personalized identification profile.
But that's not all. Their biometrics technology allows consumers to input multiple fingerprints into the lock's system, granting multiple individuals entry.
Benefits
Increased security: Biometric data is unique to each individual, making it more difficult for unauthorized users to gain access.
Convenience: Consumers can unlock biometric locks with a simple touch, eliminating the need to carry keys.
Remote access: Some biometric smart locks provide remote control via smartphone apps, making it easy to grant access to guests or check if the door is locked.
Profitability
Fingerprint smart locks are a sought-after option for residential and commercial purposes. As per Google Ads data, "fingerprint door locks" and "fingerprint locks" have a combined average monthly search volume of nearly 170,000, highlighting that these locks remain profitable investments, attracting a substantial pool of potential consumers.
Smart keypad locks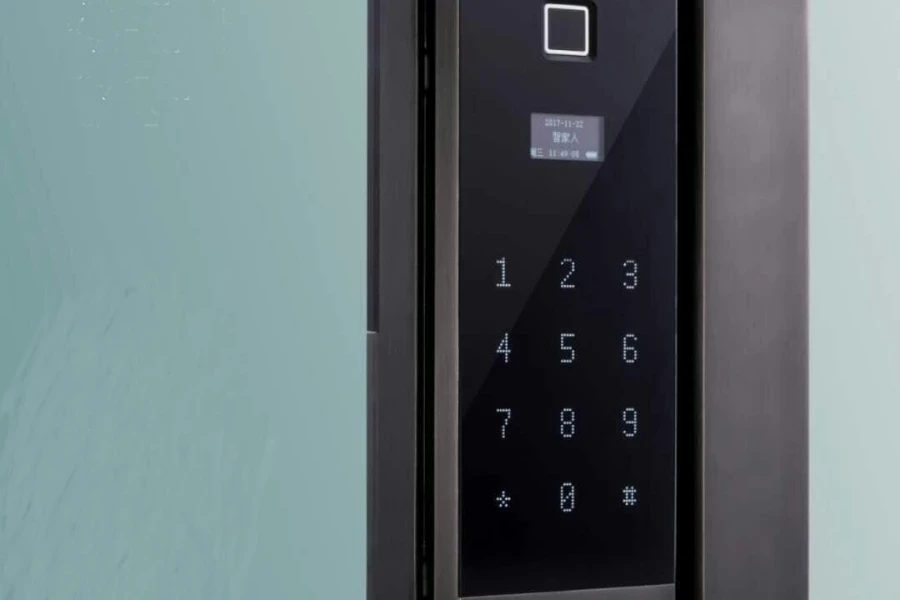 Keypad smart locks offer a convenient method of entry via inputting a unique key code on a numeric keypad. These keypads come in various styles, from physical button interfaces to sleek touchscreens.
Typically, they come as part of a lock set that includes a deadbolt with a handle or a lever and knob for added functionality. Some keypad locks feature wireless and weatherproof designs, complete with LED-backlit buttons.
This combination of security and convenience makes smart keypad locks an attractive option for modern home and business security systems.
Benefits
Customizable codes: Many smart keypad locks allow consumers to set multiple user codes, granting temporary access to guests, service providers, or family members.
Enhanced security: Modern keypad locks often feature advanced security measures like tamper alarms, incorrect code lockouts, and encryption to prevent unauthorized access.
No need for traditional keys: Keypad locks reduce the risk of physical key duplication or theft.
Profitability
Search interest for keypad smart locks have remained consistent in recent months, receiving over 80,000 searches in August 2023, according to data from Google Ads. Although less widely sought out than their fingerprint-based counterparts, these stats demonstrate that smart keypad locks can still be a lucrative investment.
Keyless/wireless smart locks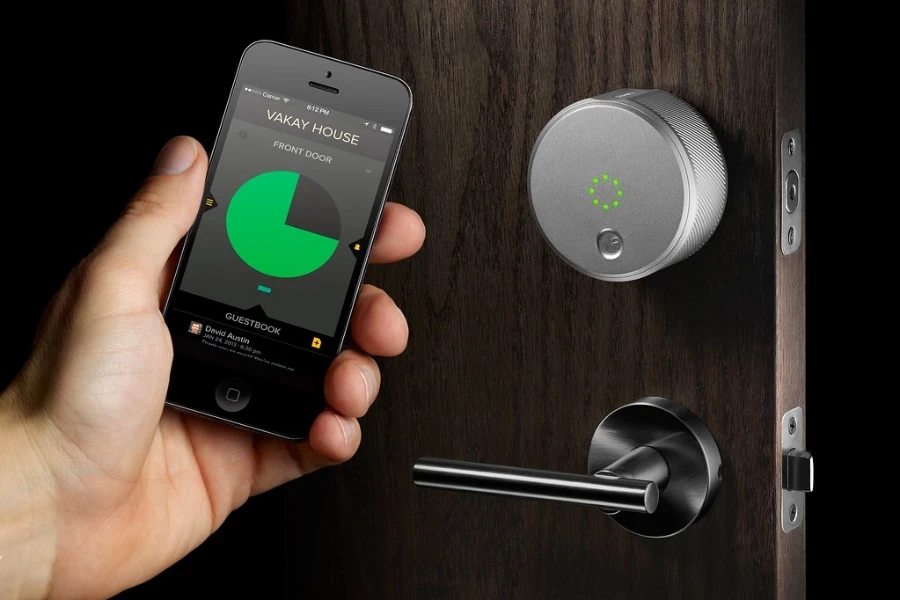 Keyless/wireless smart locks use Bluetooth or wireless frequencies (like Z-wave and WiFi) and don't feature traditional keyholes. Instead, they have a dedicated mobile app, allowing users to exercise control through voice commands and specified scheduling, and integrating it seamlessly into their smart home systems.
Benefits
Improved integration: Wireless smart locks often offer integration with other smart home devices and systems, like security cameras and home automation platforms.
Smart logging: Many wireless smart locks can log who enters and exits a home and when, coming in handy for security and monitoring purposes.
Secuity alerts: These locks can also alert users if they leave the door open or if there's a break-in attempt.
Profitability
Although keyless/wireless smart locks have fewer searches online – approximately 20,000 per month – this doesn't rule out their potential profitability, catering to a niche market, such as consumers seeking complete home security automation.
Keycard smart locks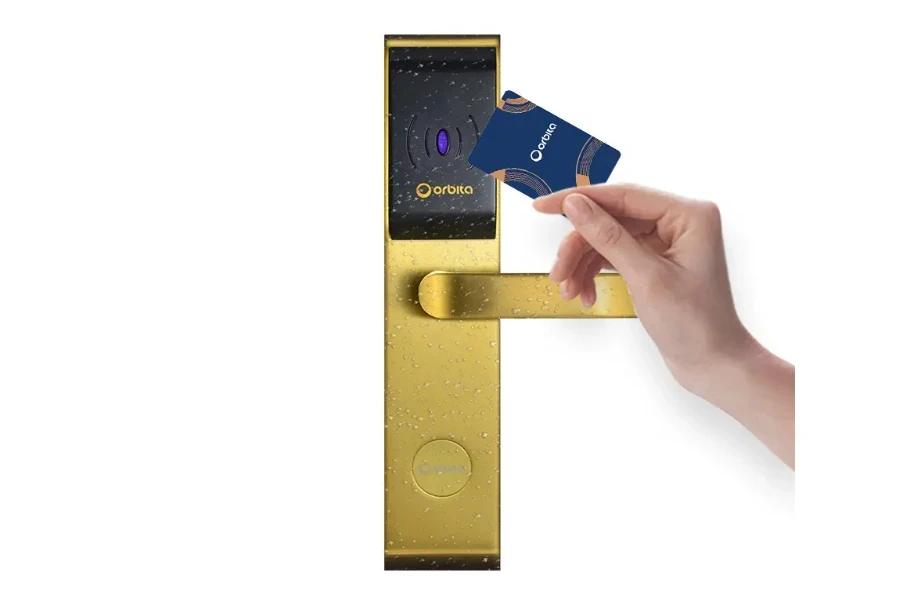 Like traditional hotel keys, key card-enabled smart locks offer the convenience of unlocking doors with the tap of a card. Some advanced models go the extra mile by utilizing geofencing technology, automatically unlocking the door when consumers are nearby.
Benefits
Keycard smart locks offer increased security through unique key codes, making them difficult to duplicate or counterfeit.
Profitability
In contrast to the other options, keycard smart locks have the fewest searches overall. According to Google Ads data, their highest-performing keyword, "key card door lock," garners an average of 1,600 monthly searches.
Due to high competition and relatively low search interest, it may be that keycard smart locks present fewer profit opportunities. Nevertheless, smart lock businesses may still want to stock such models for niche customer requirements.
Four tips to help choose the right smart lock in 2023
Check industry standards
Door locks, whether traditional or smart, can vary in quality. To ensure their effectiveness against being picked, smashed, and other physical attacks, organizations like ANSI and BHMA have established three standard quality levels.
Here's a breakdown of the ANSI grading system:
Grade 1: The highest and most secure, typically used commercially.
Grade 2: The most common choice for residential locks.
Grade 3: The lowest grade, often more budget-friendly, suitable for non-high-security needs.
Note: Most smart locks are Grade 2.
Additionally, BHMA provides A-B-C ratings for residential locks, covering stability, durability, power, and finish factors.
Another notable standard is the BSI IoT Kitemark, a certification program offered by the British Standards Institution (BSI) to verify the security and performance of smart locks.
Opt for better battery life
The battery life of a smart lock is influenced by various factors, such as how often it's used, the type of batteries or charging it requires, and its features. Typically, most smart locks utilize AA or AAA batteries, which can last anywhere from six months to one year with regular use. Some smart locks feature rechargeable batteries that can offer extended usage.
Some smart locks are designed to alert users as to when it's time to replace the batteries. To get precise information about the battery life of a specific smart lock model, it's crucial to consult the product manual provided by the manufacturer.
Nevertheless, here's a table showing the average lifespan of smart locks based on their connectivity:
| | |
| --- | --- |
| Type | Average battery lifespan |
| Z-wave | 12-18 months |
| WiFi | 1-3 months |
| Bluetooth | 12-20 months |
In addition, users may want to consider using lithium batteries, which while more expensive, can provide double the battery life for their smart lock.
Ensure door compatibility
Smart locks must be compatible with the consumer's door and locking mechanism. In essence, doors can be categorized as those equipped with deadbolts and those without (featuring doorknobs or lever-style locks).
For consumers with deadbolts, a retrofit smart lock would only replace the interior portions, leaving the external part of the lock intact. Undoubtedly, retrofit-style smart locks offer impressive flexibility as consumers can configure them for left-handed and right-handed doors. However, consumers will need the correct handedness in order to replace every part of the old deadbolt.
In cases where the door lacks a deadbolt, consumers may need to install one, or potentially replace the entire door (in older homes).
For less common lock types, like mortise locks, businesses can offer specialized smart lock solutions to ensure hassle-free door compatibility.
Choose smart locks with keys
No matter how advanced smart locks may be, they remain susceptible to various technological issues. What if there's a power outage? Or if the consumer's phone is inaccessible?
In such situations, the user may find themselves in a predicament, needing to contact a locksmith or explore other ways to gain access to their home.
Because of this, consumers might also want to have a mechanical backup (essentially, keys) to ensure access in case of any technological or power-related problems.
Final words
The rising popularity of smart locks clearly reflects consumers' growing desire for enhanced safety and security, which technology is continually advancing. Smart locks offer a convenient solution, eliminating the need for users to carry keys all the time or fret whether they locked the door securely.
Through such innovations, consumers can easily monitor their lock's history and even remotely lock their door through a dedicated app, providing peace of mind and added home security convenience.
Was this article helpful?