The autumn/winter 2023/2024 fashion season brings a fresh wave of on-trend styles and silhouettes for the plus-size market. By previewing upcoming collections and releases from major brands, retailers can get a sneak peek at the pieces that will lead assortments over the next several months. Utility accents, bold prints, wide-leg pants, leather, and menswear-inspired pieces are just some of the key trends to watch out for.
This overview summarizes the top plus-size fashion directions to help buyers and merchants make informed purchasing decisions. The upcoming collections strike a balance between timeless wardrobe staples and new twists on classic silhouettes.
Table of Contents
Utilitarian touches and menswear motifs
Vibrant hues and shimmering fabrics
Artistic print and versatile tank
The pantsuit 2.0 allure
The new leather and denim
Final words
Utilitarian touches and menswear motifs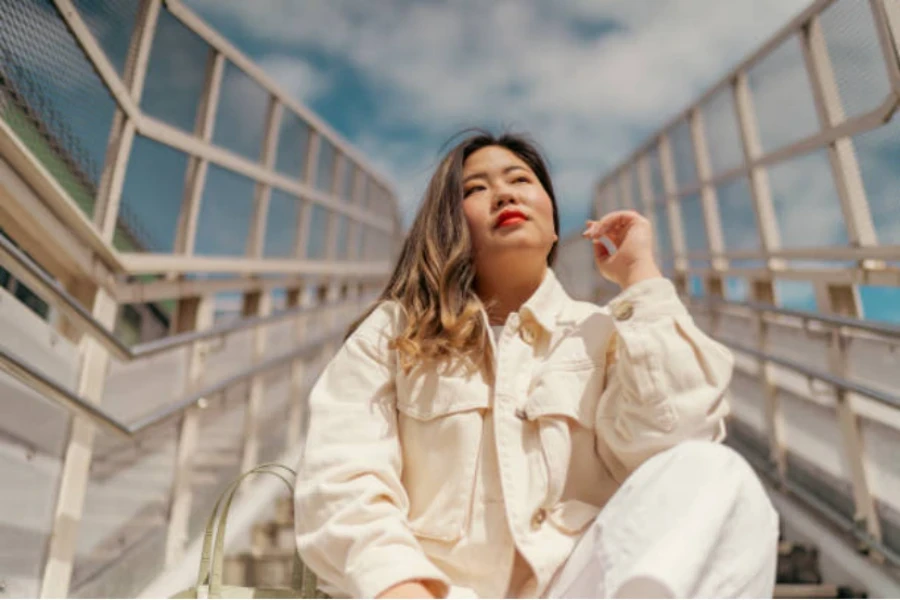 Look for workwear inspirations to add visual interest to wardrobe classics this season. Cargo pockets, carpenter loops, and contrast stitching bring subtle utility accents to pieces like chore coats, trousers, and skirts. These small details provide just enough of an update to perennial favorites.
For example, a trench coat feels fresh with the addition of cargo pockets or shoulder epaulets, while a crisp poplin shirt gets a modern twist with contrasting threads on the seams. Shoppers will appreciate these subtle nods to functionality, as utility wear continues to have fashion relevance beyond its practical roots. Small touches like Multi pockets or hoods also allow for lightweight layering, for those looking to extend the wearability of favorite items into the cooler months. Overall, utilitarian accents will add dimension and versatility to essential autumn/winter pieces.
Masculine-inspired pieces bring a laidback vibe this season. Oversized button-downs feel nonchalant when paired with trousers or jeans. Look for crisp poplins, relaxed utility twills, and lightweight shacket styles. Plaid flannel and denim provide menswear-inspired layering. The boyfriend blazer also returns as an alternative to traditional suiting. Worn with casual bottoms, it strikes the perfect note for relaxed workwear. Details like double-breasted closures, peaked lapels, and shoulder pads nod to 1940s men's fashion.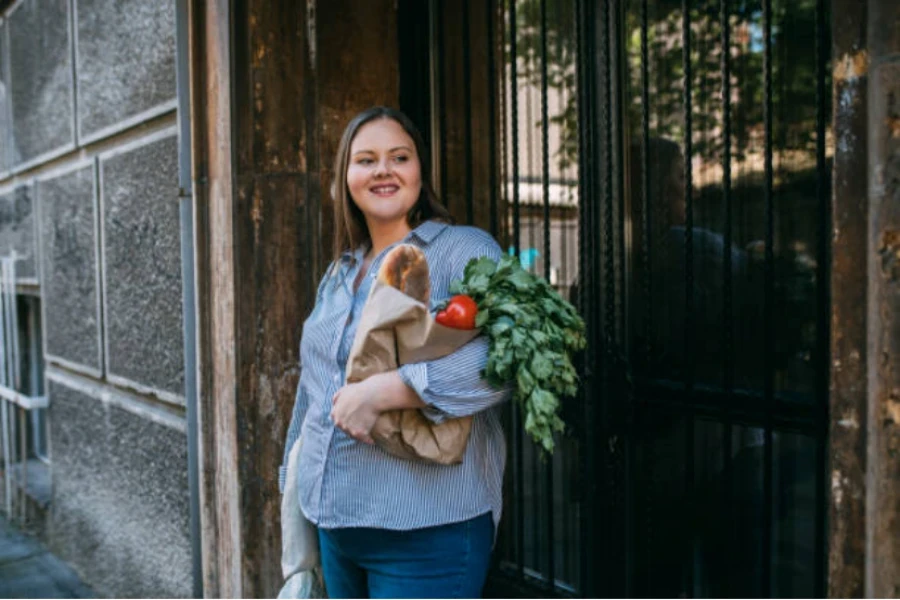 Neutral camel, gray, navy, and black colors keep tailored pieces versatile. Mixed media pairings, like a blazer with a graphic tee and jeans, allow traditional pieces to feel modern. Loose, roomy silhouettes provide a slouchy feel. Borrowing from the boys offers a laidback approach to polished dressing.
Vibrant hues and shimmering fabrics
The autumn/winter color palette welcomes a range of lively tones to warm up cooler months. Shades of green take center stage, from fresh emerald to sage green to deeper forest tones. These nature-inspired hues provide an uplifting break from standard neutral palette. Berry shades also make an impact, like rich plum, deep wine, or bright magenta. These jewel-inspired tones feel indulgent and celebratory. Touches of teal and cobalt blue provide another alternative to black for statement outerwear or accessories.
Overall, vibrant shades inject cheerful pops of color into gloomy weather. Look for these lively hues in cozy knits, plush outerwear, and rich velvets. Bold color blocking also allows shoppers to experiment with incorporating these dramatic shades into their everyday wardrobes.
Lustrous, shimmering fabrics add glamour to essential autumn/winter pieces. Silky materials like satin, slip crepe, and fluid jersey take staple items like blouses, trousers, and dresses into elegant territory. Subtle texture also adds dimension and movement to lustrous fabrics – look for plissé, hammered satin, and matte lamé. These fabrics drape beautifully on the body while offering a more dressed-up alternative to everyday cottons and wovens.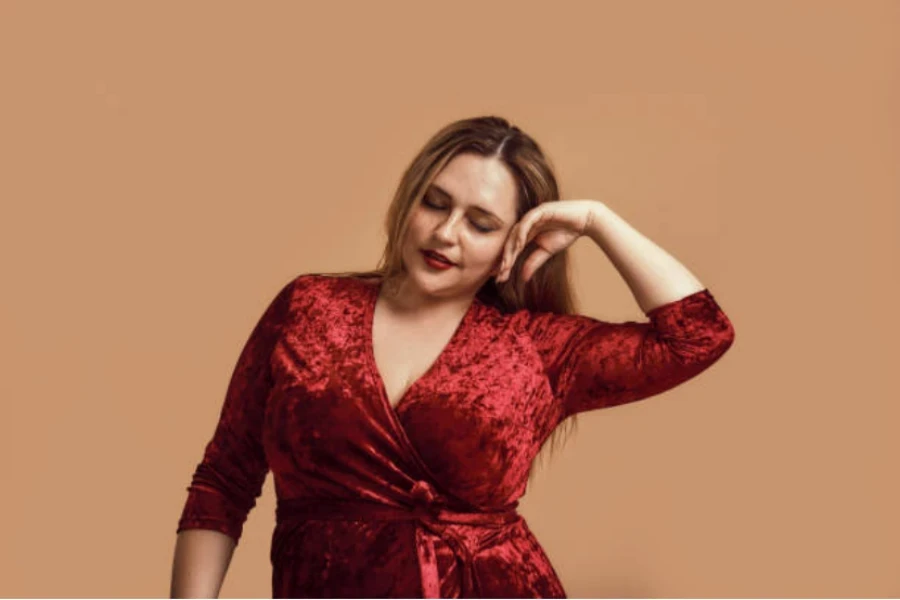 They capture the light, feeling both sumptuous and eye-catching. Luxurious shine also provides contrast and visual interest when mixed with matte fabrics like denim or tweed. Overall, shiny, liquid-like fabrics bring a refined touch of glamour and sophistication perfect for seasonal soirees and events. They balance fashion and function, allowing wearers to stay chic while staying warm.
Artistic print and versatile tank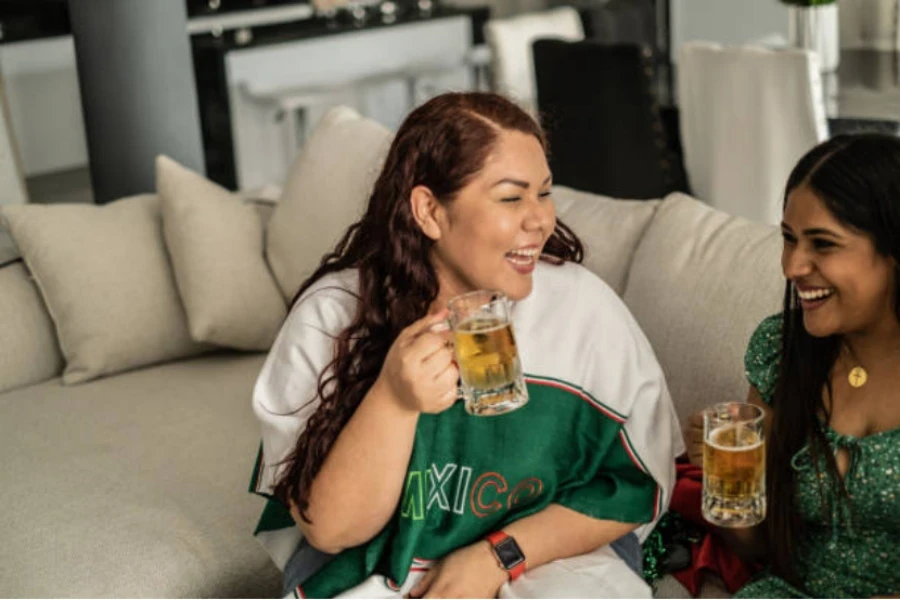 Make a bold impression this season with artistic and graphic prints. Rich paisleys, ornate florals, and geometric patterns bring energy to autumnal frocks. These captivating prints draw the eye and refresh classics like the shirtdress or full-skirted maxi.
Look for romantic details like watercolor blooms or delicate vines to contrast with hard-edged geometric shapes. Artistic placements and allover prints feel contemporary, such as a graphic foulard design or large-scale paisley covering an entire coat. Vintage motifs like chinoiserie and Persian influences also make a comeback for bohemian flair. Overall, eye-catching prints and patterns provide a tactile, painterly feel on luxurious fabrics like silks and velvets. They bring vibrance and visual dynamism to enliven the mood of the season.
The humble tank top remains a wardrobe staple, with updated styling potential for autumn/winter. Look for seasonal versions like thermal or ribbed fabrics to provide lightweight warmth. Muscle tanks and racerback silhouettes feel modern and allow for easy layering. Tanks take on a more polished look with silky or modal blends, perfect for wearing under blazers or cardigans.
Graphic prints and novelty motifs add interest to basic tanks. Cropped lengths highlight high-waisted bottoms. Tank tops also layer seamlessly under open shirting or oversized sweaters. Their simplicity complements more elaborate prints and patterns. Easy to dress up or down, the reinvented tank feels right at home with both loungewear and streetwear. This basic piece pays homage to 1990's minimalism with a contemporary twist.
The pantsuit 2.0 allure
The return to office brings a revival of tailored separates, with a modern twist. Wide leg silhouettes provide an alternative to skinny fits in both trousers and jeans. Flowing, pleated trousers feel polished yet comfortable for all-day wear. Cropped lengths keep things contemporary, showing off statement shoes. Cargo pockets and utility details also lend functionality to crisp woven pants. These bottoms pair well with oversized blazers for modern suiting.
Look for soft tailoring in fabrics like jersey or lightweight wool. Slouchy fits provide ease while still looking pulled-together. Bold colors and lively patterns freshen up traditional suiting for more creative workwear. Adaptive details like removable hoods or sleeves allow for customizable layering. Overall, the pantsuit 2.0 balances professionalism with the comfort and versatility required for flexible work-from-home lifestyles.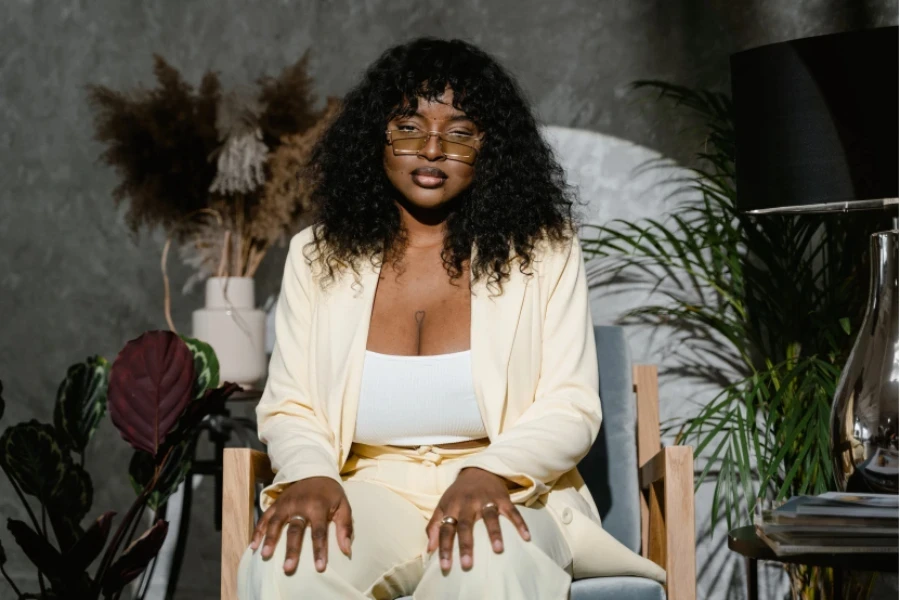 For those seeking more coverage, modest shapes can still feel fashion-forward. Long sleeves, higher necklines, and midi lengths provide coverage while remaining chic. Plunging necklines and miniskirts aren't the only way to look stylish. Look for alluring details like shoulder cutouts, back slits, or thigh-high splits on midi skirts to add subtle sensuality. Draped fabrics and silhouettes skim the body without clinging too tightly.
Darker jewel tones and rich velvets lend drama, especially when mixed with lively patterns. Occasionwear takes a regal turn with rich brocades or ornate embroidery. Flowing midi dresses keep things sophisticated but not overly formal. Overall, covered-up silhouettes allow for self-expression and creativity through cut, texture, and bold prints rather than relying on exposed skin. Modest fashion meets streetwear with relaxed yet refined options.
The new leather and denim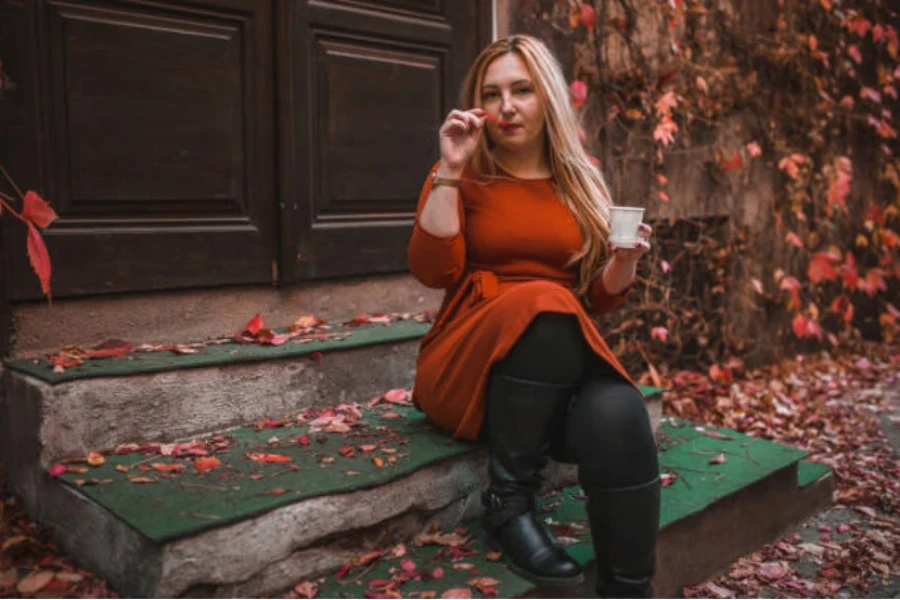 Leather and faux leather fabrics continue to feel relevant with fresh silhouettes for autumn/winter. Beyond the traditional moto jacket, look for pieces like leather midi skirts, joggers, and tapered trousers. Silhouettes shift from the classic biker style to bomber and aviator jackets. Mixed media pairings, like leather with wool or knits, provide textural contrast. Metallic leather finishes in silver, gold, and iridescent offer high-impact shine. Distressed details like intarsia patches, raw edges, and motocross panels give an urban edge.
Look for updated textures like croc embossing or perforated leather for visual depth. Athleisure also inspires sporty leather looks with statements zips, snap closures, and elasticized details. Leather's inherent structure also complements the oversized shapes dominating seasonal collections. Overall, innovative leather pieces provide a sleek, modern way to tap into leather's perennial allure.
Say goodbye to skinnies and welcome the return of flares. Wide, flared silhouettes provide an alternative to skinny jeans and restore some of denim's retro vibes. Look for cropped flares, moderate bootcuts, or dramatic bells bottoms. Pair flares with platform footwear and heels to elongate the leg. Retro high rises keep things flattering and on-trend. Distressed details, like frayed hems or blown-out knees, give flares a laidback feel. Metallic denim offers high-shine flair for nighttime looks. Lean into the 1970s revival with patchwork, piping details, or faded retro washes.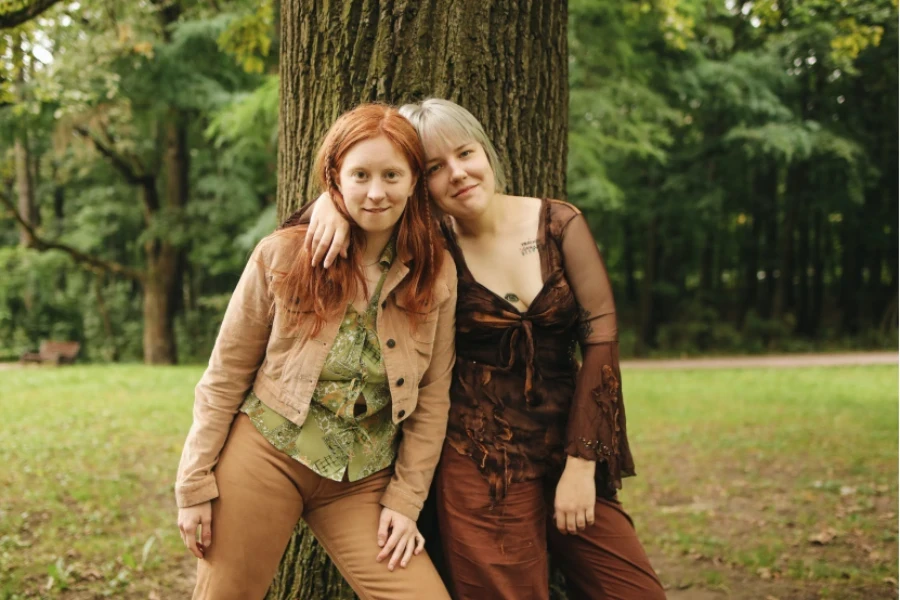 Flares also find potential in jumpsuits, overalls, and denim skirts. While skinny jeans still have relevance, especially super-stretch and shaping styles, flares give buyers another option to diversify bottom silhouettes. Flares once again strike the perfect balance between vintage cool and modern versatility.
Final words
The autumn/winter 2023/2024 season brings fresh styling potential and covetable newness to plus-size collections. By exploring the top trends from major brands and retailers, merchants can identify the prevalent colors, fabrics, silhouettes, and details that will resonate with customers in coming months. From utility accents to bold prints, leather reimagined to menswear motifs, the upcoming selections strike a balance of timeless and on-trend. With knowledge of these key plus-size trends, retailers can thoughtfully curate wardrobes full of pieces their customers will love. As inclusivity expands in fashion, understanding these style currents ensures brands can empower and delight their plus-size dressers this season.
Was this article helpful?