Online retailers need to stay on top of the latest fashion trends to offer compelling products each season. This article will provide an overview of the top menswear styles, themes, and items from major US retailers for the upcoming autumn/winter 2023/2024 season. We'll highlight the must-have pieces you should stock up on and how to incorporate key trends into your product mix based on detailed retail analysis. Read on for the inside scoop to help guide your buys and supercharge sales for the next cold weather season.
Table of Contents
Workwear classics get updated touches
Greens become the new neutral
Softened masculinity goes mainstream
Sustainability advances at retail
Bottoms get roomier
Conclusion
Workwear classics get updated touches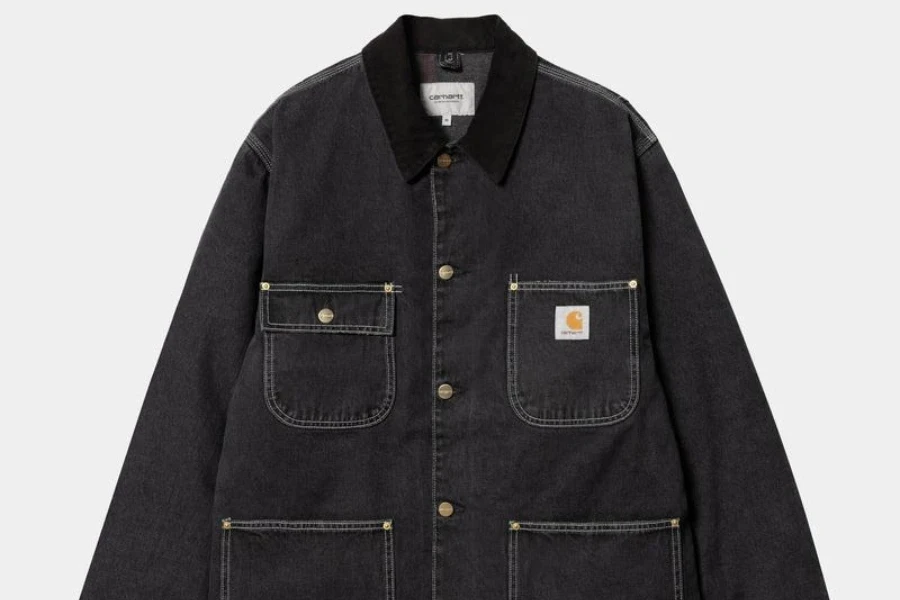 Chore coats, cargo pants, and utility jackets lead retailers' apparel assortments for autumn/winter 2023/2024. Workwear and utility looks remain a major theme but with fresh twists added for an updated appeal.
Must-have pieces in the workwear category include the classic chore coat or barn jacket. Opt for styles with utilitarian details like patch pockets and side-entry points. Coatings like waxes and resins give these hardy coat silhouettes new textures and weather resistance.
On the bottom front, cargo pants and carpenter jeans are bestsellers. Go for straight or slim leg shapes in rugged twills and denim. Carpenter jeans feel most relevant with double-knee construction and multiple pockets. Cargo trousers get modernized with less bulky leg shapes and flap pockets instead of drawstring closures.
Greens become the new neutral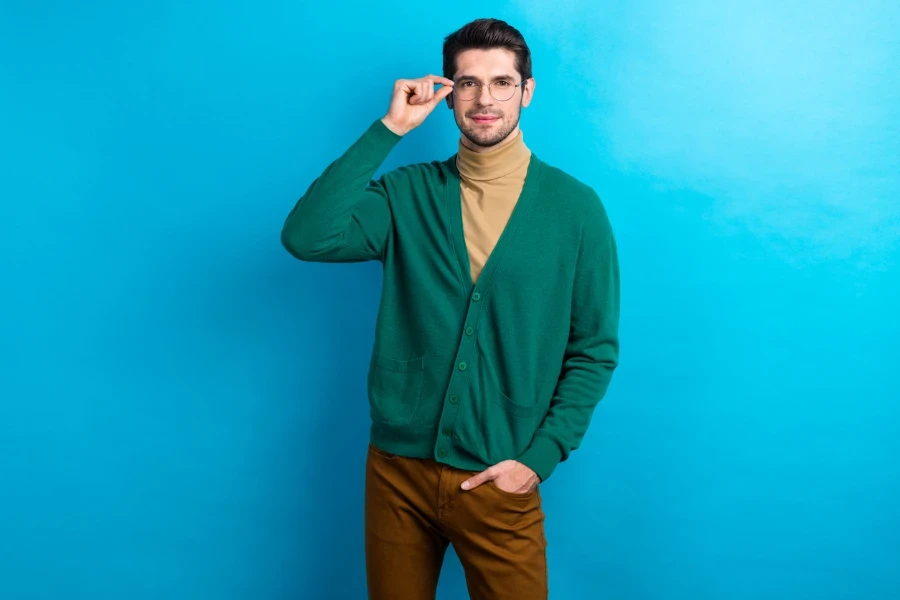 Green is poised to be a top hue for menswear this autumn/winter 2023/2024 season. Olive and khaki shades lead color stories across apparel and accessories. Retailers are also turning to verdigris, a blue-green tone, along with fresher shades like celery and sea kelp for knits and wovens.
Create tonal head-to-toe outfits by styling green hues across multiple garment types and categories. Pair an olive field jacket with matching cargo pants, or try a Verdigris crew neck sweater atop forest green jeans. Use retail analytics tools to identify winning green shades and monitor sales velocity on key items.
Promote these earthy greens under a social campaign like #GetYourGreens. Share mod shots of fully green looks and call out the specific Pantone shades used. Greens are an easy way for guys to dip their toes into color without going too bright. Lean into greens across social channels to drive interest and adoption among your customers.
Softened masculinity goes mainstream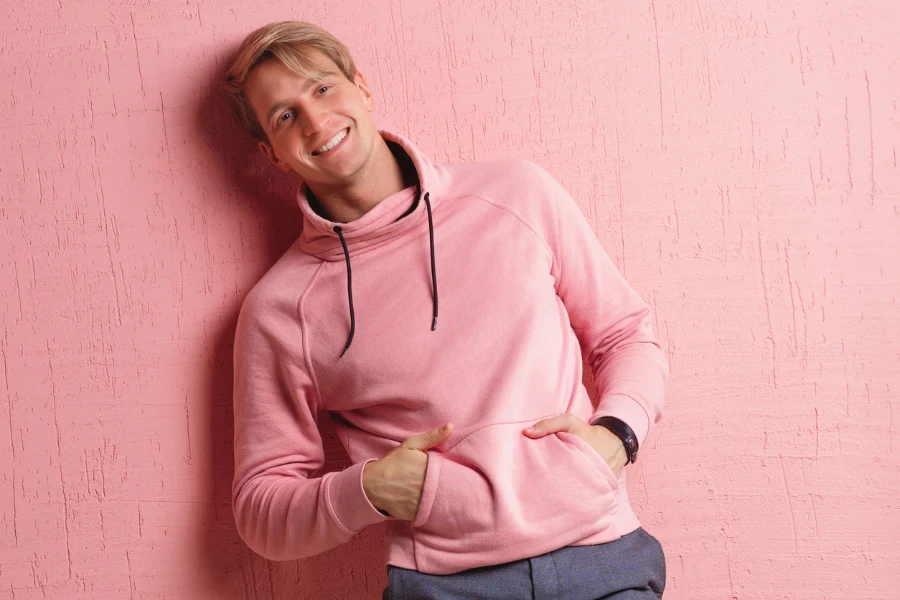 The softened masculinity trend that started in high fashion is now hitting the mass market. Details like pops of pink, purple hues, and floral prints are appearing at more accessible price points. This creates opportunities for retailers to bring a gender-inclusive, fashion-forward edge to assortments.
Test out softened masculine pieces like pink hoodies, graphic tees in lavender, and relaxed floral print bottoms. Apply feminine accents to classic silhouettes like the denim jacket or bomber to pique interest. Madewell, PacSun, and other youth-oriented brands are already embracing this look. Cater to younger male shoppers and those with a fluid sense of style by incorporating touches of soft masculinity into your buy.
Sustainability advances at retail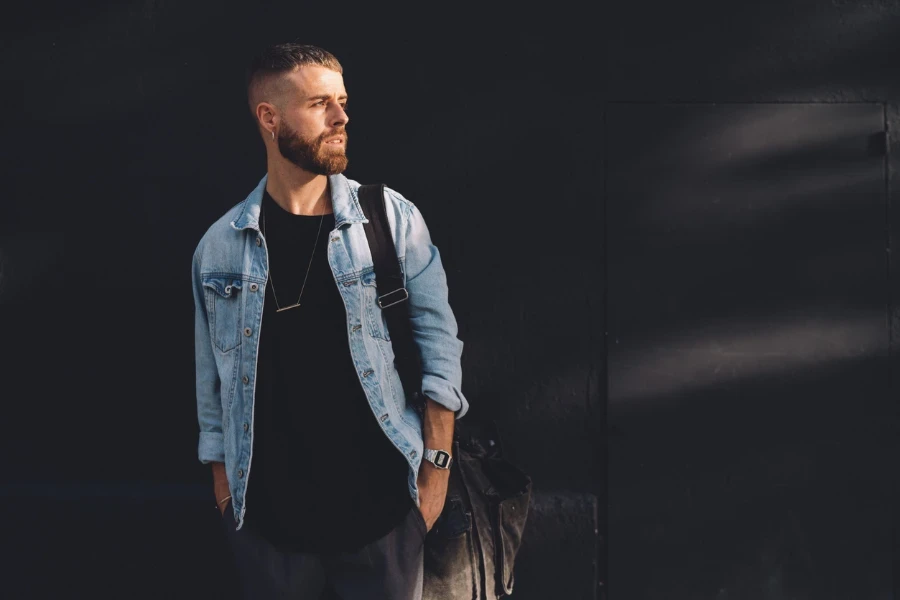 Sustainability continues to be a priority across the retail industry. Brands are taking steps to reduce their environmental impact and engage eco-minded consumers. For the upcoming autumn/winter 2023/2024 season, advances can be seen in areas like recycling, resale, and use of eco-friendly materials.
Resale is gaining traction, with retailers launching their own pre-loved trade-in initiatives. Carhartt's Reworked program allows customers to exchange used gear for gift cards to purchase reworked, vintage items. Madewell is investing in regenerative cotton farming, which enhances soil health and reduces reliance on pesticides.
Use retail analytics to identify sustainability measures resonating most with male shoppers. Test recycled fibers and organic materials in key categories like tees, sweaters, and outerwear. Partner with eco-conscious brands for capsules that align with your customers' values. Share the concrete steps you're taking to be more sustainable across marketing channels.
With conscious consumption only growing, integrating sustainability into your offerings and storytelling is key to next season's success. Taking the lead on reducing fashion's footprint also helps future-proof your business.
Bottoms get roomier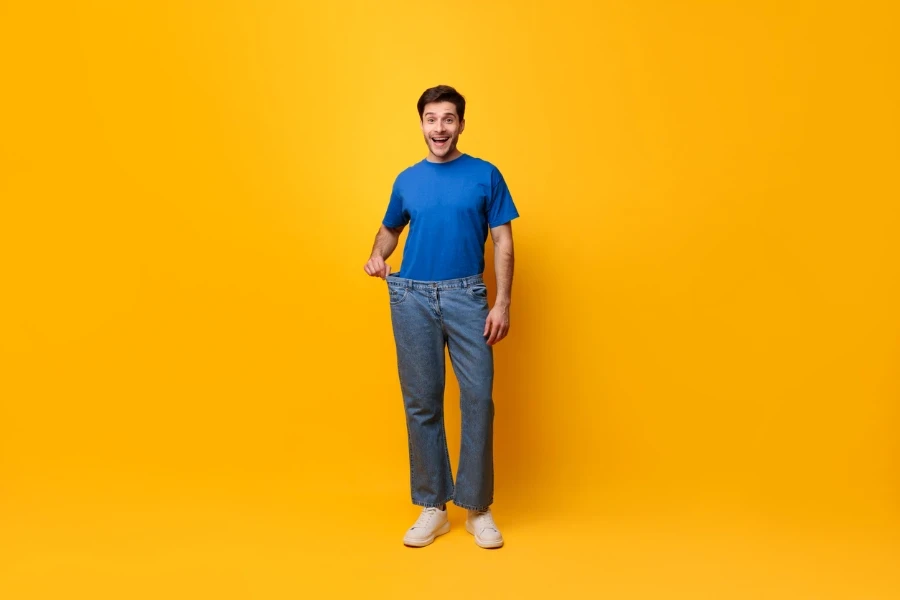 On the bottom front, looser and more relaxed silhouettes are rising in popularity for both denim and tailored trousers. This ties into the larger comfort trend that has emerged in menswear post-pandemic.
In denim, men are moving toward relaxed and loose straight fits. Styles with a higher waistband are trending, seen at brands like Buck Mason and Dockers. For trousers, pleated dress pants and cuffed hems provide a roomier alternative to skinny suit pants.
Tapered chinos are another way to introduce volume while keeping a polished, non-sloppy shape. Madewell, Dockers, and Brooks Brothers all offer pulled-on tapered pants for an easy fit that works for back-to-office outfits. Use fabrications like stretch cotton twills to ensure the tapered leg moves with the wearer.
The shift toward looser bottoms provides an opportunity to attract male customers looking for greater ease and breathability. Make sure to offer a range of relaxed to billowy fits while keeping silhouettes flattering. Analyze sales data to identify your best-selling bottom silhouettes and washes to stock up on winning options.
Conclusion
Major US retailers are embracing workwear and utility looks for men next autumn, putting their own fresh spin on classics like the chore coat and cargo pants. Softened masculinity is also making its way to the mass market through details like pink hues and floral prints. Sustainability continues to be top of mind, with more brands testing resale programs and eco materials. And roomier bottoms in both denim and tailored fits reflect a growing preference for comfort and ease.
Use the key menswear pieces, trends, and advice highlighted here to make savvy buys for your product mix next season. Stock up on must-haves like the utility jacket and carpenter jeans in updated finishes. Bring in tapered trousers and pleated pants for back-to-work dressing. Don't be afraid to test out pieces in emerald greens, pinks, and purples to attract younger shoppers. Make sustainability part of your ethos by looking into recycled materials and options like resale. Let us know in the comments about the trends you're most excited to try for your A/W 23/24 men's ranges!
Was this article helpful?