Valentine's Day represents the celebration of love, and most people celebrate it by sharing thoughtful, carefully wrapped gifts. As a result, sales increase in the lead-up to the holiday, with consumers spending approximately US $18.6 billion on gifts annually. In addition to purchasing presents, customers look for wrapping options that express their feelings, intentions, and elegantly showcase their gifts. 
Therefore, understanding the art of present wrapping can increase revenues and brand loyalty, elevate brand recognition, and enhance a business's competitiveness. This blog covers the various nuances of wrapping Valentine's Day gifts to help enterprises better position themselves in the market.  
Table of Contents
An overview of the global gift-wrapping market
7 easy and beautiful Valentine's Day gift-wrapping ideas
Conclusion
An overview of the global gift-wrapping market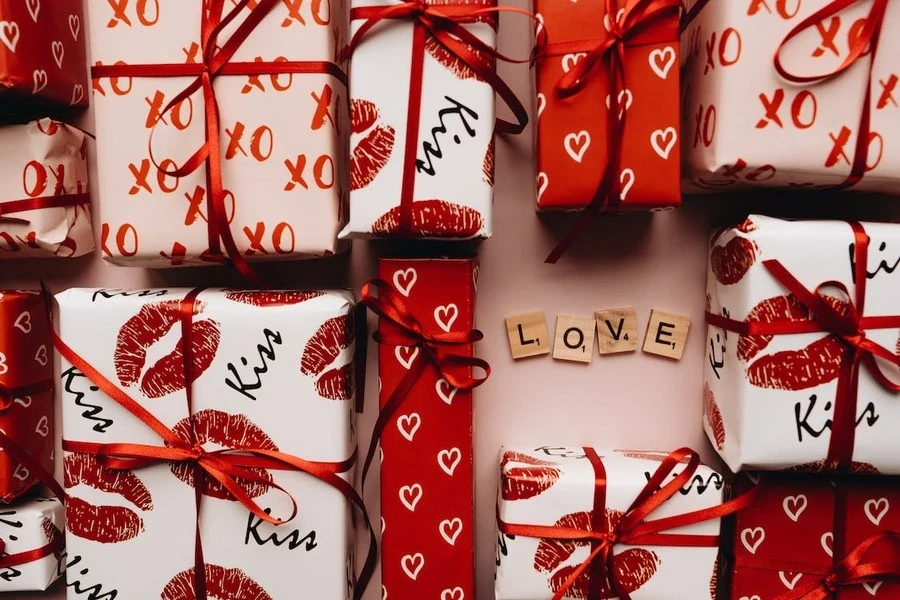 Global economic growth has increased consumers' disposable incomes. Consequently, more people are gifting to express joy, gratitude, love, and happiness, resulting in increased demand for gift-wrapping products. This is evidenced in the global gift packaging industry growth, which was valued at US $24.03 billion in 2022 and is projected to reach US $34.96 billion by 2032, growing at a CAGR of 4.4%. This growth is encouraging manufacturers to develop innovative techniques to enhance gift-wrapping products that respond to consumer preferences. 
Factors driving demand for gift-wrapping products
Various factors are driving the demand for gift-wrapping products, including:
A growing global gifting culture
Emotional attachment to the act of giving
Aesthetic appeal, where consumers seek visually pleasing and well-presented gifts, boosting the need for attractive wrapping materials
Personalization and customization, which allow people to present unique and tailored gifts
Seasonal celebrations, such as festive events, holidays, and special occasions, create a seasonal surge in the demand for gift-wrapping products
7 easy and beautiful Valentine's Day gift-wrapping ideas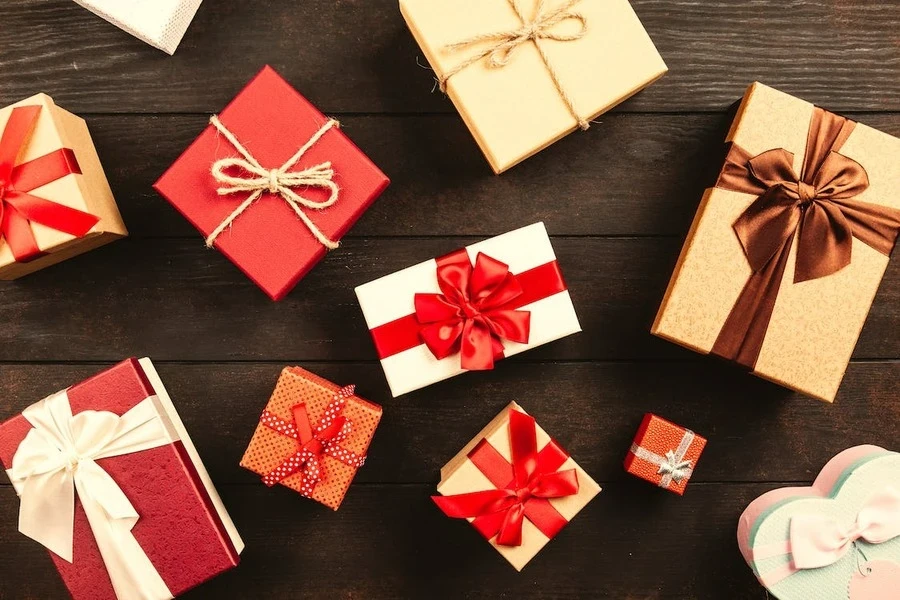 There are many creative ways businesses can wrap Valentine's Day gifts for their customers. Combining different elements, from personalized touches to thematic inspirations, helps create a unique presentation that enhances the gift's emotional resonance and aesthetic appeal.
Here are some helpful gift-wrapping ideas:
Custom wrapping paper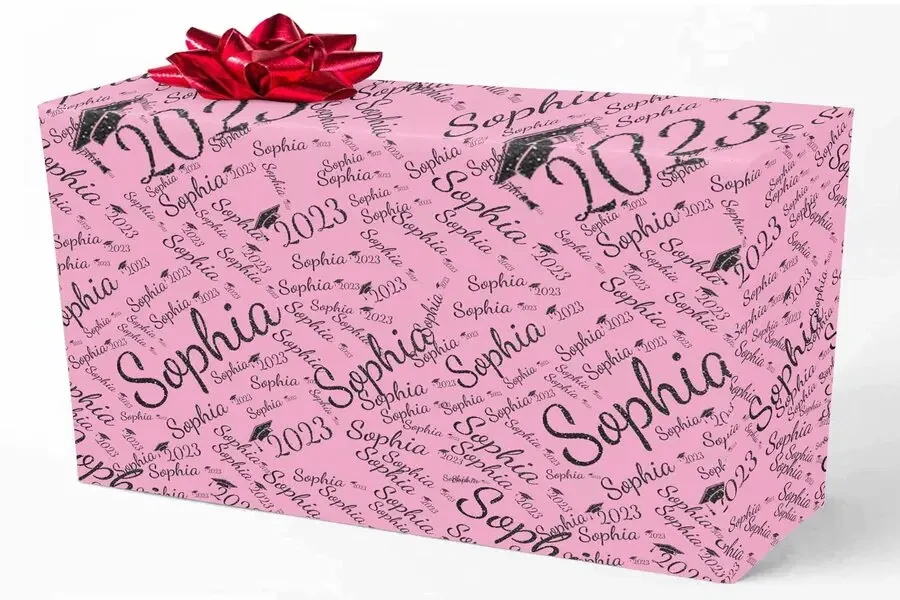 Custom wrapping paper allows customers to personalize gift presentations. They can be designed with unique patterns, colors, images, or even personal messages that align with the Valentine's Day theme. There is a considerable market for custom wrapping paper globally. For example, Future Market Insights estimates that the gift paper market will surpass US $4.48 billion in 2023 and reach US $6.64 billion by 2033, growing at a CAGR of 4%. These custom-wrapping papers stand out the most because they add a personal touch to gifts and demonstrate thoughtfulness. 
Decorative gift boxes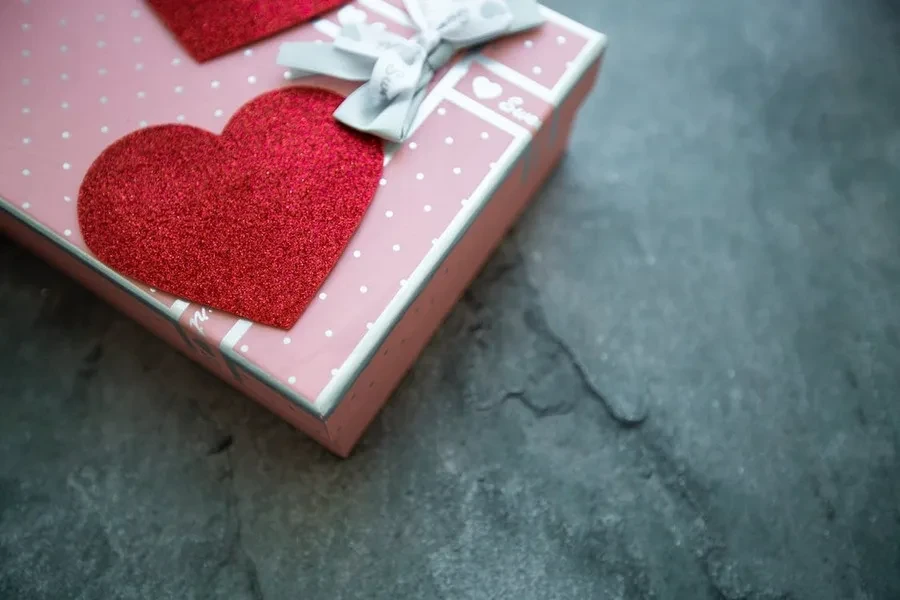 Decorative gift boxes are functional, decorative, and artistic, as well as a convenient and elegant way to present Valentine's Day gifts. They come in various sizes, shapes, and designs and often feature romantic motifs such as hearts, flowers, or love messages. They are also typically made from cardboard, paperboard, or premium materials like velvet or satin, helping to better protect the gifts inside.
Gift boxes have a huge global market. For instance, their global market value is estimated to generate US $2.01 billion in 2023 and reach US $3.75 billion in 2033, growing at a CAGR of 6.4%. Adding decorations to these gift boxes adds visual appeal, making them popular among consumers. 
Hamper baskets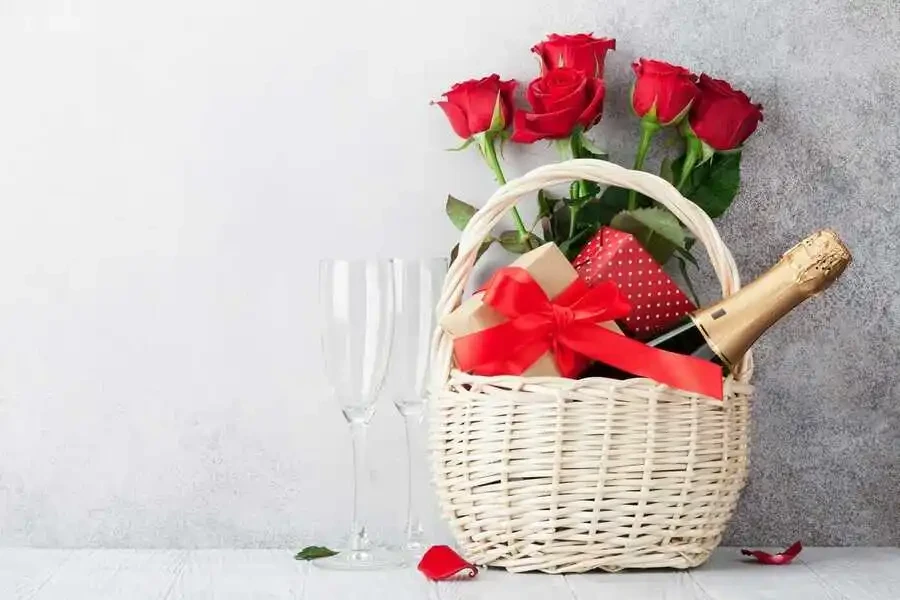 Hamper baskets are large, decorative baskets designed to hold multiple gifts or an assortment of items. Businesses can offer Valentine-themed hamper baskets filled with a selection of romantic gifts such as chocolates, candles, spa products, and more. Gift baskets are popular among customers. For example, a report shows that 61% of online shoppers purchased a gift basket in 2023. Businesses can leverage this opportunity to improve customer experience and boost sales. 
There are various reasons why people choose hamper baskets when presenting Valentine's Day gifts. These include:
A high level of personalization
Convenience
Can carry a range of items
Reusable
Can be beautifully adorned with ribbons, bows, and wrapping materials to create an enticing and luxurious gift presentation
Valentine-themed gift bags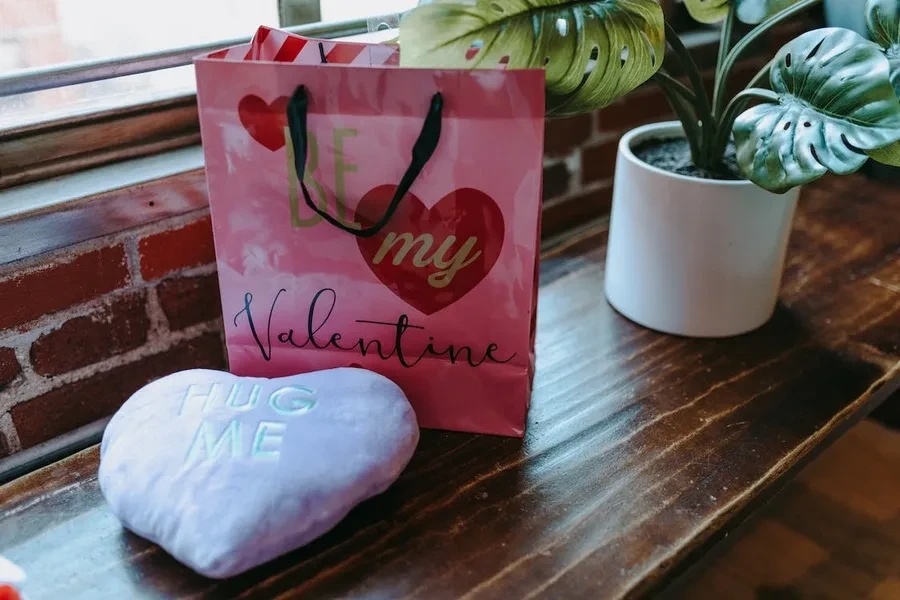 Valentine-themed gift bags are convenient and stylish alternatives to traditional wrapping paper. These bags come in various sizes and feature designs tailored to Valentine's Day, often including heart patterns, love quotes, and romantic colors. They are a popular choice for quick and hassle-free gift wrapping, offering a lovely presentation while also accommodating gifts of different shapes and sizes.
Ribbons and bows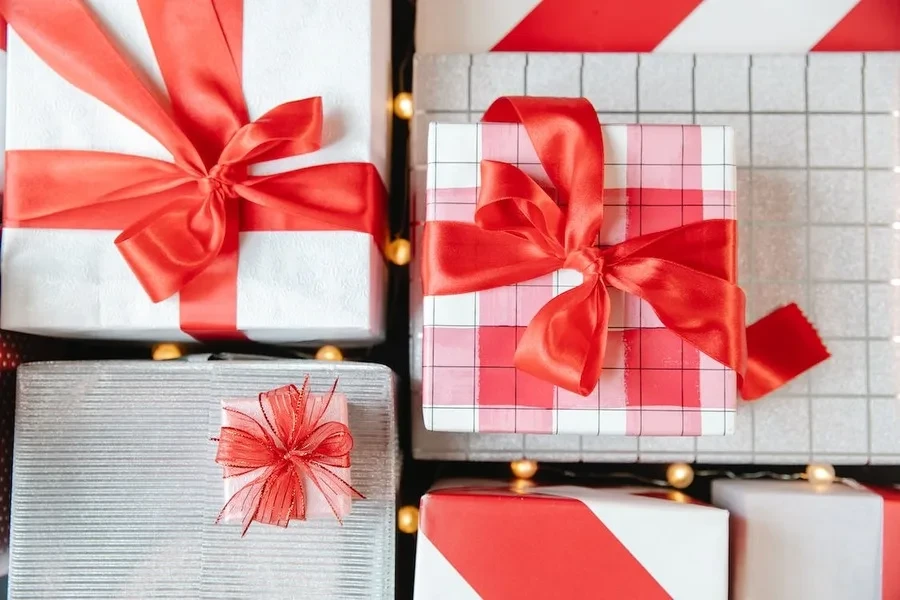 Ribbons and bows add a decorative touch to wrapped gifts. They boost Valentine's Day sales since they are often used to tie gift packages and enhance the overall aesthetic of the gift presentation. For instance, Dekogena Fashion found that more than 40% of people are more likely to gift an everyday or unconventional product if it has a bow, more than 27% find products with a bow more appealing, and more than 11% are willing to pay more if a bow is added.
Ribbons and bows are popular since they create intricate designs and add a pop of visual interest. In addition, they come in various materials, including satin, grosgrain, organza, and more. Businesses can offer a wide range of colors and styles to match different Valentine's Day themes. 
Gift-wrap cellophane bags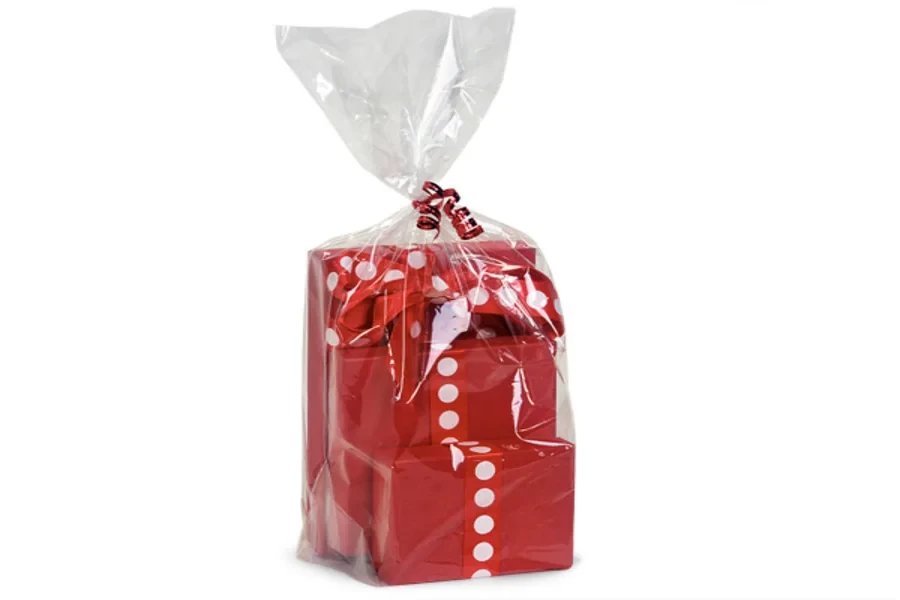 Gift-wrap cellophane bags are transparent bags made from cellophane material. They are used to encase gifts, providing visibility while keeping the gift protected and sealed. Data shows that there is a market for gift wrap cellophane bags globally, which businesses can leverage to boost their Valentine's Day sales. For instance, a CMI report shows that the global cellophane market was valued at US $325 million in 2022 and is projected to reach US $480 million in 2032, growing at a CAGR of 5%. 
Cellophane bags are often used for Valentine's Day to showcase gift baskets, flowers, or arrangements. Their appeal can be enhanced by adorning them with thematic decorations, tying them with ribbons, or sealing them with stickers.
Themed envelope sets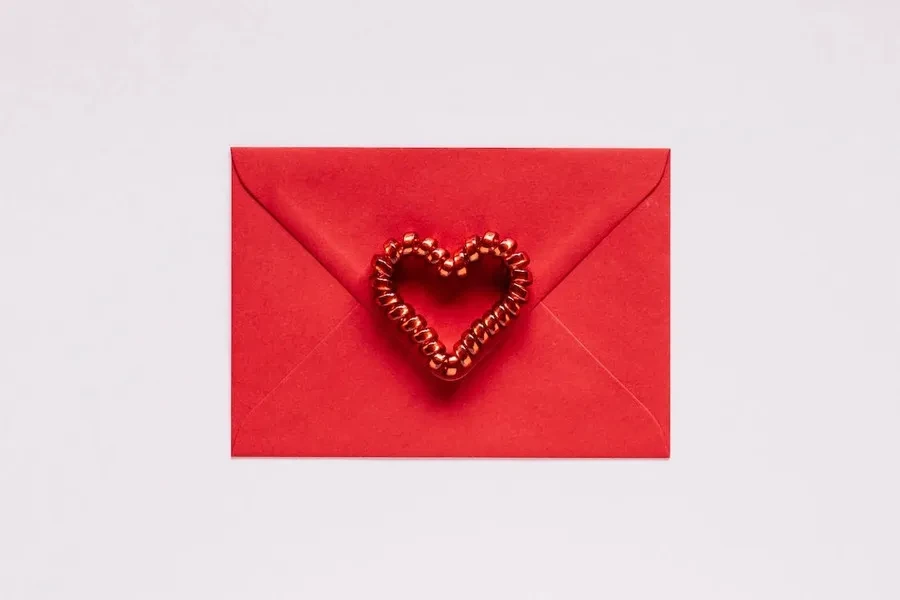 Themed envelope sets include envelopes designed to match specific Valentine's Day themes. For example, businesses can customize them in various sizes and designs, featuring heart motifs, romantic illustrations, or elegant patterns. Offering a variety of customized envelope sets can help businesses tap into the huge global market, which was estimated at US $3.1 billion in 2022 and projected to reach US $3.5 billion in 2032, growing at a CAGR of 1.6%. These envelopes enhance the consumer experience since they add an element of customization and thoughtfulness to the gift presentation.
Conclusion
Valentine's Day presents a gift-giving season in which consumers share gifts to create cherished memories. Businesses can leverage this opportunity to enhance customer experience by providing innovative gift-wrapping solutions. For instance, decorative gift boxes present timeless elegance, while custom wrapping paper adds a personalized touch. Hamper baskets and themed envelope sets offer comprehensive solutions, while ribbons, bows, and cellophane bags provide the finishing touch that captures hearts and captivates eyes. Therefore, providing a range of gift-wrapping solutions that blend style and affordability can elevate a brand's image and customer experience, leading to sustainable growth and success.
If you're looking for a huge range of wrapping products, head over to Alibaba.com to browse thousands of the latest items and trends.
Was this article helpful?