New technologies have been incorporated into agricultural technologies over the years. As one of them, drone sprayers have gained popularity because of their many benefits, such as collecting farm data. There are many drone sprayers in the market right now, making it hard for buyers to choose the suitable one.
This article is going to discuss how to select the perfect drone sprayer for your farm needs. Additionally, it will look at the benefits of using drone sprayers.
Table of Contents
What are drone sprayers
Benefits of using drone sprayers
How to select the suitable drone sprayer
Conclusion
What are drone sprayers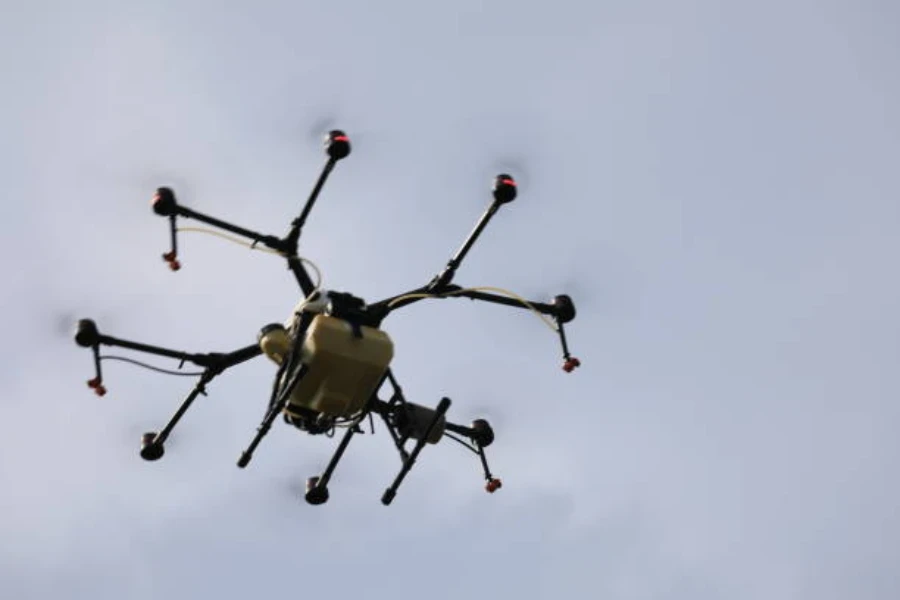 Aerial spraying drones are unmanned aerial vehicles carrying a tank to spray crops with pesticides or fertilizers. Drones are simply aerial platforms used to handle operations from the ground. Agricultural drone sprayers have access to regions to which ground spraying equipment doesn't—for instance, steep, uneven, or inaccessible terrain in which ground vehicles would cause damage to the crops.
Benefits of using drone sprayers
1. Effectiveness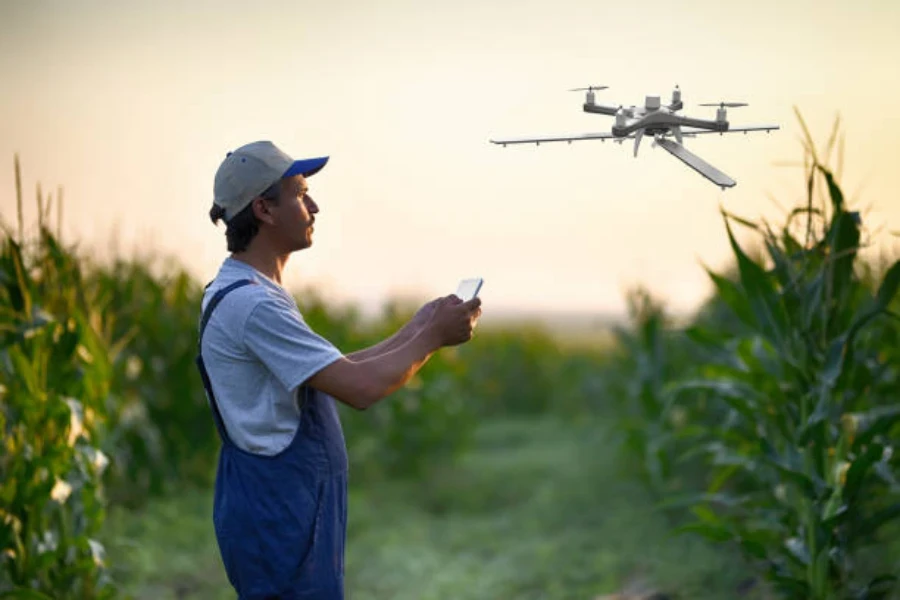 Aerial spraying drones are not only safe but also effective as pesticides are carried in secure tanks and used to treat crops in a targeted way. This reduces wastage and saves time.
2. Cost saving
Buyers will have more revenue compared to losses. Data collection provided by drone sprayers enables focused planning and immediate action for users to save time and reduce damage to crops.
3. Quality surveillance
Lightweight agricultural drones can rise effortlessly above the farm fields and relay essential information concerning the conditions of the crops. This way, buyers have enhanced visibility and observation of the plants and can monitor the progress and improve growth where deemed necessary.
4. Up-to-date data
Various installed sensors can deliver weather information through agricultural drones. A buyer can learn the most recent and future information on weather conditions. Additionally, vital information on the amount of pests and their effect on crops can be used to initiate adequate measures.
5. Safety
Agricultural drones can be used in farm management. They can monitor remote areas of fields without the need to physically go there. This saves time and gives room for frequent monitoring of inaccessible places. Cameras on drones capture and provide a daily view of farm operations and the location of equipment in use to ensure smooth activities. Drones have virtually eliminated the need for security personnel.
How to select the suitable drone sprayer
1. Flight time
To determine how efficient a drone sprayer is, flight time is a key consideration. A longer flight time means the drone sprayer is more efficient. This is because there is no frequent need to change the battery. Currently, most drone sprayers register a flight time of about 10 to 20 minutes.
2. Type of camera needed
There are various challenges when agricultural drones are in flight. For instance, turbulence is caused by high moving speeds, motors, rotation of propellers, and wind. These might result in poor-quality images and video footage. As such, the camera must be of high resolution and have sufficient stabilization.
3. Payload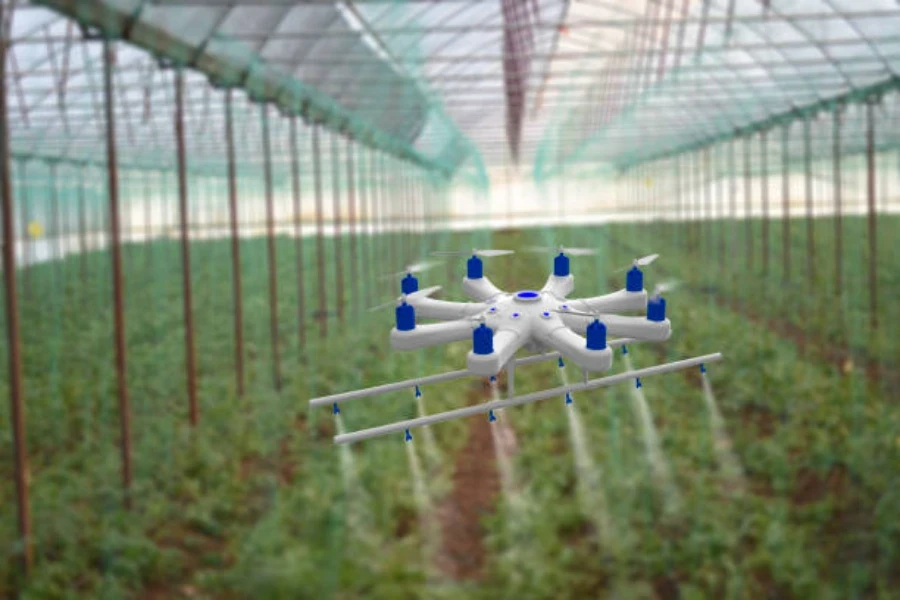 The payload of a drone sprayer shows the working area of a single flight. In this case, a larger payload indicates a higher efficiency on farm work and a subsequently reduced cost. The most common loads of drone sprayers include 10 liters, 12 liters, 16 liters, and 20 liters.
4. Price
A buyer should consider the initial cost, maintenance cost, and any peripherals to be installed on the drone sprayer. The price of drones is mainly driven by their performance and range of functions, and they may seem unaffordable in the eyes of small-scale farmers. An agricultural drone sprayer could cost from $500 to over $5000.
5. Transmission range
Buyers should opt for drones with an effective transmission range to sustain their needs. The view provided by the agricultural drone should be good to minimize or eliminate the need to walk around the farm to check crops. To effectively give all the essential information, the drone should maintain transmission. Drones that cover the entire farm without the operator moving are the most preferred.
6. Quality workmanship
This indicates that the drone sprayer acquired should be maneuverable and lightweight. The materials used to make the drone should be quality and sturdy to enable it to withstand the load. Also, the agricultural drone should last long enough to match the investment.
7. Tank size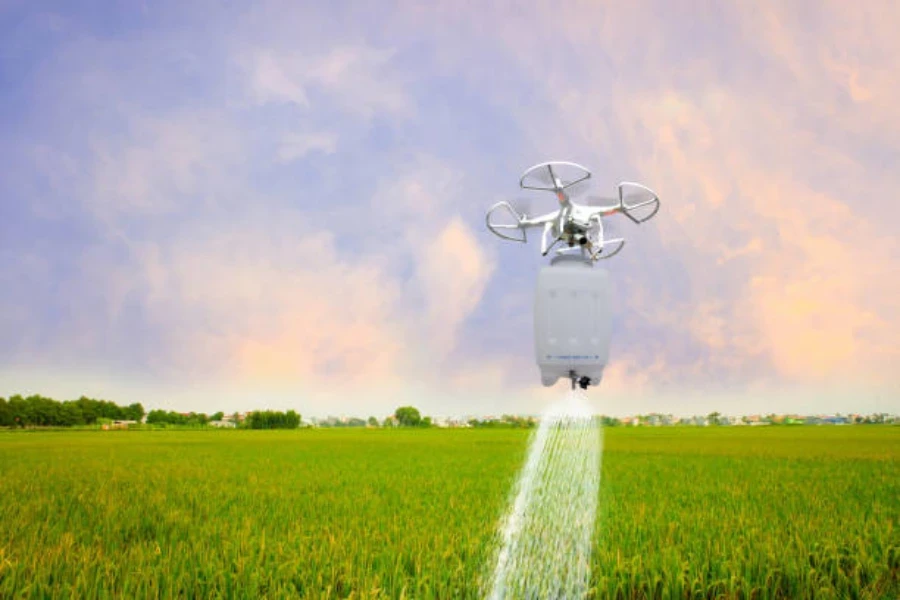 The carrying capacity of a drone sprayer is an important feature to be considered when acquiring one. The liters of the tank or spray system held by the drone determine the refilling level. If the drone has bigger capabilities, it minimizes the number of refills or refuels as the device functions.
The most widely used size is the 16-liter agriculture drone spraying tank. Also, the drone sprayer's weight determines the load to be carried. It is worth noting that the carrying capacity in liters differs from kilograms.
Conclusion
Drone technology has positively impacted the agricultural industry. Therefore, the inclusion of drones in farming is expected to increase in the coming years. Whilst drones are becoming increasingly valuable, some governments have put restrictions on their usage. Also, buyers have inadequate access to information concerning the effectiveness of drones in agriculture. Potential buyers are required to comprehend the functionality and limitations of drones before investing in this technology. To acquire quality agricultural drone equipment, visit Alibaba.com.
Was this article helpful?