As a manicurist, it's very important to have a good manicure brush with quality hair bristles. Owning this essential tool will not only improve the creative process but also give you a sense of real satisfaction in your work. It's so important in fact, that learning how to choose a nail brush is a must for any serious manicurist.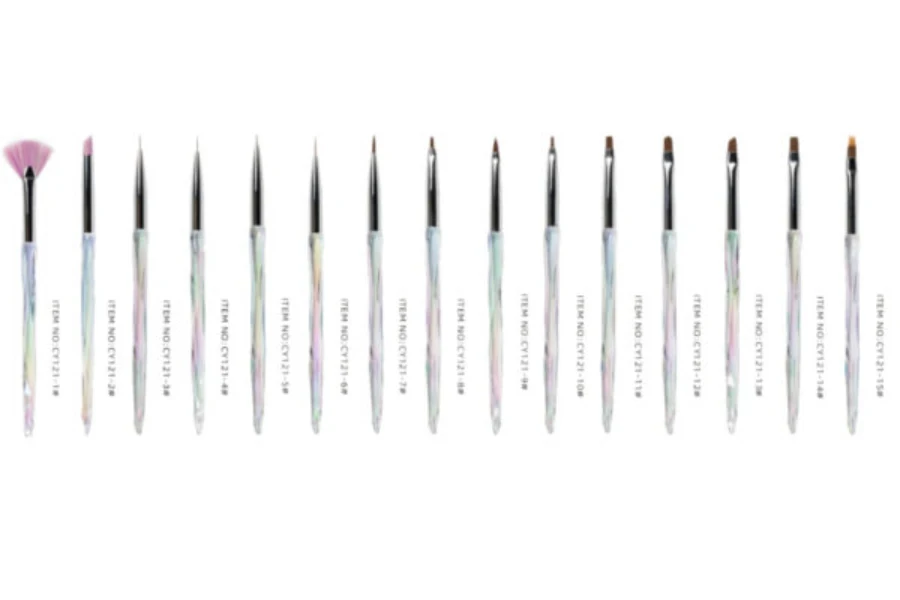 The most frequently used manicure brushes are the liner brush, 3D brush, gel brush, oval brush, flat brush, and SIA flush brush. Among these and other brushes, there are differences in the amount of brush hair and the quality of the brush, depending on their functionality.
The liner brush is divided into short, medium, and long brush types according to the length of its hair, and is mainly used for lining and painting. The gel brush, SIA flush brush, and flat brush, meanwhile, are used for gel painting, gradient color blending, and drawing checkered patterns, respectively.
A good all-rounder to meet your different nail art needs is the versatile (#121) brush set from Chiyan Shanghai.
Choosing the right manicure brush for you:
1. The material of the hair
Nylon hair:
There are various manicure brush head shapes that are suitable for drawing designs on nails, with each manicurist having his or her preferences and standards for the specific head shape and the corresponding painting effect. Nylon hair is mainly used for Japanese manicures, since these require delicacy and elegance, while the European and American crystal nail style is completely different.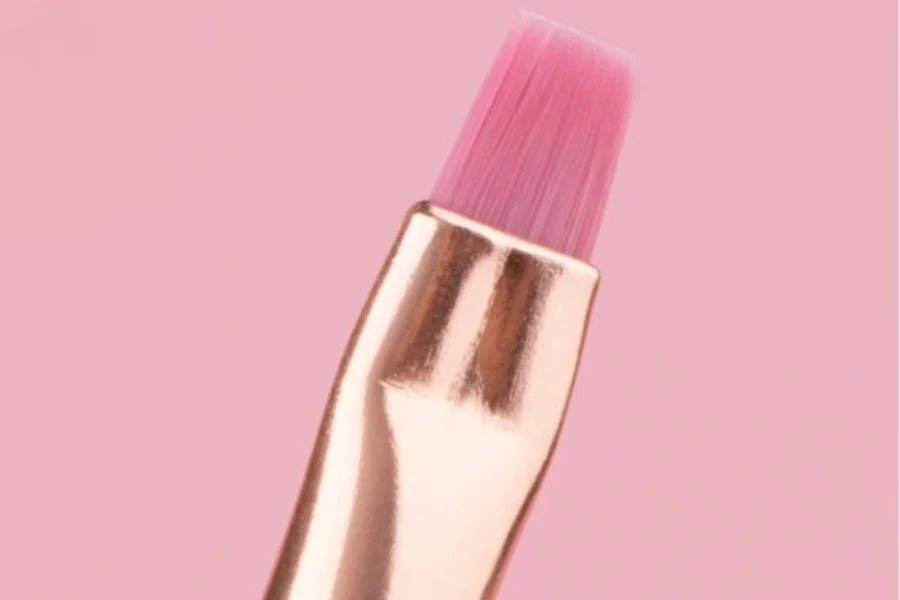 Animal hair: 
In our nail brush industry, most brushes use nylon hair, however, some high-end customers like to use animal hair, which is soft and offers a certain toughness. This is especially true when it comes to acrylic brushes, which are bought by those manicurists pursuing quality or those who need to use acrylic powder for professional nails. There is still great variation, however, with some of these brushes being mixed with nylon fibers. At present, high-end manicure brushes offer proportions of 50%, 70%, 75%, 80%, 85%, and 90% animal hair. The reason for such a large proportion of hair content is that manicurists have different requirements for the hardness and toughness of their brushes depending on the nail art style they are pursuing.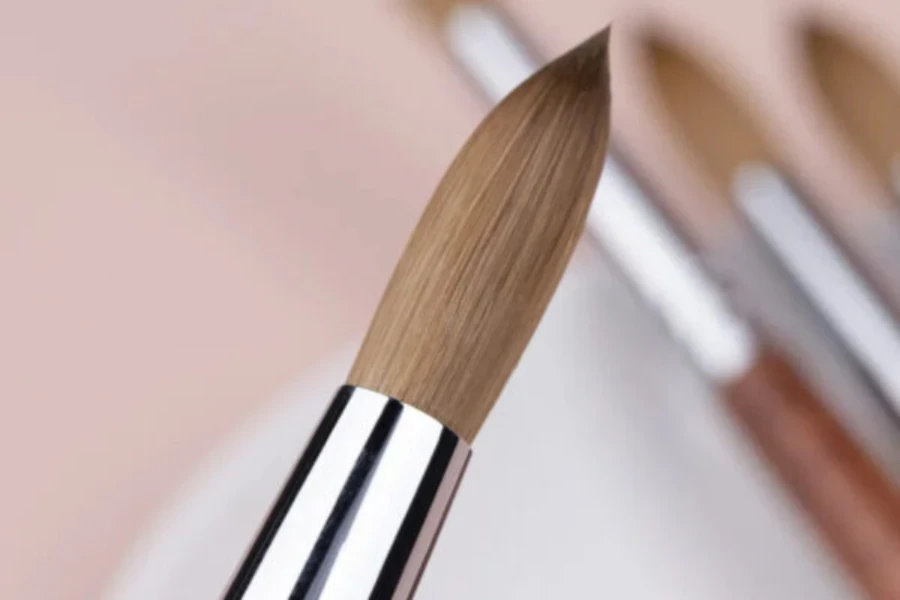 2. The material of the pen holder
According to the material of the brush handle, manicure brushes can be divided into those with a wooden handle, metal handle, and acrylic handle, among others.
Wood:
The main type of wood used in manicure brush handles is white birch, which is painted to offer a variety of colors. However, there are also redwood handles, which although also offering a variety of colors, are generally red.
Currently, most manicurists are opting for the wooden handle nail brush set, which will undoubtedly become a new trend in the 2023 brush market.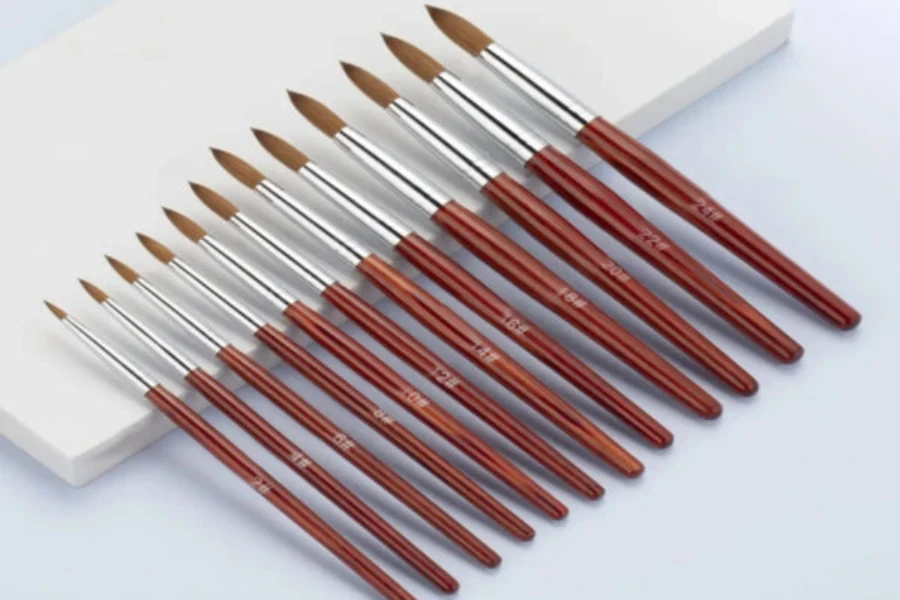 Metal:
Metal handles come in the form of aluminum, copper, and steel, with the most common being the aluminum handle, thanks to its strong plasticity. Aluminum can be compressed into a variety of brush shapes, including pointed and flat. This material is also easily painted to offer a variety of colorful gradients.
Plastic manicure brush handles most commonly use ABS plastic, which must be processed to make a variety of colors. Plastic's great versatility also offers the chance to make transparent acrylic plastic handles and handles with colored liquid or liquid glitter inside an outside plastic casing – the latter being a firm favorite in the market.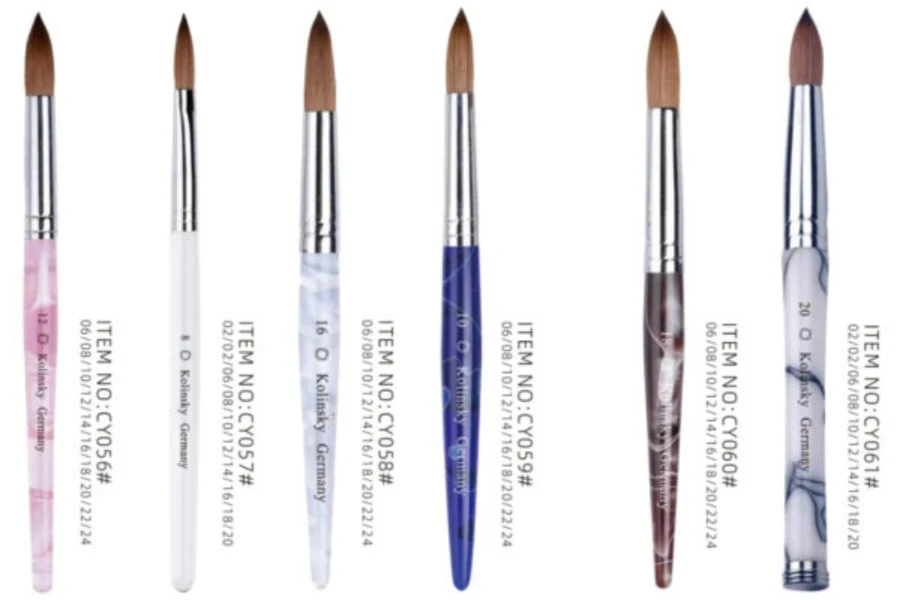 Shanghai ChiYan is a well-known brush supplier offering Kolinsky brushes, nylon brushes, and other material types, all of which are made by hand. This supplier provides brushes for precision and efficiency in nail art. Additionally, the variety of shapes and sizes available allow for easy maneuverability and access to hard-to-reach areas, making them ideal for both professional and personal use. Shanghai Chiyan brushes are renowned for their long life and reliable performance, making them a popular choice for both professional manicurists and nail art enthusiasts at home.
Disclaimer: The information set forth above is provided by Shanghai ChiYan independently of Alibaba.com. Alibaba.com makes no representation and warranties as to the quality and reliability of the seller and products.
Was this article helpful?