The quest for the perfect artificial grass takes on an unprecedented dimension in 2023. It indicates the new-found love people have developed towards these versatile landscape options. Artificial grass has captured numerous hearts for its superb ability to perfectly resemble the beauty and texture of real grass while at the same time requiring much less maintenance.
Artificial grass presents more benefits than just appearance. It saves time, it is long-lasting, and it presents an ecological option for all who dislike dealing with natural grass lawn.
This article will guide you on how to choose the perfect artificial grass in 2023. You will also learn about the types of artificial grass available and their market share.
Table of Contents
What is artificial grass?
Overview of the artificial grass market
Types of artificial grass
How to choose the perfect artificial grass in 2023
Summary
What is artificial grass?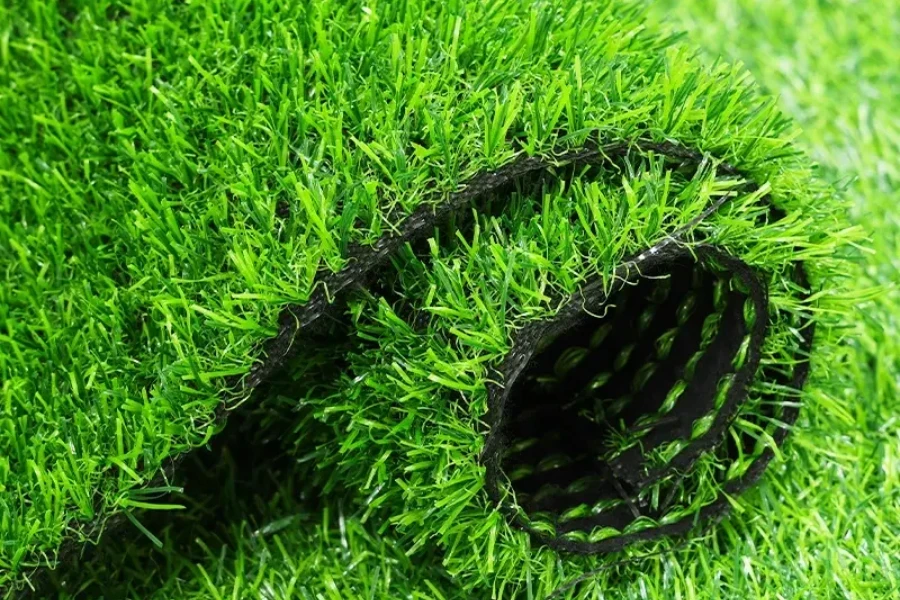 Synthetic grass, commonly called artificial grass or fake grass, is an artificial substitute for natural grass, imitating its appearance and features. It typically features artificial fibers such as polyethylene or polypropylene glued onto backing materials.
The fibers for such fields are designed with resilience and have an appearance similar to that of natural grass blades. Artificial grass can be employed for several purposes ranging from domestic gardens, corporate landscapes, sports stadiums, and golf clubs. The keyword artificial grass receives an average of 246,000 monthly searches on Google Ads.
Overview of the artificial grass market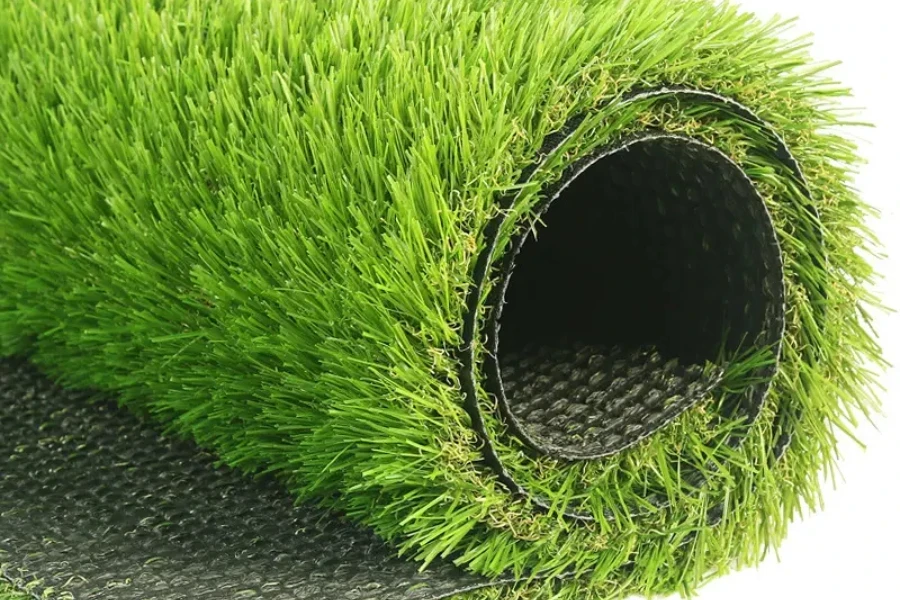 Artificial grass is gaining popularity because it is low maintenance, long-lasting, eco-friendly, and environmentally beneficial. The need for artificial grass has increased, especially in areas of scarce water, hostile environments, and a preference for eco-friendly landscape designs.
In particular, these include drought-prone areas of North America such as California and Western Europe, where the UK and the Netherlands, among others, have a huge market share in artificial grass landscaping for residential and corporate spaces. Artificial turf is in demand not only in North America, but also in regions like the Middle East.
The top five manufacturers hold around 35% market share, where China represents the biggest market contributing around 40%, and almost equally shared between North America and Europe, at about 50%. According to Mordor Intelligence, the world artificial turf market will record an impressive compound annual growth rate (CAGR) of 11.1% between 2021 and 2026, which is expected to be sustained into the future.
Types of artificial grass
1. Polyethylene artificial grass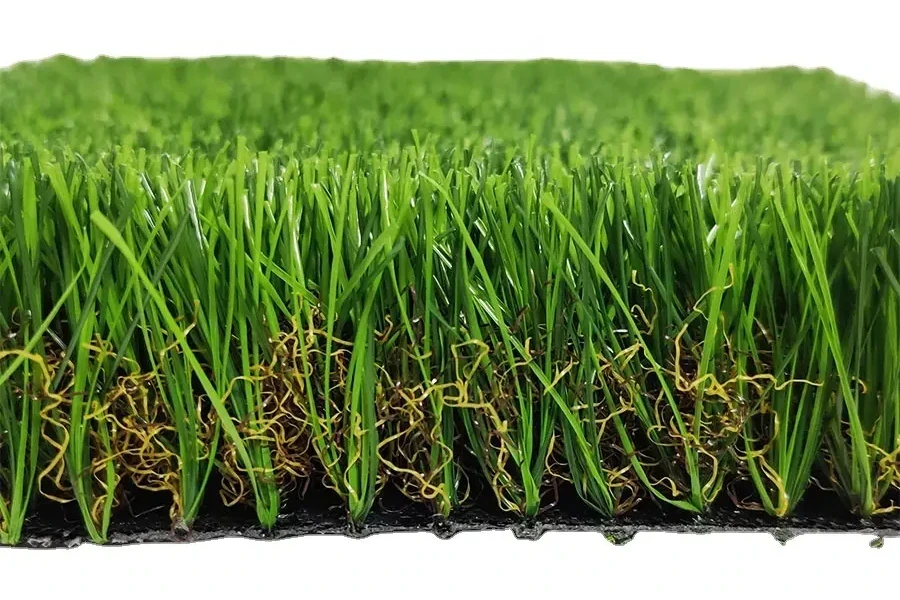 The synthetic lawn made of polyethylene averages 140 monthly Google Ads searches. It is very strong and thus suited for use in outside installations. It is incredibly UV-resistant and weather-stable, preserving a bright color through years of exposure to adverse weather conditions. In one category, there are several selections of polyethylene grass from 20 mm to 40 mm, depending on individual preference.
Polyethylene artificial grass has several options for pile height from 20 mm to 50 mm. The price of polyethylene synthetic turf differs significantly in terms of its quality and pile heights. You might have to pay between US $2–5 for one square foot.
2. Polypropylene artificial grass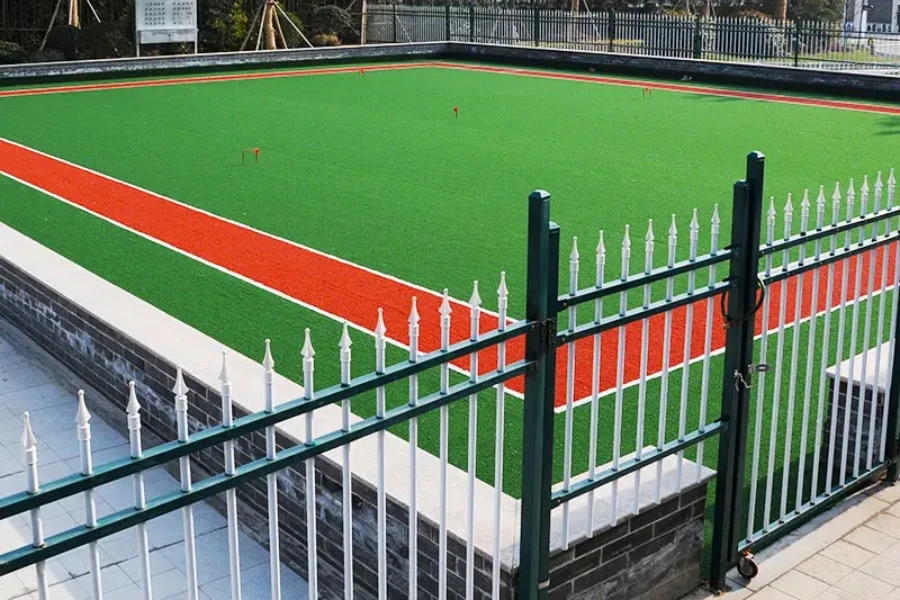 Polypropylene artificial grass is cheaper compared to polyethylene but lower in terms of durability. However, it can be prone to UV degradation leading to brittleness, especially when subjected to prolonged exposure to direct sun. Polypropylene grass could be provided in thickness, where you can choose from different options ranging from 10 mm to 25 mm.
The pile heights extend from 10 mm to 30 mm, thus enabling numerous uses. In terms of cost, this type of synthetic turf has lower production costs than nylon. Its price may range between US $1–3 per square foot. According to Google Ads, polypropylene artificial grass averages 40 monthly searches.
3. Nylon artificial grass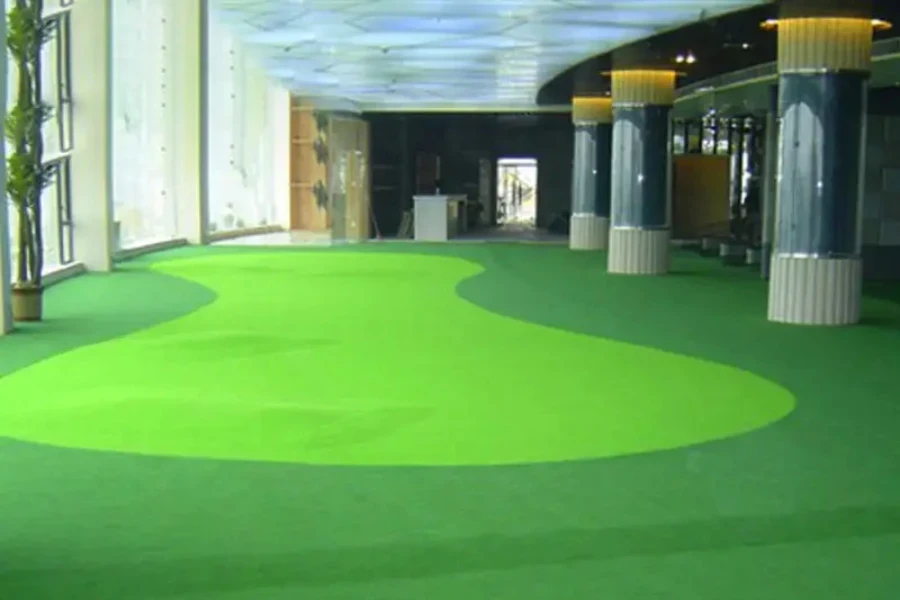 The nylon artificial grass averages 260 monthly searches on Google Ads, making it the top-searched type. It stands out regarding endurance and resilience, being strong enough to handle heavy foot traffic while resisting UV damage considerably. Nylon artificial grass is not widely utilized for household purposes due to its higher costs. Various varieties of nylon grass thicknesses range from 10 mm to 20 mm.
Nylon grass has different pile heights ranging from 10 mm to 30 mm. It tends to be more expensive compared with other types, and costs vary between US $4–8 per square foot. Though more expensive, it is preferable because of its durability and adaptability in busy areas of high exposure or wear.
How to choose the perfect artificial grass in 2023
1. Cost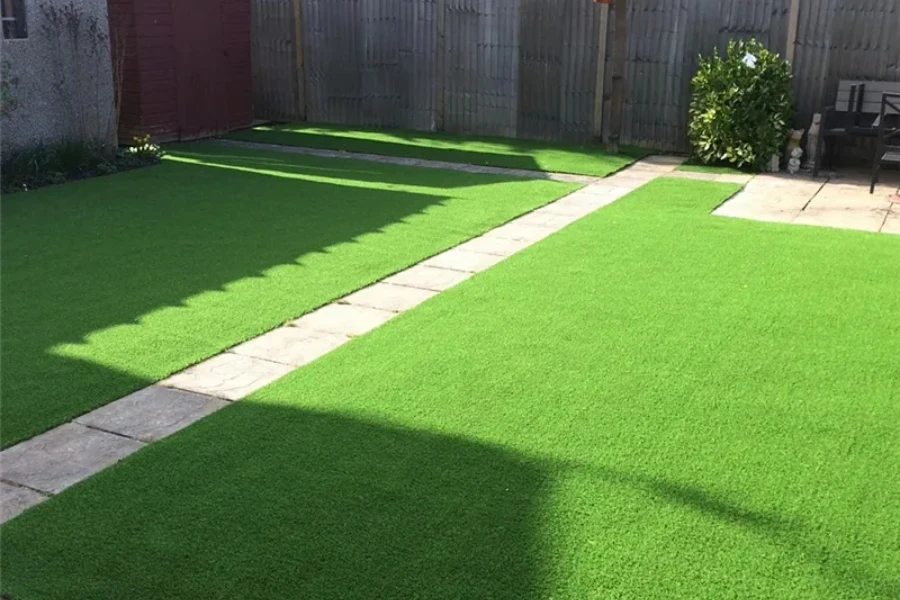 Set your price range for synthetic turf as costs vary so much and may not accord well with your financial ability. It would seem natural to choose the cheapest at first glance; however, you must understand that quality usually coincides with more expensive products. A premium artificial grass choice does come with an extra, relatively small-scaled start-up investment.
Opting for premium grass frequently becomes economically more valuable over its longer lifecycle period since its resilience is higher, requiring less care. High-quality polyethylene synthetic grass costs anywhere between US $2–5 per square foot.
2. Durability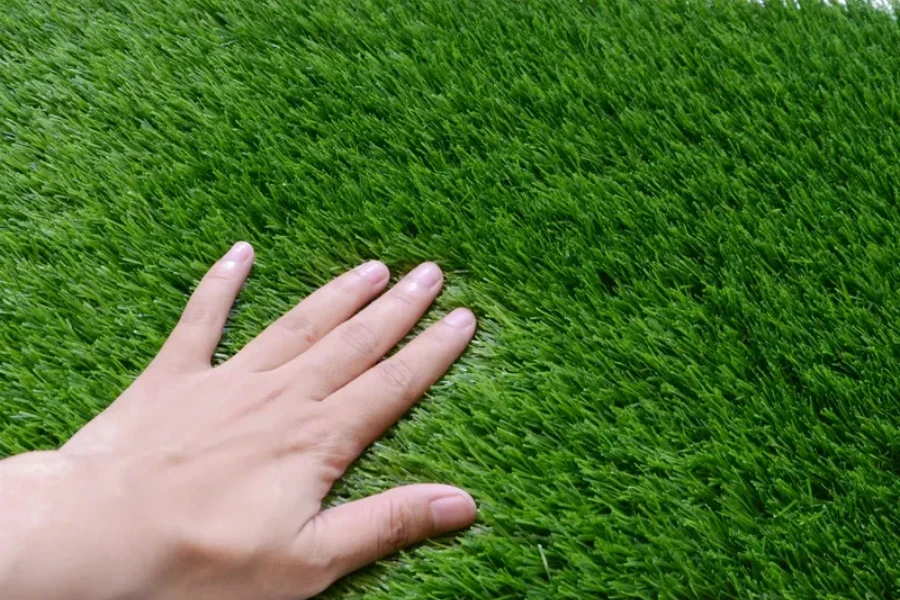 Durability comes into play, particularly if the artificial grass will be installed outside. You are investing not only in a luxurious lawn or stunning landscape but also in that thing that can withstand the test of time, heavy feet, and the whims of weather.
Measuring the longevity of an artificial grass product is only possible by evaluating what the substances are made up of. In this case, artificial turf made of polyethylene fibers is known for being tough and durable, making it resistant to wearing away. They are sturdy enough to withstand prolonged wear and tear and harsh weather.
With good quality man-made grass made up of strong material such as polyethylene, it may take about 15 to 20 years before it becomes old and requires replacement.
3. Density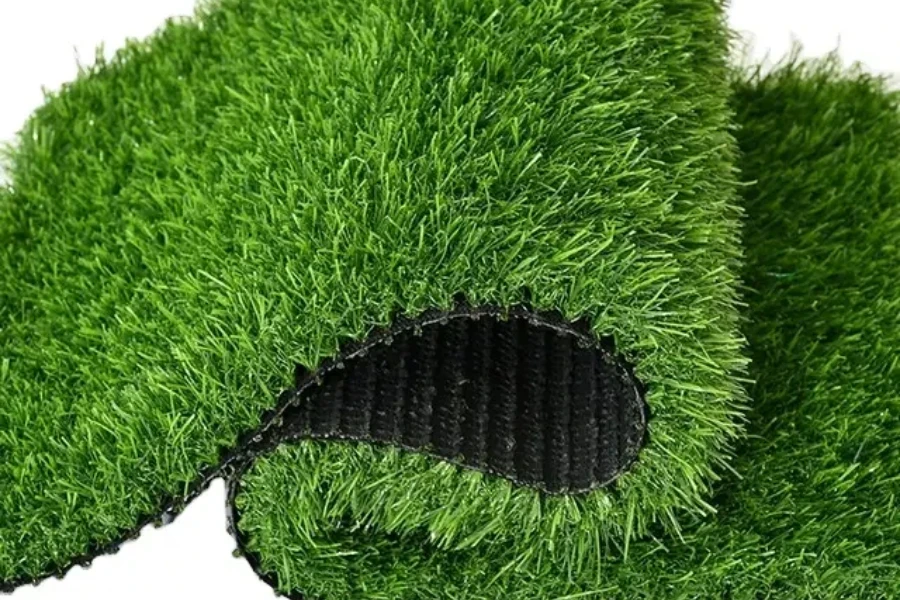 Artificial grass density plays a big role in producing luxurious or more authentically natural-looking lawns. Thicker grass offers a lusher, more realistic look appealing to individuals looking for that perfectly groomed look. Increased density could require a more advanced or expensive drainage system to control stagnant water.
The density chosen for a formal lawn, playground, or pet space must have an ideal blend of visual appeal and practicality that enhances cohesion within the overall landscape.
Artificial grass options can also come in varying densities, some of them high-density, and range between 14,000 to 16,000 stitches per square meter. Others can be in the lower category, about 18,000 to 20,000 stitches per square meter.
4. UV resistance
Most artificial grass is exposed to direct sunlight, making it important for its UV-resistant features. The ultimate criterion for protecting synthetic turf's aesthetics and overall structure is its capability to withstand UV radiation.
Artificial grass designed for outdoor use has been formulated to withstand the destructive effects of prolonged sun exposure that may cause color fading or other damage, such as fiber breakage or discoloration.
You have to check on specific facts concerning its efficiency in fighting off the UV rays if it is an artificial grass product. Figures given may vary, but on average high-density UV-resistant artificial grass protects from the intense UV exposure of over 1,500 hours, offering a lively and lasting appearance of a lawn.
5. Pile height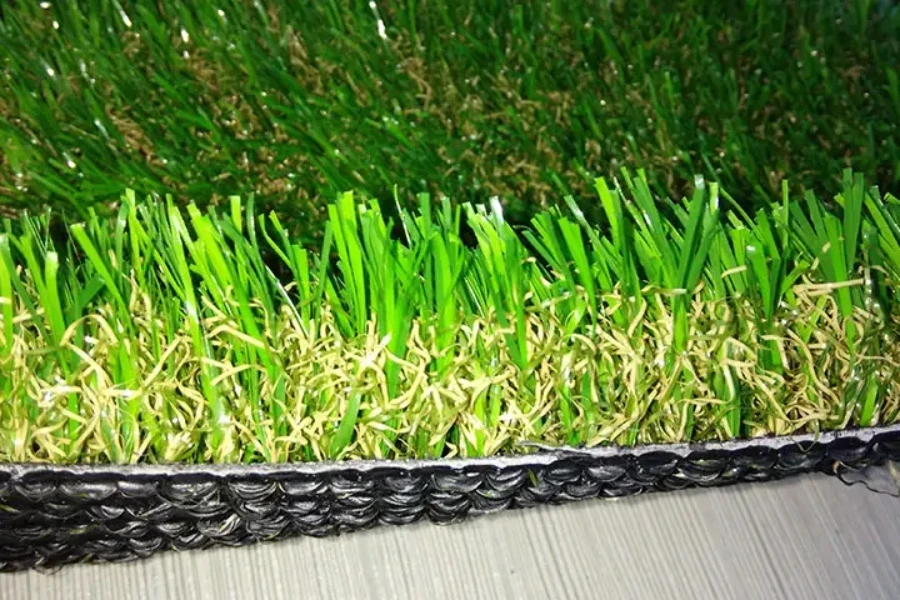 The length of these grass fibers, also known as pile heights, plays a significant role in the look and practicability of any artificial grass. Shorter pile heights, typically about 10 mm, are simpler to keep, and they rise at the top of the list as the choice for a sports field or any place that requires ease in maintenance.
Conversely, dealing with taller piles of more than 50 mm leads you to a decision similar to going for live and natural grass. The demand for these longer pile varieties has grown particularly in terms of visual aesthetics, being more prevalent in residential lawns.
Summary
The cost, durability, density, pile height, UV resistance, and intended purpose matter significantly when choosing the best artificial grass. Visit Alibaba.com, where you can discover various excellent artificial grass choices.
At Alibaba.com, you can access various artificial grasses for varied uses, such as low-maintenance residential lawn solutions, durable landscapes and sports fields, and eco-friendly landscaping alternatives.
Was this article helpful?