In August 2023, ASEAN Light Vehicle (LV) sales increased by 5% MoM but dropped by 2% YoY. The lower sales results were due to negative results in Indonesia, Thailand and Vietnam.
Indonesia LV sales fell by 6% YoY in August even though the GAIKINDO Indonesia International Auto Show (GIIAS) event was held in that month. Based on recent information, September sales dropped sharply by 19% YoY for the third month in row. Thus, Indonesia LV sales result dropped by 10% YoY in Q3 2023 which deteriorated from 6% YoY, increasing in H1 2023. The weak sales in the quarter were likely due to:
a) demand was pulled ahead by the temporary tax cut last year and the LCGC prices hikes early this year;
b) consumers awaited the new automotive policy after the government hinted that they were drafting the new policy in August but have not announced it yet;
c) consumers might wait for the new government as the presidential election will be held in February 2024.
Due to September sales likely being weaker than earlier projections, Indonesia's 2023 sales outlook is cut and is now projected to drop by 2% YoY to 944k units.
Thailand's LV market dropped by 6% YoY in August as the Light Commercial Vehicle (LCV) remained weak (-33% YoY). It is worth remembering that LCV sales have declined since November 2022 due to the tightened auto loan approval in this segment and the negative economic situation. In contrast, the Passenger Vehicle (PV) segment grew by 8% YoY in August, the eighth consecutive month of growth, inflated by Thailand's cash subsidy incentive for buying a BEV model. According to our market intelligence, September sales continue to decline by 16% YoY and Q3 2023 sales plunged by 12% YoY which significantly worse than H1 2023 (-5% YoY). As a result, we forecast Thailand's 2023 sales will drop by 7% YoY to 771k units. Moreover, the LV market and economy are on downside risk due to the softer global demand, China's slowdown and weak tourist traffic numbers.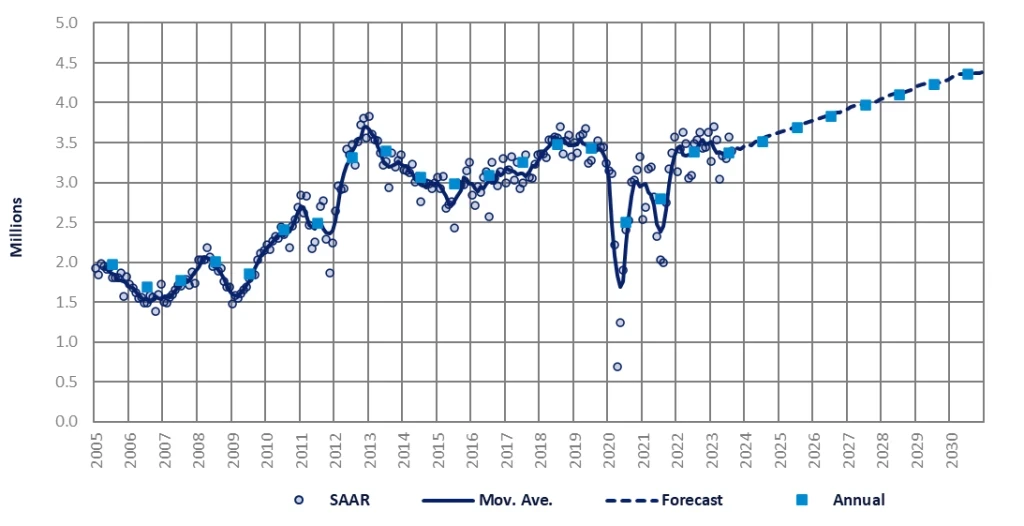 Although the Vietnam's government re-introduced the temporary registration fee reduction scheme for locally built models running from 1 July – 31 December 2023, LV demand continues to struggle; July and August sales fell by 6% YoY and 17% YoY, respectively. This poor result was due to the payback of the temporary incentive scheme last year, higher financing costs, and tightened credit conditions. Most notably, consumer and business confidence have tumbled, as the country's once bubbling property market has gone bust after the government took measures to rein in leverage and launched anti-graft campaigns. As the stimulus measurement could not boost demand, Vietnam sales outlook was cut to 417k units (-12% YoY) this year, but 2023 sales volume will still be the second highest annual sales on record.
After Malaysia LV sales surged by 33% YoY and 8% MoM in July, demand remained robust with an increase of 8% YoY and 13% MoM in August. Growth was driven by supply chain improvements and aggressive sales campaigns in the month. September sales dropped by 5% MoM. The slowdown in September was mainly due to buyers waiting to see the government's 2024 budget announced on 13 October.
Despite a September decline, the results were still higher than our expectation. Moreover, Proton's management hinted that the fourth Proton-Geely model is set to debut in November, so sales could spike at end of this year. As a result, Malaysia 2023 sales projection were raised to 768k units (+8% YoY).
Philippines LV sales are on an increasing trend of demand. August sales jumped by 28% YoY as the eighteenth consecutive month of double-digit growth. Moreover, average monthly sales continued to increase from 33k units in Q1 2023 to 36k units in Q2 2023 and 38k units in July – August 2023. Growth was supported by the removal of supply chain bottlenecks, the large backlog order from last year, improving consumer confidence and the continuing solid inflows of remittances from Filipino workers overseas.
The sales forecast is unchanged, except for minor upward adjustments in 2023-2024. Sales are now expected to expand by nearly 18% to 429k units this year, which will be the second highest sales in the market's history. For the next year, we expect sales growth to be flat (+0.8%), following three consecutive years of double-digit growth.
To summarize, ASEAN LV sales are now forecast to slightly decline by 0.3% YoY to 3.33 million units this year with the lower sales performance in Indonesia, Thailand and Vietnam. Moreover, the 2023 sales in the mentioned countries are on downside risks.


Source from Just-auto.com
Disclaimer: The information set forth above is provided by Just-auto.com independently of Alibaba.com. Alibaba.com makes no representation and warranties as to the quality and reliability of the seller and products.
Was this article helpful?