Summary
The Global Light Vehicle (LV) selling rate ended its 6-month rising streak by falling to 93 million units/year in September, from a revised figure of 100 million units in August. With 8 million units sold in September, the global LV market has grown 8.5% YoY. Year-to-date (YTD), there have been 66 million units sold, marking an increase of 10.2% YoY.
For another month, the USA, Western and Eastern European countries all registered double digit YoY growth, partly due to 2022 being a weak base and partly because of an alleviation in supply-side issues. Chinese sales grew 5.7%, driven by a booming export sector while the domestic market was helped by personal income tax cuts and price reductions across automakers.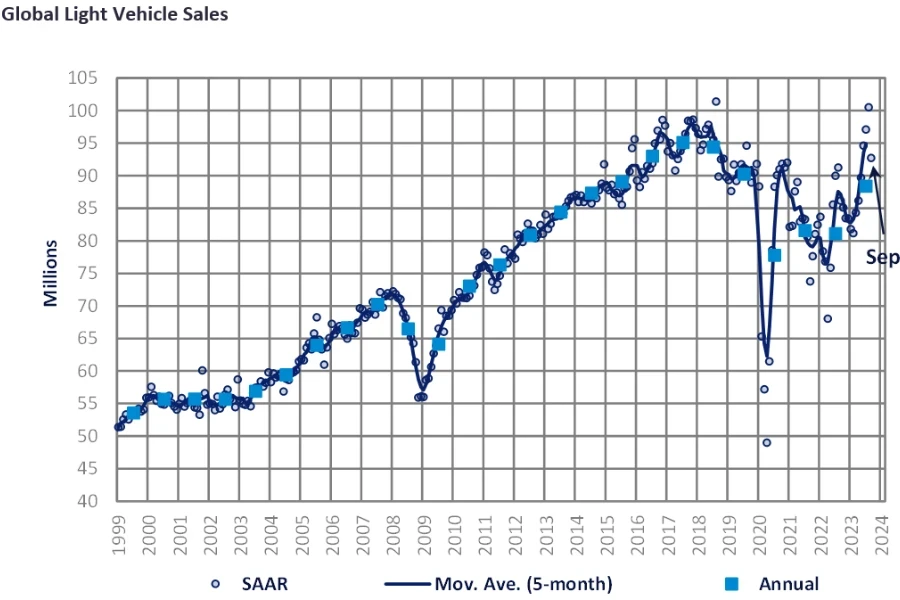 Commentary
North America
The US Light Vehicle market displayed another strong month in September, as vehicle sales reached 1.3 million units, increasing by 19.8% YoY. The selling rate increased significantly in September to 15.8 million units/year, up from a revised figure of 15.4 million units/year reported in August. There was no discernible impact from the UAW strikes in September, as OEMs had sufficient inventory to meet demand. Transaction prices remain at an elevated level, but in September the average price dropped by US$171 MoM to US$45,764. Incentives also slightly dropped in September, to US$1,838, down by US$66 MoM, this could be due to OEMs reducing incentive spend as they monitor potential strike outcomes.
In September, Canadian Light Vehicles sales reached 153.5k units, an increase of 16.0% YoY. The selling rate also increased in September, to 1.74 million units/year, compared to a revised figure of 1.68 million units/year reported in August. The Canadian market also performed better than previously thought in Q3 overall. In Mexico, sales increased by 38.0% YoY, to 117.9k units in September. The selling rate increased in September, to 1.48 million units/year, the highest the rate has been since September 2018.
Europe
The Western Europe LV selling rate slowed to 13.0 million units/year in September from an upwards adjusted 16.5 million units/year in August, registering 1.2 million vehicles (+11.4% YoY). The region's YoY growth continues to be driven by improved supply of components and higher delivery rates. Year-to-date (YTD), the region has grown 17.2% YoY with total sales of 9.95 million units.
The East European LV selling rate rose to 3.6 million units/year in September, following a MoM increase in the raw monthly registration figure of 308k units (28.3% YoY). The strong YoY growth was supported by Russia selling over 84k units in September, which is 56% higher than the same period last year. While the YTD figure for the region (2.8 million units) is up 28.4% YoY, it is still down 7% from pre-pandemic 2019 levels.
China
According to preliminary data, sales in China (i.e., wholesales that include exports) maintained a robust pace. Although the September selling rate of 32.3 million units/year was 10% lower than the abnormally strong August, that was a very high level. The YTD selling rate averaged 29.4 million units/year, exceeding last year's total Light Vehicle sales of 26.7 million units. In YoY terms, sales expanded by 5.7% in September and nearly 7% YTD.
As has been the case in the recent months, booming exports (especially of NEVs) led wholesales in September. Yet, domestic sales fared well, too. Domestic sales of Passenger Vehicles were flat (+0%) YoY, but that was still a good result, as sales a year ago were high due to the post-lockdown rebound. In August, Tesla initiated a new round of price cuts, which triggered a wave of massive price reductions among other major automakers. That, along with the recent personal income tax cut, helped boost sales.
Other Asia
In Japan, sales remain buoyant, but the selling rate slowed to a more sustainable level of 4.5 million units/year in September, after spiking to an exceptionally high 5.4 million units/year in August. Supply continued to catch up, boosting sales. Yet, there are signs that demand is now slowing, in the face of high inflation and falling real wages. Inflation-adjusted real wages fell for the 17th consecutive month in August, impacting consumers' purchasing power.
The Korean market has started to lose momentum, hit by tighter credit conditions and a slowing economy, as well as the expiry of the temporary excise tax cut in June. The September selling rate was 1.64 million units/year, not a bad result, but lackluster. All Korean brands, except Kia, reported a YoY decline in their sales in September, although that was due partially to a high base. Sales of Light Commercial Vehicles were particularly weak. BEV sales also failed to sustain strong growth.  
South America
Preliminary estimates indicate that Brazilian Light Vehicle sales increased by 3.8% YoY in September, to 187.4k units. As sales have increased YoY, the selling rate also increased to 2.17 units/year, up from 2.14 million units/year reported in August. Sales for the country have been slowly declining since peaking at 215.5k units in July, as demand has cooled after the end of the government incentive scheme. Falling sales could also account for the increase in inventory, as the quantity of vehicles in stock grew to 265.8k units in September, up from 244.7k units in August.
In Argentina, Light Vehicle sales are estimated to have decreased by 2.9% YoY in September, to 31.4k units. LV sales suffered a slowdown on a MoM basis, and the selling rate also declined to 347k units/year, down from 398k units/year in August. This is the lowest the selling rate has been since September 2022. There was a sharp drop in sales of imported models in September, accounting for little more than 20% of total volumes, which likely caused the weak overall performance.

Source from Just-auto.com
Disclaimer: The information set forth above is provided by Just-auto.com independently of Alibaba.com. Alibaba.com makes no representation and warranties as to the quality and reliability of the seller and products.
Was this article helpful?