In an era of digital overload, Gen Z is finding comfort in the analog. A growing appreciation for traditional handicrafts now influences emerging men's fashion and lifestyle trends. By unplugging from fast-paced technology, young creatives hope to nurture self-focus and expression. This search for meaning manifests through the Atelier Expression trend for 2023. Blending artisanal influences with relaxed volumes, the aesthetic provides a mindful antidote to digital saturation. Read on to discover the key drivers, products, and strategies around this tactile, craft-inspired movement. While rejecting fast fashion's unsustainability, Gen Z simultaneously crafts a more fluid definition of masculinity.
Table of Contents
Rejecting fast fashion
Crafting a new vision of masculinity
Key products and inspirations
Strategies to implement Atelier Expression
Conclusion
Rejecting fast fashion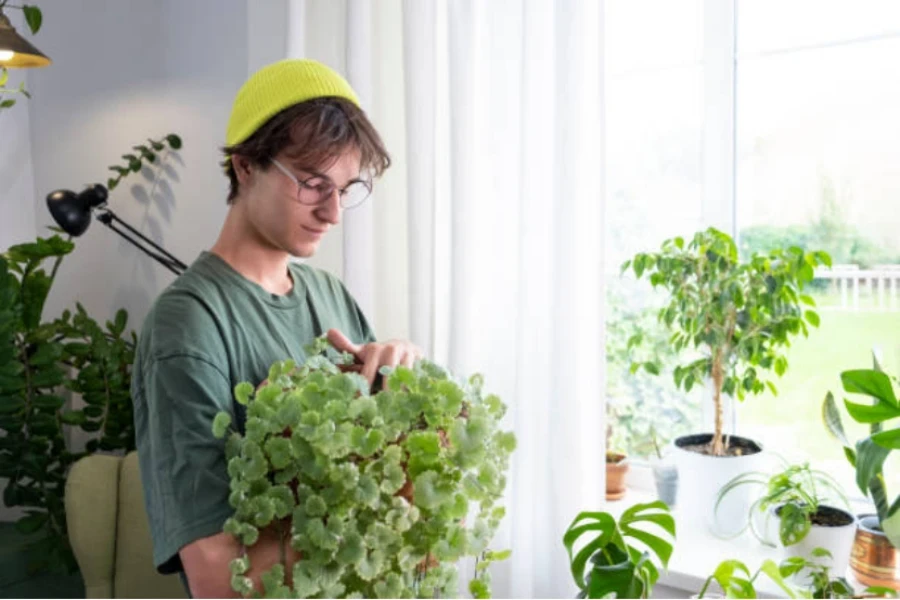 Gen Z is opting out of fast fashion's unsustainable treadmill in search of more mindful experiences. Movements like cottagecore reveal a longing for pre-digital living, with activities like sewing, pottery, and gardening that provide space for self-reflection. Focused handcrafting grants relief from digital overload, providing an antidote to mounting rates of anxiety and depression. Beyond wellness benefits, crafting allows self-expression outside social media's pressures to perform a manicured life.
Thrifting and upcycling have also gained popularity for economic and environmental reasons. Buying secondhand avoids contributing to overproduction while allowing access to unique vintage pieces. Repurposing materials creatively avoids waste while adding individuality. As clothes become more treasured possessions, fast fashion's model of endless newness loses appeal. Overall, Gen Z craves a tangible connection to materials and making processes. The satisfaction of working with one's hands provides meaning lacking in the digital realm.
Crafting a new vision of masculinity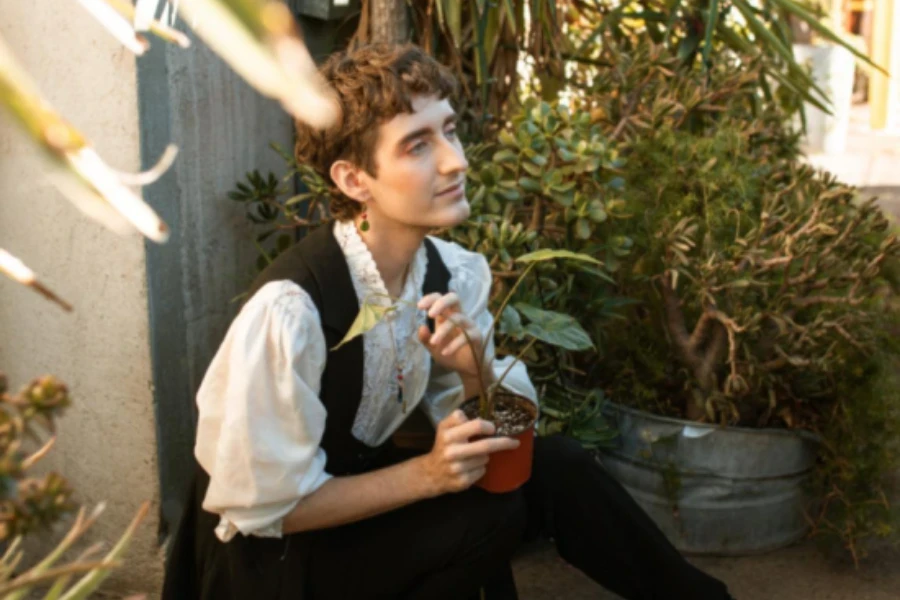 Gen Z is boldly challenging gender stereotypes that restrict self-expression. Activities like sewing, knitting, embroidery, and flower arranging are shaking off stigmas to attract young men. This ties into larger movements resisting toxic masculinity in favor of more nuanced identities.
Many youths find rigid expectations around masculinity restrictive and outdated. Embracing feminine-coded hobbies opens new modes of creativity and self-care. This fluidity manifests in fashion through relaxed silhouettes, soft colors, and decorative details that blend masculine and feminine aesthetics. Brands like Ludovic de Saint Sernin and Wales Bonner are leading the shift.
Digital spaces provide inspiration, with artists like Angelo Umana sharing moody drawings and cinematic content that softly redefine masculine archetypes. On platforms like TikTok, young men feel freer to explore interests outside the binary. By refusing to limit themselves to gendered activities, Gen Z gains freedom in self-expression and identity.
Key products and inspirations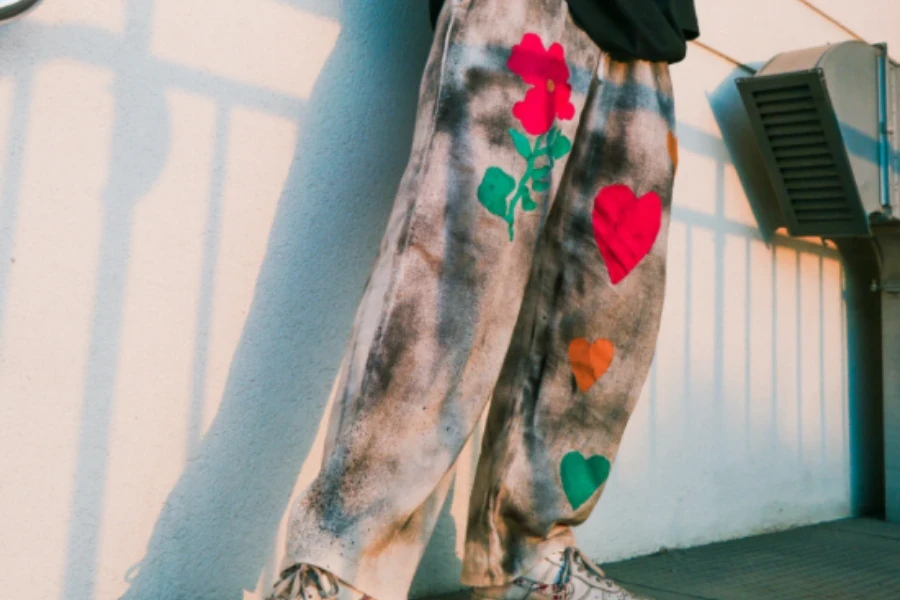 The Atelier Expression trend comes to life through tactile products and craft-inspired styling. Oversized wide-leg trousers with paint splatters or distressed details create a laidback artist vibe. Moccasin-style suede loafers provide a modern take on traditional shoemaking. Corduroy baseball caps and wool flat caps inject artisanal personality into accessories.
Jersey basics act as flexible foundations for more distinctive pieces like boldly patterned knit vests. Prints should feel hand-drawn and paint-splashed, while lush chenille fabrics provide cozy texture. Vintage workshirts add a nostalgic touch.
Influencers like multidisciplinary creative Dave The Delicious embody Gen Z individuality through varied pursuits like painting, BMX, photography, and fashion. On the softer end, the melancholia of artist Angelo Umana's drawings provides catharsis to overwhelmed youth. Overall, digital spaces expose young men to expanded definitions of masculinity and creativity.
Strategies to implement Atelier Expression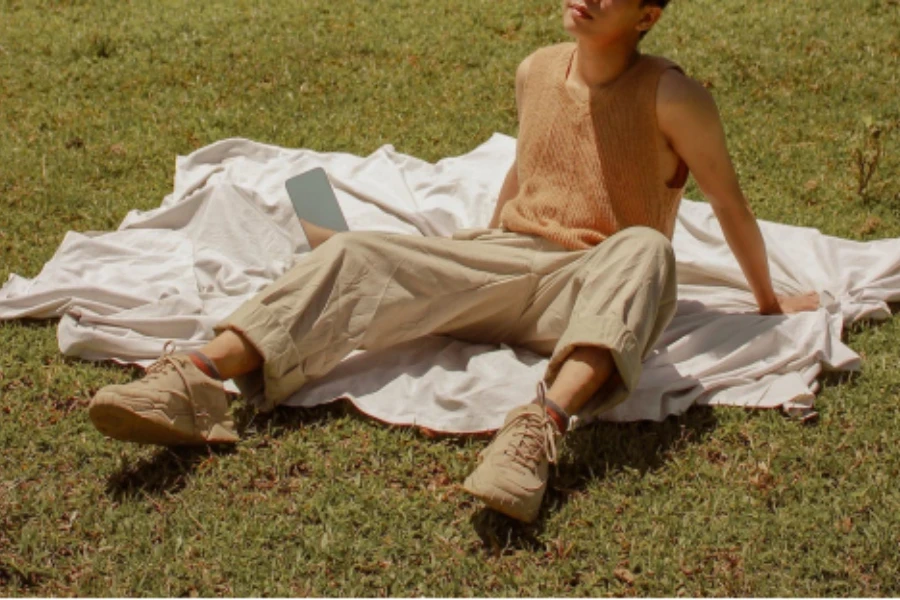 For brands seeking to tap into this trend, focus on quality over quantity. Utilize deadstock materials and ethical production methods that align with Gen Z values around sustainability. Seek out local artisans and manufacturers to infuse unique handcrafted details.
Incorporate vibrant colors and hand-drawn graphic prints that play with scale. Paint splatters, tie-dyes, and disperse dyes create an imperfect, handmade sensibility. Uplift classics like denim jackets and oxford shirts with bold embroidered and knitted accents.
Provide versatility and comfort through easy, non-restrictive silhouettes. Trousers with adjustable drawstring waists allow freedom of movement. Oversized shirting in soft, pre-washed cotton maximizes ease.
Rather than chasing ephemeral trends, create enduring pieces layered with thoughtful touches. Curate unique vintage finds and upcycled embellishments. The resulting sense of worn-in personality and craftsmanship will resonate with creatively minded youth.
Conclusion
The Atelier Expression trend highlights Gen Z's shifting values amid digital saturation. By implementing artisanal details and non-restrictive volumes, brands can align with this relaxed yet creative youth aesthetic for 2023. Reject fast fashion's unsustainability in favor of quality and ethical production. Blend masculine and feminine expressions through soft colors and embellished classics. Most importantly, enable young creators to forge their own vision beyond stereotypes. With mindful craftsmanship and fluid self-expression, Atelier Expression provides meaning and comfort to overwhelmed youth.
Key actions for retailers:
Choose quality over quantity. Invest in thoughtful design and ethical production to avoid overproduction.
Explore cross-gender expressions through relaxed unisex styles and soft colors. Detail menswear with decorative embellishments.
Support young creatives by spotlighting diverse talents pushing boundaries. Share inspirational voices motivating youth culture.
Was this article helpful?