Global demand for lithium has risen rapidly over the past five years, which has pushed world lithium prices higher and encouraged greater production from Australian mining companies. As countries seek to cut global greenhouse gas emissions and pursue renewable energy technologies, lithium-ion batteries have emerged as a key component in a number of industries.
Several markets have increasingly adopted lithium-ion batteries, particularly for the following applications:
Energy grids
Electric vehicles
Smartphones, PCs and tablets
Battery storage
Lithium ore, also known as spodumene, is processed into a chemical concentrate and further refined into lithium for batteries and other goods. Typically, lithium minerals are exported to China for further processing. Lithium ore generated the majority of the Australian Lithium and Other Non-Metallic Mineral Mining industry's revenue in 2021-22.
The rising use of rechargeable lithium-ion batteries has spurred China's increased demand for lithium, leading to a spike in world prices in the current year. Australian lithium mining firms have responded to rising demand and record prices by boosting output, which has contributed to industry revenue rising at an annualised 13.0% over the five years through 2021-22. However, lithium prices have not been immune to the effects of the COVID-19 pandemic, with weakened demand and price volatility threatening the industry over the two years through 2020-21. However, industry revenue is anticipated to jump by 65.1% in 2021-22 due to surging lithium prices and strong exports to China.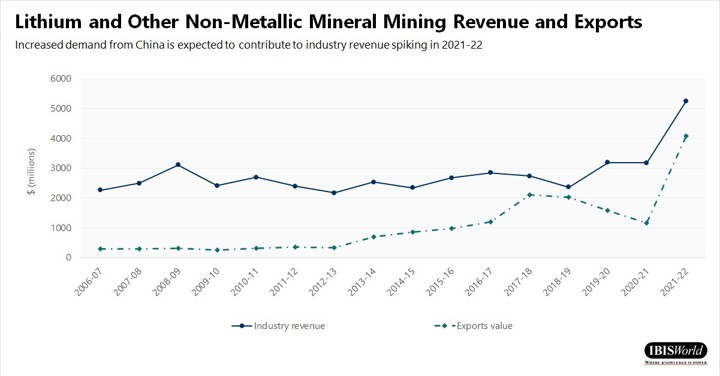 Australians have turned to solar panels to save money and help the environment
Australians have become increasingly concerned about environmental issues over the past five years. Government subsidies and consumer demand for lower electricity bills have contributed to households rapidly installing small-scale solar panels. As a result, revenue in Australia's Solar Panel Installation industry is expected to increase at an annualised 15.1% over the five years through 2021-22.
Solar electricity technology is currently undergoing substantial change. Battery storage has become a major factor in the renewable energy sector. Without the ability to store electricity for later use, the intermittent nature of solar and other renewable electricity sources is a key problem. More reliable forms of electricity or electricity storage are therefore still needed.
Over the past decade, lithium battery packs have declined in cost and become more viable to use with solar panels. Solar panel uptake in Australia has benefited from developments in lithium-ion batteries, namely in terms of storage and affordability. These improvements have justified the up-front installation costs for consumers. Lithium-ion batteries have emerged as a potential solution to storage issues, with grid-connected systems like the Tesla Powerwall gaining popularity over the past five years.
Plenty of room for growth
The majority of Australia's lithium ore is exported, with China and Japan as the major lithium processors. Domestic manufacturing of lithium-ion batteries is currently extremely limited. This trend is reflected in the Power Automation Products and Other Electrical Equipment Manufacturing industry in Australia, where the batteries product segment is only expected to account for 15.3% of industry revenue in 2021-22. However, the increasing uptake of small-scale solar panels has boosted this product segment's share of industry revenue over the past five years. Moreover, Federal Government initiatives are projected to expand Australia's lithium-ion battery manufacturing over the next five years.
Electric vehicles may ease consumers' environmental concerns
Electric vehicle manufacturing is a major downstream market for lithium-ion batteries. The Automotive Industry in Australia has faced difficult trading conditions over the past five years, with local manufacturers downsizing and imports flooding the domestic market. Public concerns about environmental issues have driven manufacturers to invest in hybrid and electric technologies. Improvements in battery storage are also forecast to support demand for electric vehicles over the next five years.
Outlook: a bright future for lithium mining
Global demand for lithium is projected to increase over the next five years, driving strong growth in Australia's lithium ore exports. The increasing use of lithium-ion batteries for electric vehicles, energy storage and consumer goods is forecast to contribute to rising demand for lithium ore over the period. Furthermore, growing concerns around environmental issues will likely underlie future demand for lithium-ion batteries across a range of industries.
IBISWorld reports used to develop this release:
Source from Ibisworld
Disclaimer: The information set forth above is provided by Ibisworld independently of Alibaba.com. Alibaba.com makes no representation and warranties as to the quality and reliability of the seller and products.
Was this article helpful?