In the world of fashion, trends come and go rapidly. However, one aesthetic that is clearly rising in popularity for 2023 is cyberpunk. Characterized by a mix of dystopian, science fiction, and Y2K influences, cyberpunk brings an edgy digital look that stands out. Where is this trend coming from and why is it resonating now? Current instability and conservatism, especially among Gen Z, is driving interest back to punk rock and associated subcultures like emo. At the same time, the metaverse and gaming universes are providing fresh digital inspiration. Paired with millennial nostalgia for the 1990s and early 2000s, it's a perfect storm for cyberpunk.
This innovative take on futuristic fashion is worth paying attention to. Vintage punk is transformed by new technologies and youth culture for the 2020s. Read on to learn more about the key inspirations and must-have items that make up cyberpunk style. With the right incorporation of colors, details, and customization, this aesthetic can enhance any fashion label or collection.
Table of Contents
Reviving punk rock through digital
Essential cyberpunk styling pieces
Insights for incorporating cyberpunk
Final thoughts
Reviving punk rock through digital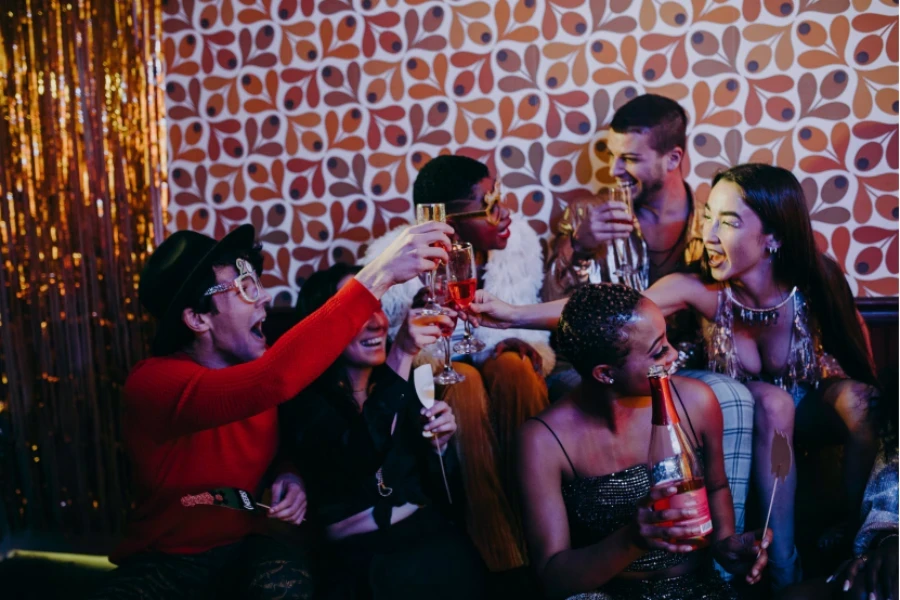 Punk rock has cycled in and out of fashion over the decades, but the current revival is different thanks to modern influences. Today's cyberpunk trend merges the punk aesthetic with digital elements for a futuristic remix.
The return of punk fashion signifies a growing discontent among Gen Z. In an increasingly unstable political and economic context, the rebellious ethos of punk resonates. Gen Z are also exploring 1990s and early 2000s subcultures that pair well with punk, like emo music. The muted color palettes, emotional angst, and counterculture styles of these movements align perfectly with cyberpunk.
At the same time, digital culture is transforming punk looks. The metaverse offers new creative frontiers by blurring the line between physical and virtual. Avatars can wear punk fashion digitally while augmented reality brings cyber elements to real-world runways and photography. Gaming aesthetics also feed into the cyberpunk trend through anime-influenced prints and textures. Overall, the fusion of digital with classic punk has a futuristic, science fiction appeal.
Essential cyberpunk styling pieces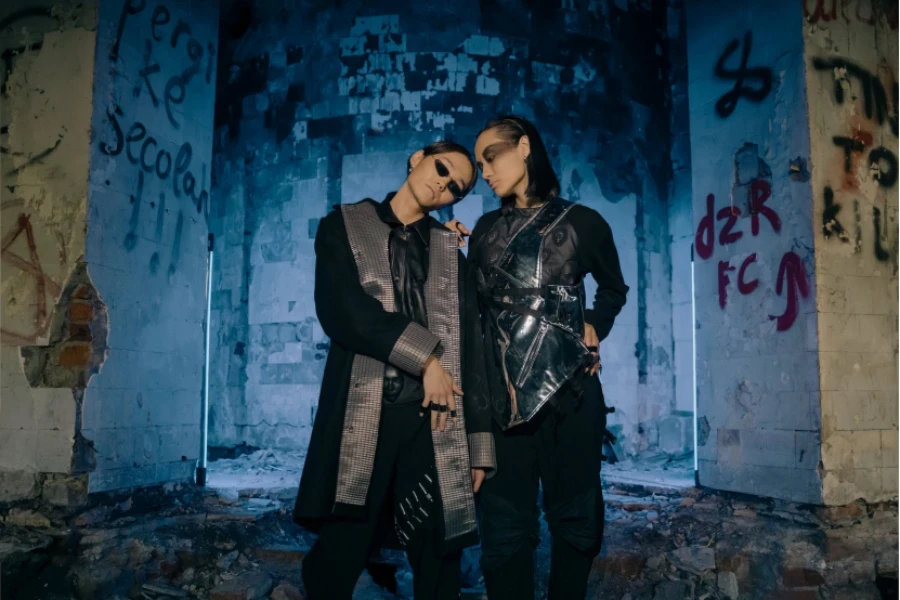 The cyberpunk look relies heavily on a few key wardrobe pieces to achieve its distinctive sci-fi edge. By incorporating these essentials into styles and collections, fashion labels can authentically tap into the trend.
One signature cyberpunk item is the classic black leather jacket. This punk rock staple gets a slick, modern upgrade with a high-shine finish for a dystopian, matrix-like feel. Opt for leather coats and jackets with metallic, patent, or wet look finishes to really capture that future-forward vibe. When styled with monochrome palettes, the reflective black leather takes on a sleek, robotic appearance.
Chunky metal chains are another bridging element between punk influences and futuristic motifs. Chains add symbolic toughness when layered around the neck or attached to clothing as edgy embellishments. Mega chain necklaces, belts, and bracelets in silver and gunmetal tones enhance the augmented, robotic impression. When paired with black leather and dark colors, the chains create an imposing, almost post-apocalyptic look.
Resurrecting 90s and 00s skater style, baggy low-rise jeans are back in cyberpunk fashion. Relaxed fit cargo jeans, parachute pants, and printed denim all work too for an added dose of youthful edge. The roomy, anti-fit shape of cyberpunk bottoms creates a rebellious rift from body-con formality. Trousers take on a genderless, androgynous silhouette to further challenge traditions.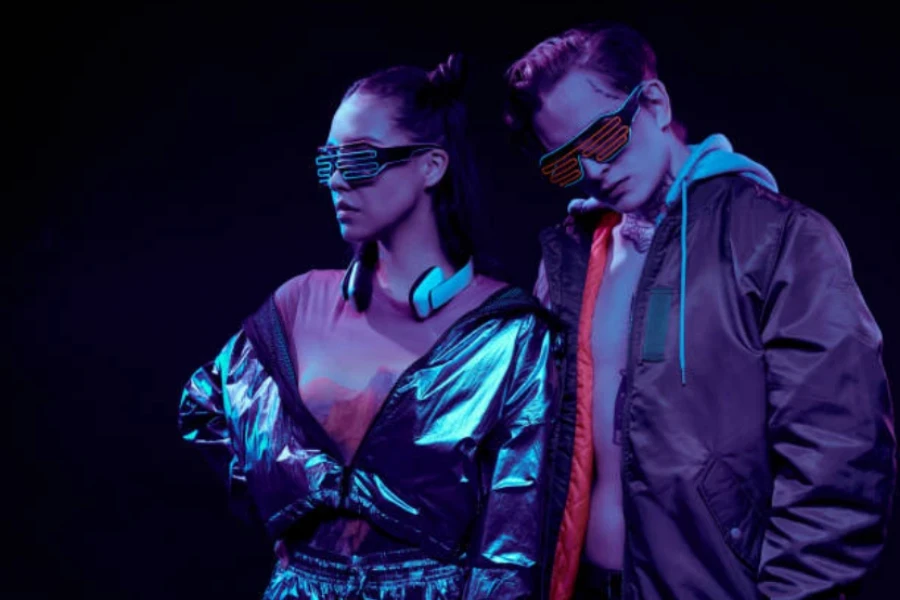 Graphic prints and textures draw direct inspiration from digital culture and gaming imagery. Pixelated camo patterns, blurred graphics, and visual glitches reference the matrix, cyberspace, and virtual worlds. By digitally manipulating and incorporating these video game-inspired prints onto clothing, cyberpunk fashion gains a quintessentially virtual vibe. The richly saturated colors and hyper-realistic details imagine a disconnect between the real and unreal.
So by utilizing these core products – slick black leather, metal chains, loose-fitting bottoms, and digitized prints – fashion labels can authentically tap into the cyberpunk trend. The staples bridge between the punk rock ethos and futuristic influences that define this edgy, modern aesthetic.
Insights for incorporating cyberpunk
For fashion labels looking to integrate cyberpunk influences, there are creative strategies to tap into this bold aesthetic. By applying the tips below, any brand can add touches of futuristic punk rock to their collections.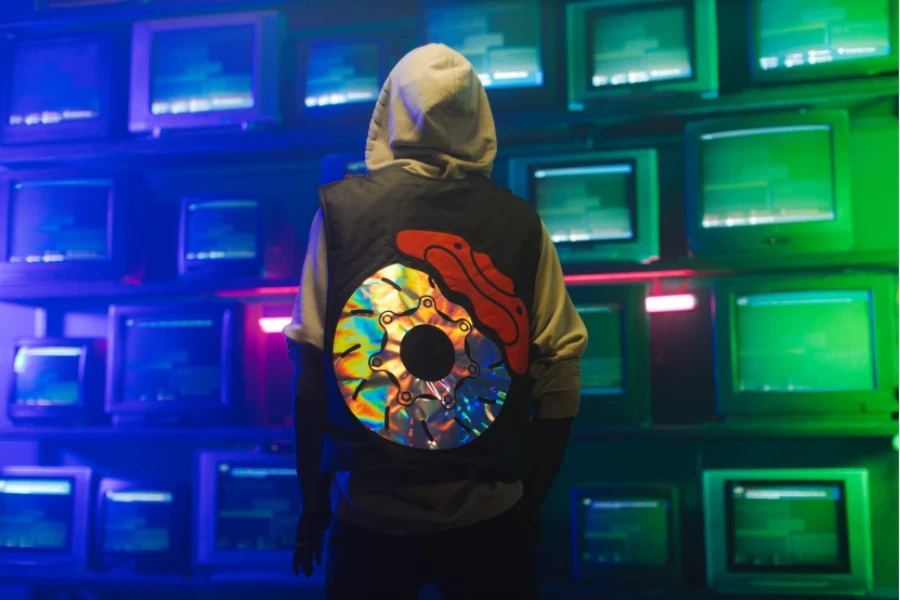 Color plays a major role in styling cyberpunk outfits. While black is a grounding staple, bright neon hues, metallics, and clashing combinations create exciting visual contrasts. Strategic pops of color through accessories, prints, or details adds dimensionality and prevents monochrome palettes from becoming one-note. Exploring high-shine, reflective synthetics and metallic faux leathers also nods to the slick, synthetic vibe of cyberpunk.
Customization allows the self-expression that is central to punk ideology. Going beyond accessorizing with chains or pins, cyberpunk encourages DIY experimentation through upcycling and distressing to give old items new life. Modular garments with detachable elements, straps, and hardware empower wearers to transform pieces in their own vision. These transformative, interactive touches align with cyberpunk's bold, transgressive ethos.
Sustainability has strongly influenced the evolution of this trend. Utilizing deadstock materials, thrifting vintage finds, championing circularity through recycling and repair, all preserve the non-conformist spirit of punk. Combined with high-tech innovation, these eco-conscious practices gain a futuristic edge. Incorporating sustainability allows cyberpunk fashion to promote consciousness, not waste.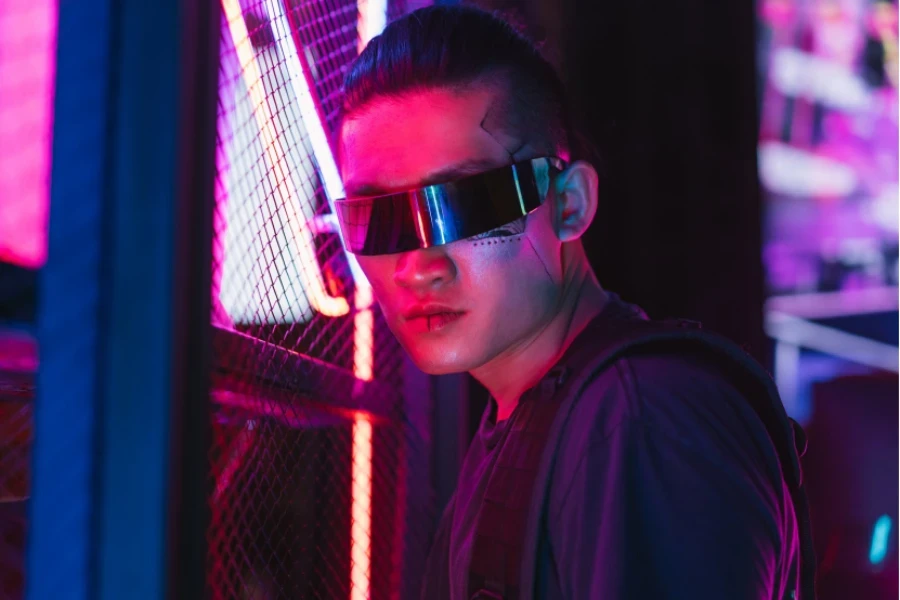 The cyberpunk trend overall empowers the wearer to reclaim style and aesthetics on their own terms. Through personalized looks, customized pieces, and digital-inspired details, the genre conventions get hacked. This subversive remix creates an aesthetic that is both nostalgic yet forward-thinking. It opens fashion up to be more inclusive, progressive, and empowering.
So by focusing on color, modification, sustainability, and self-expression, brands can unlock the full potential of cyberpunk. Adopting even small touches gives collections and designs a taste of its rebellious innovation. This grants companies the foresight and authenticity that will continue engaging youth culture.
Final thoughts
In an age of uncertainty, the rebellious energy of cyberpunk fashion resonates. By fusing futuristic digital influences with punk counterculture, this aesthetic captures youth frustration. However, it also empowers wearers to redefine style traditions on their own terms.
Cyberpunk may reminisce on past decades, but it ultimately looks forward. Through boundary-pushing designs and progressive ideologies, the trend feels undeniably current. Fashion lovers and labels who want to shake things up need look no further than cyberpunk. It perfectly balances nostalgia with inventiveness for an aesthetic that is daring yet wearable. Keep an eye out in 2023 for this edgy digital punk look that refuses to conform.
Was this article helpful?