As consumers start planning sunny getaways and festival outfits, spring/summer 2024 accessories take on an optimistic and nostalgic mood. Bold prints, artisanal details, and reworked classics offer an artful escape. Read on for the top 5 accessories that will define next season's warm-weather wardrobes.
Table of Contents
The printed wide-brim hat
The rope belt
The transitional poncho
The western hat
The Y2K belt
Conclusion
The printed wide-brim hat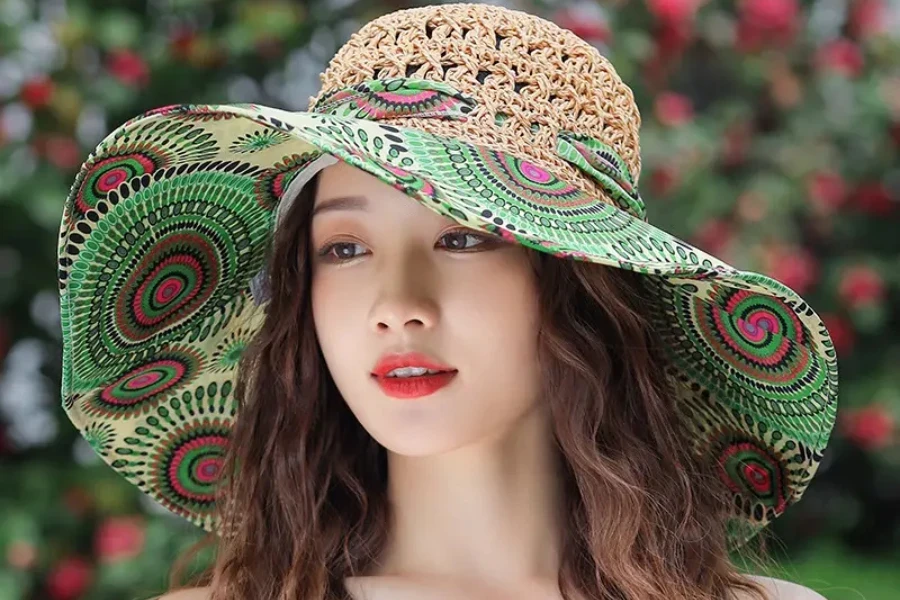 With travel expected to return to pre-pandemic levels by 2024, the printed wide-brim hat regains must-have status for spring/summer 2024. This glamorous accessory provides sun protection without sacrificing style, making it the ideal topper for tropical getaways and warmer festivals.
When designing printed wide-brim hats, tap into the print-matching trend to reduce waste. Use the same brightly-colored fabrics and bold graphics like fruits, florals, and ombré on coordinating apparel and hats. This allows you to create cohesive resort looks while being mindful of sustainability. Consider classic stripes and ginghams too for their enduring nautical references that work from the Mediterranean coast to the Mexican Riviera.
For practicality, incorporate adjustable straps so the hats can be packed efficiently. Lightweight, packable shapes with medium to wide brims will suit both sun protection needs and the athleisure-influenced sensibility of contemporary travelers. Use designs that stay put in the wind, like those with a chin strap or deeper crown. With their stylish global appeal, printed wide-brim hats deliver must-have versatility for spring/summer 2024.
The rope belt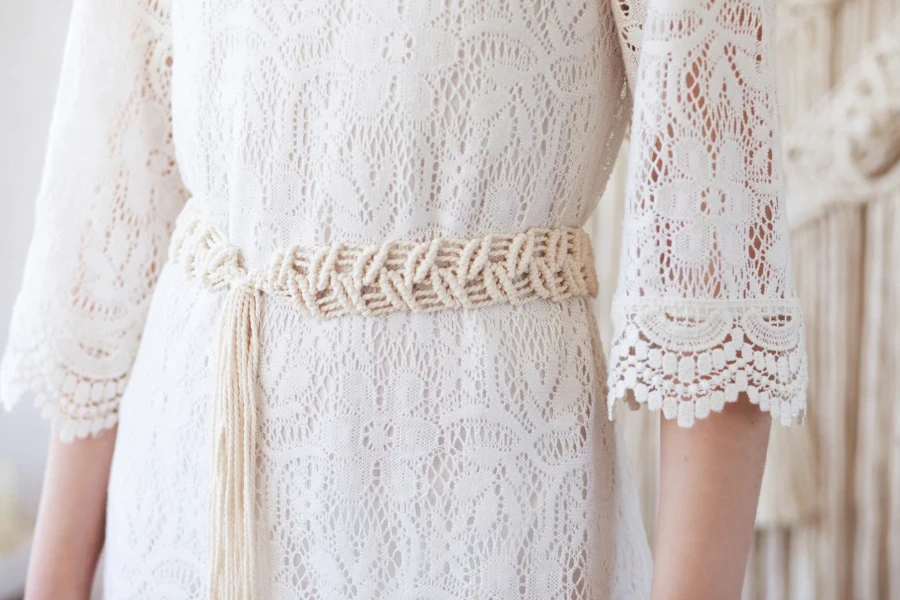 In line with the minimalist resort and joyful nautical themes for S/S 24, the rope belt gains relevance thanks to its artisanal yet relaxed vibe. This versatile accessory adds a touch of elegant texture to casual vacation looks and athleisure outfits alike.
Elevate the humble rope belt with intricate details like braiding, macrame, and knotwork. Incorporate lightweight hardware like gold, silver, or wooden rings and tips to enhance the nautical aesthetic. When selecting materials, prioritize natural options such as organic cotton, jute, hemp, and seagrass to align with sustainability values. Neutral and nautical-inspired tones will ensure seasonless appeal.
Designers are also tapping into the rope belt's handcrafted appeal. Labels like Rosie Assoulin have introduced elevated versions made from vintage fibers and upcycled materials. No matter the price point, a rope belt's versatility makes it a smart investment for retailers. Display with breezy linen pieces, knit sets, and swimwear for a covetable warm-weather vision.
The transitional poncho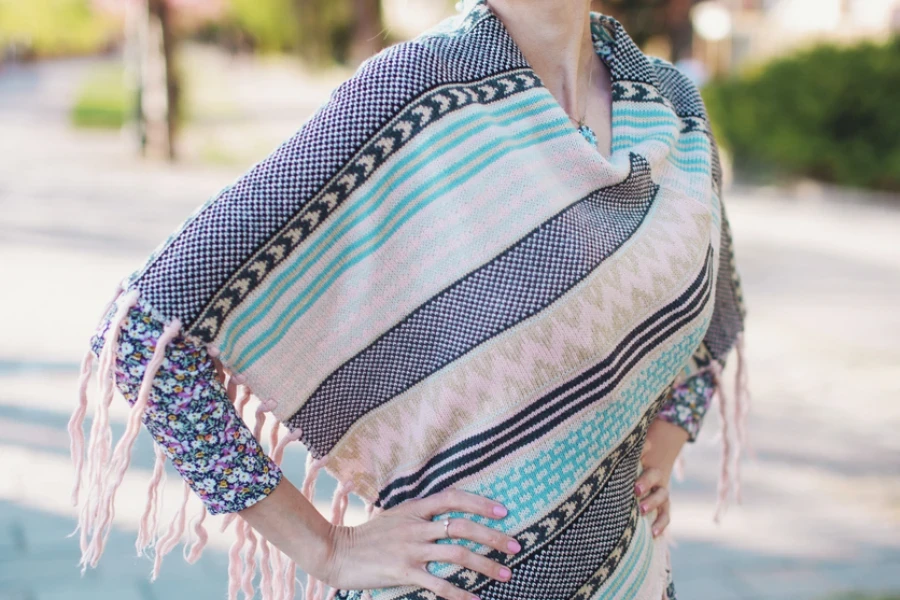 As the cooler counterpart to the blanket scarf, the transitional poncho emerges as an essential light layer for S/S 24. With its multipurpose appeal, this sleeveless silhouette easily elevates outfits from the beach to the bar and beyond.
The key to a fresh poncho is implementing on-trend prints and colors while maintaining a lightweight feel. Look to seasonal themes like solar punk, nautical, and cortical for inspiration. For example, bold graphic florals, ombré stripes, and tie-dye nature prints all provide artful, optimistic touches. You can also give the poncho a nostalgic character by upcycling vintage or deadstock fabrics.
Choose high-quality, low-impact materials like organic cotton, bamboo, Tencel lyocell, and responsible wool blends. Look for certification labels to confirm environmental commitments. A poncho's loose drape calls for fabrics with beautiful drapes and breathability.
Whether at home or away, the transitional poncho's effortless versatility makes it a new essential for spring/summer 2024 collections. Display with swim coverups, jeans, and boho dresses to encourage mix-and-match outfits.
The western hat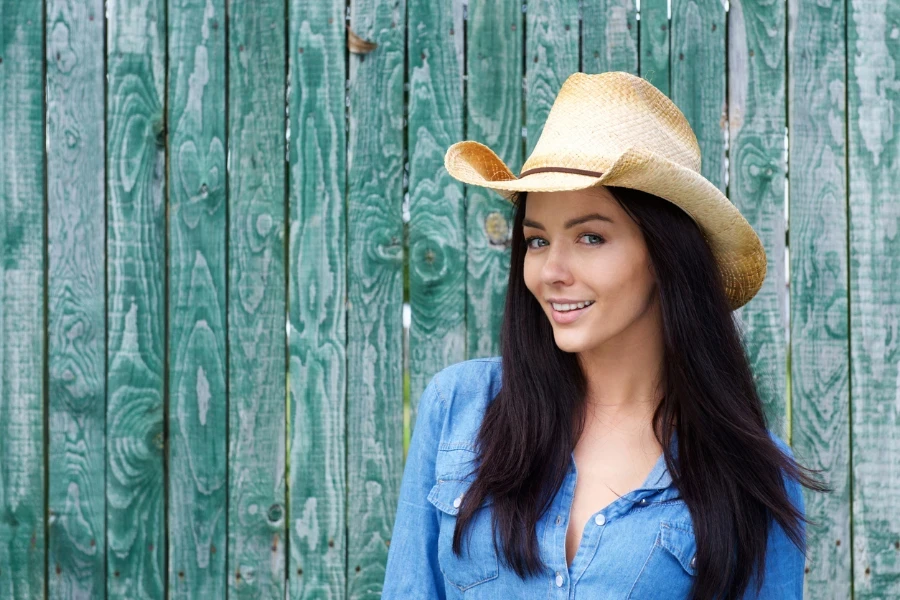 Influenced by the continuing Y2K and rodeo-ready vibes, the Western hat extends its appeal into S/S 24. This nostalgic yet of-the-moment accessory offers an elevated twist on a noughties country classic.
For a contemporary take, opt for a classic cowboy silhouette in neutral hues like black, tan or ivory. Timeless shades ensure long-term versatility within boho, Americana and festival looks. Prioritize natural, sustainable materials like paper straw, raffia, and felt for a lightweight summer-ready feel.
Handcrafted embellishments give the Western hat a refreshed character. Consider adding a chain strap, intricately tooled leather details, or ornate embroidery. You can also tap into the artisanal upcycling mood with vintage patches or bandanas. Another on-trend touch is hand-painted motifs and designs, like the one-of-a-kind hats created by the brand Beyond the Canvas.
Display your Western hats alongside breezy dresses, cutoffs, and crochet tops. The contrast between the rugged hat and the feminine outfit makes for an eye-catching juxtaposition. Lean into the music festival appeal by merchandising with band tees and boho jewelry too. With its nostalgic yet modern vibe, the Western hat offers cowboy cool for spring/summer 2024.
The Y2K belt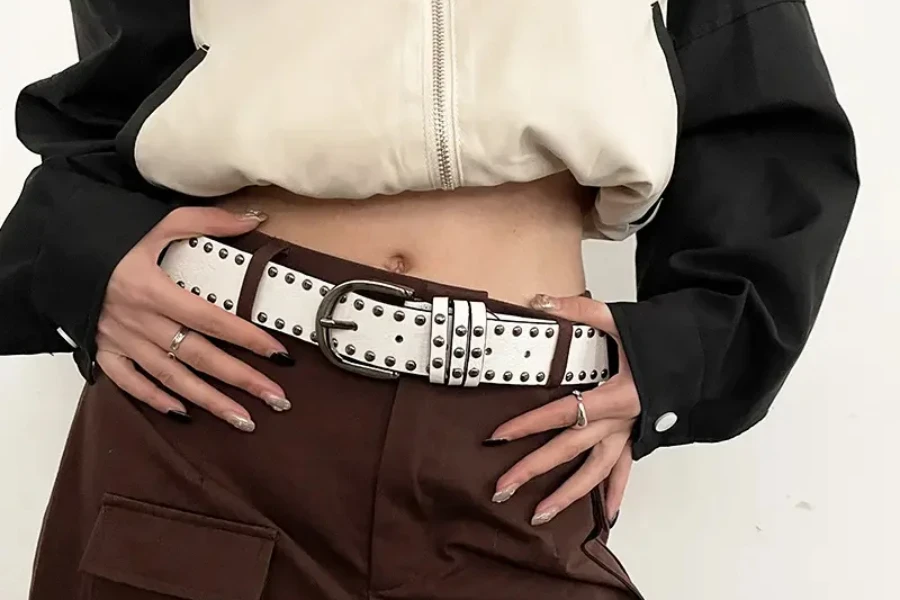 Nodding to enduring millennial nostalgia, the chain belt is back in a big way for S/S 24. This iconic Y2K accessory gets refreshed with new motifs and over-the-top details – making it once again a must for festival fashion.
Give the chain belt an ultra-glam makeover by layering multiple styles, chains, and widths. Incorporate novelty details like snakeskin prints, chunky links, and logo plaques for retro flair. Tap into the mystical mood with zodiac and celestial charms. Heart and butterfly shapes bring nineties charm. Ensure a personalized fit by including lobster clasps or slider adjusters.
Display chain belts alongside cropped tanks, low-rise bottoms, and mini skirts for a sexy yet playful nod to Y2K. Complement the hardware with shiny metallics like satin and lame. When merchandising, incorporate nostalgic vibes with glow necklaces, body glitter, and band tees. Reimagined for right now, the chain belt rules as a reigning festival accessory for spring/summer 2024.
Conclusion
Meet consumer demand for quality, sustainability, and nostalgic flair with these key accessories for spring/summer 2024. Their versatility from lounging to tropical getaways provides value. Implement details like bold prints, recycled metals, and handcrafting for on-trend collections.
Was this article helpful?