Today's golfers have a wide variety of golf equipment to choose from, and one of the most important pieces of equipment is the golf trolley.
These trolleys are designed to not only make the round of golf more enjoyable but also to enable golfers to find their clubs quicker and protect them while they're on the move. Having the right golf trolley in a golfer's arsenal can have a positive impact on their game by making them more efficient.
Keep reading to learn more about the top must-have golf trolleys for all golfers as well as some essential golf gear trends.
Table of Contents
Global market value of golf equipment
Top golf trolleys for all golfers
Conclusion
Global market value of golf equipment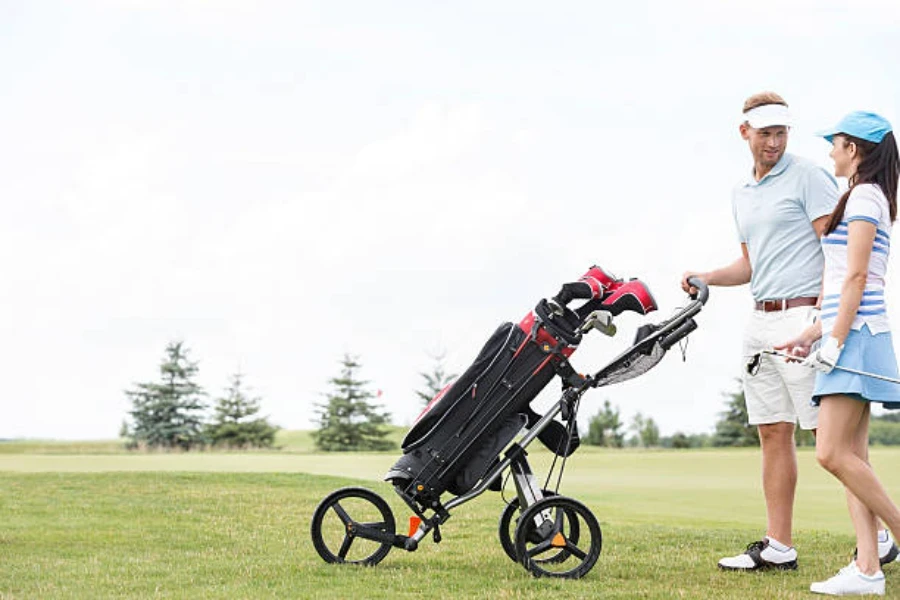 Having the right golf equipment is essential for golfer's to perform at their maximum capabilities. Whereas some equipment is designed with beginners in mind who need more assistance and training, others are meant for top performers and professional athletes. One of the most essential pieces of golf equipment on the market is the golf trolley which is designed to hold and protect golf clubs as well as other golf accessories that can be bulky to carry individually.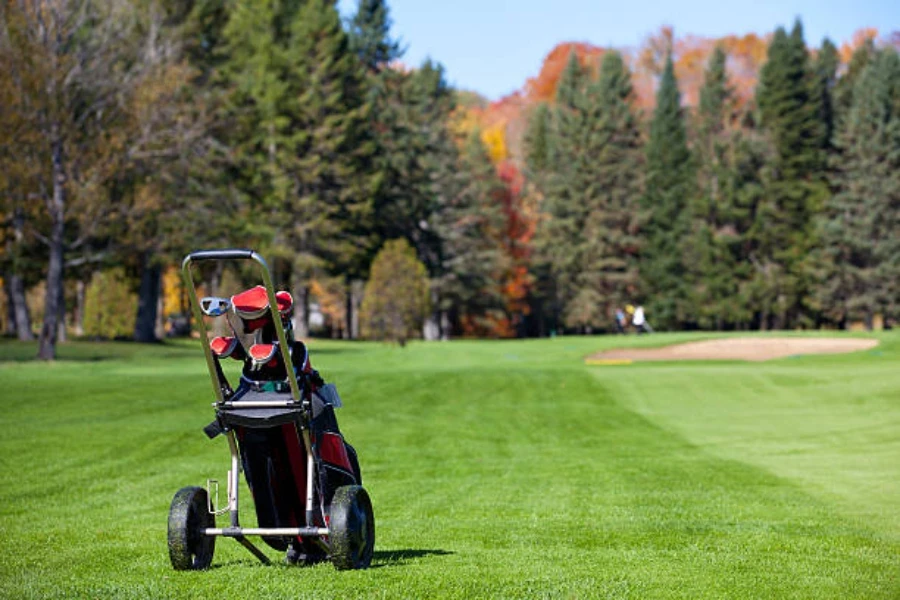 By 2022 the global market value of golf equipment reached approximately USD 7.5 billion. Between 2023 and 2030 that number is expected to rise at a compound annual growth rate (CAGR) of 5%. This growth is down to a number of factors such as an increase in the number of golf courses around the globe, a rise in consumers spending time doing recreational sports, and more women taking part in golf.
Top golf trolleys for all golfers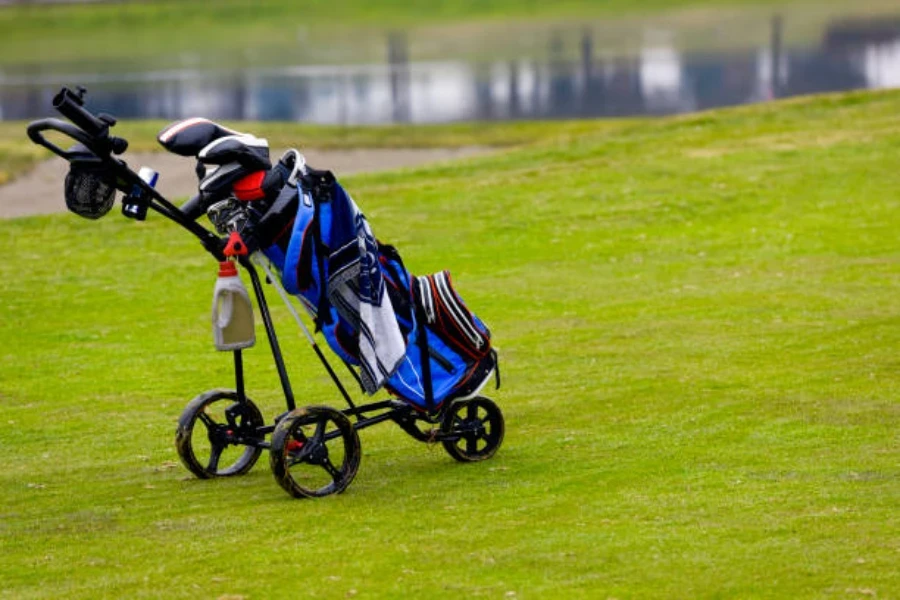 Golf trolleys may be designed with a specific purpose in mind but there are a number of important features that consumers will consider before purchasing them such as the material, weight, storage space, and extra accessories included. Since the majority of golfers will fully utilize golf trolleys it's not difficult to see why they are in such high demand, regardless of playing ability.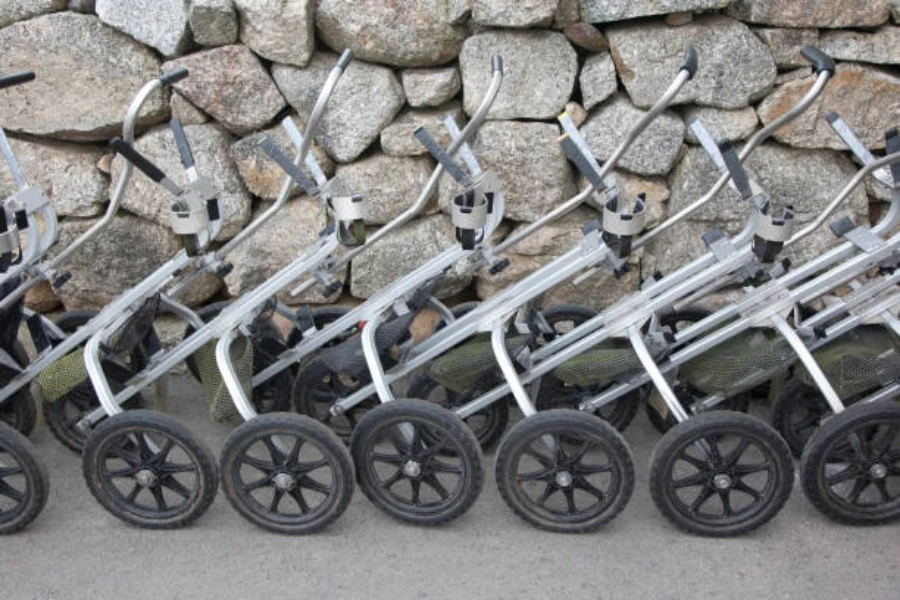 According to Google Ads "golf trolley" has an average monthly search volume of 110000 with the highest search volume coming in September. Between March and September 2023 there has been an increase in searches of 63%, with 60500 and 110000 searches respectively.
When looking specifically at the types of golf trolleys that are the most searched for among consumers, "electric golf cart" has an average monthly search volume of 40500 followed by "pull carts" at 6600 searches, "3 wheel golf trolley" at 1900 searches, and "4 wheel golf trolley" at 390 searches. This shows that consumers are looking for golf trolleys that offer the most convenience during their rounds of golf. Keep reading to learn more about each one in more detail.
Electric golf cart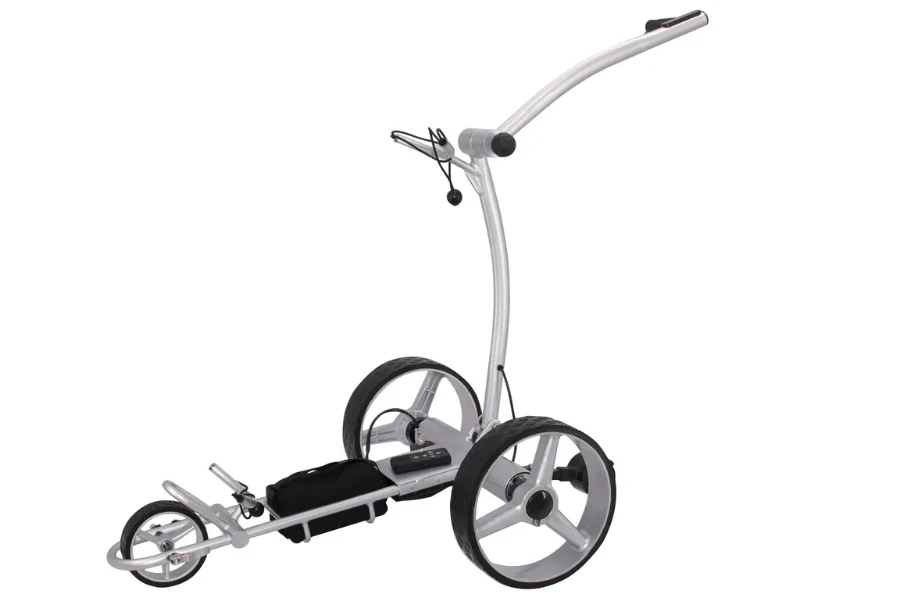 Many pieces of golf equipment have undergone a modern overhaul in recent years and the electric golf trolley is no exception. These trolleys are traditionally push trolleys but many consumers are now turning to the electric golf trolley as an upgrade. One of the big reasons they are so popular is that they are easy to use and convenient, often being operated by a remote control that allows the golfers to control it from a larger distance and to adjust the speed at which the trolley moves.
Most electric golf trolleys are battery powered and will include a spare rechargeable battery. These trolleys eliminate the need to physically push the trolley which is ideal for consumers who can't put a lot of physical strain on their bodies. Other key features to note include a foldable design that makes them easy to transport and store, braking systems that prevent them from rolling away, and the trolleys being made of a lightweight material such as carbon fiber or aluminum. The more advanced versions of the electric golf trolley may also feature USB charging ports.
In terms of search volume, between March and September 2023 "electric golf trolley" remained stable, with 40500 searches on average per month. It's most searched for in June and July with 60500 searches.
Pull carts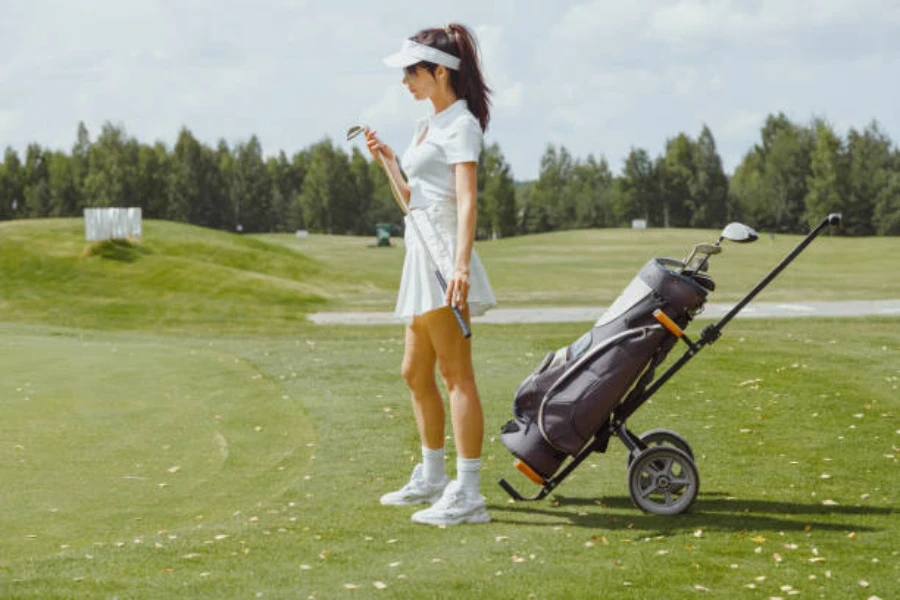 Pull carts are one of the most common types of golf trolleys on the course and also the simplest by design. They are a very budget friendly option for consumers who don't want to spend a lot of money on a more upscale golf trolley and don't mind manually transporting the trolley with them. These trolleys are very lightweight since they only feature 2 wheels but they still offer stability with a stand built into the front of them which stops it from rolling when stationary. 
Consumers will also benefit from the strap or clip that's incorporated into the pull cart which helps to secure the bag to the cart. The 2 wheel golf trolley, as it's often called, doesn't offer as many storage options as other types of must-have golf trolleys but some designs will at least include a mesh netting to store additional smaller golf gear.
In terms of search volume, between March and September 2023 "pull carts" saw an increase in searches of 33%, at 5400 and 8100 searches respectively. The most searches come in June, August, and September when golf is at its peak.
3 wheel golf trolley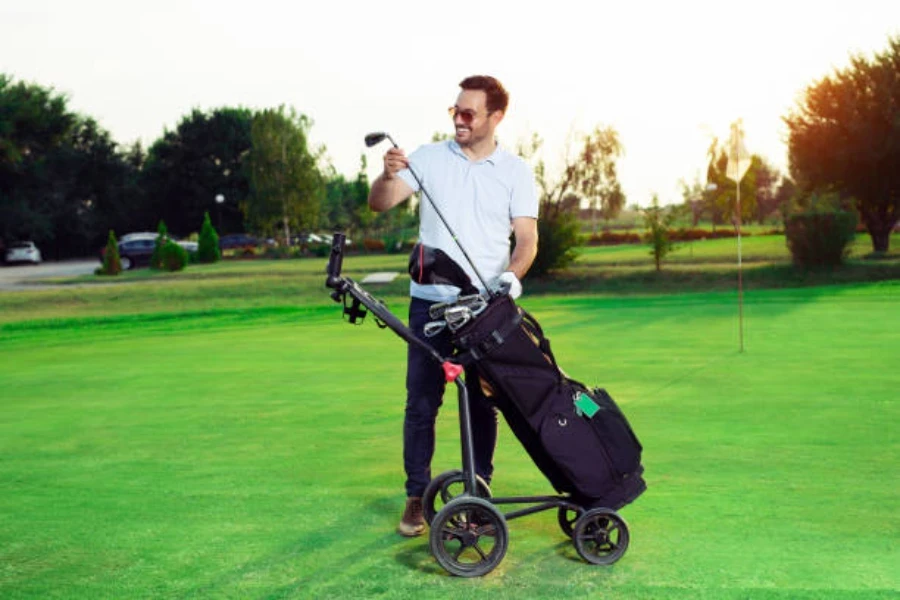 One of the most popular golf trolleys for all golfers is the 3 wheel golf trolley, also referred to as the push cart. By having three wheels on the cart, golfers are provided with extra stability to ensure that the golf bag doesn't fall off in uneven parts of the course. Consumers enjoy using the 3 wheel golf trolley for its maneuverability, with a front wheel that swivels to allow for easy steering. 
Other popular features of this golf trolley include an adjustable handle to accommodate players of different heights, a compact design for easy storage, a scorecard and umbrella holder, and airless tires which means no additional maintenance is required. Consumers will want to consider the terrain they'll be playing on as well as any additional accessories they need with the 3 wheel golf trolley.
In terms of search volume, between March and September 2023 "3 wheel golf trolley" saw an increase in searches of 45%, at 1600 and 2900 searches respectively. These searches increase during the build up to the traditional golf season.
4 wheel golf cart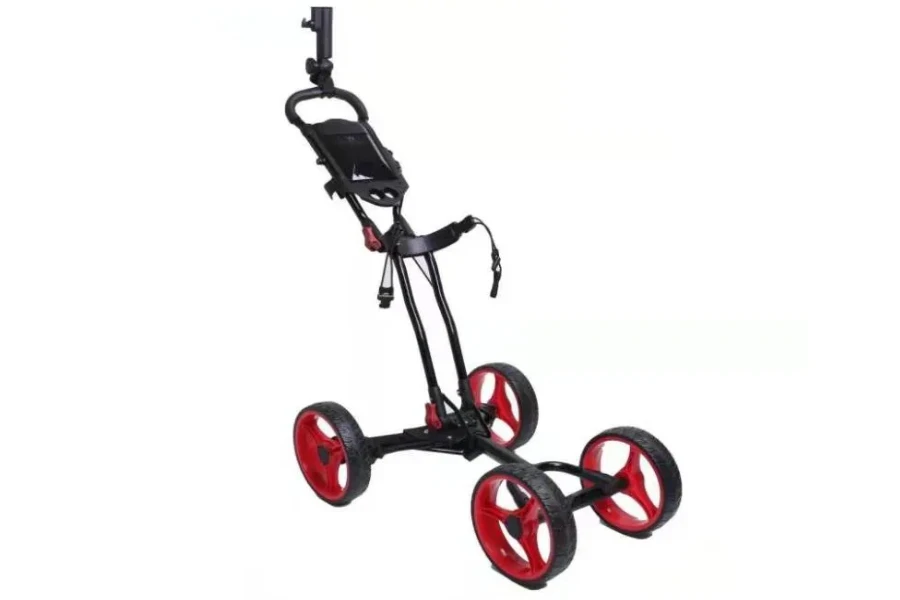 The 4 wheel golf cart shares many similar features as the 3 wheel golf cart. It has become a popular alternative to the 3 wheeled version as it provides added stability which reduces the risk of the cart falling over. The four wheels also enable for easy maneuvering when there are different weather conditions or tight corners to be turned around. An addition to the 4 wheel golf cart that some golf trolleys don't offer is the extra storage space found at the base of the cart, often in the form of mesh netting, as well as a beverage holder.
For consumers to be able to push the 4 wheel golf cart around with ease it's important that the materials used are lightweight as well as durable, with materials such as aluminum or carbon fiber being preferred by many golfers. Consumers will also be looking for golf trolleys that are easy to assemble so that they can start their round quickly. These manual golf trolleys are significantly more budget friendly than electric trolleys but they may not be suitable for golfers who aren't able to exert too much physical energy. 
In terms of search volume, between March and September 2023 "4 wheel golf cart" saw an increase in searches of 46%, at 320 and 590 searches respectively. Search results are relatively lower than other types of golf trolleys for "4 wheel golf cart" as it's a newer type of trolley that consumers are just starting to use more on the course.
Conclusion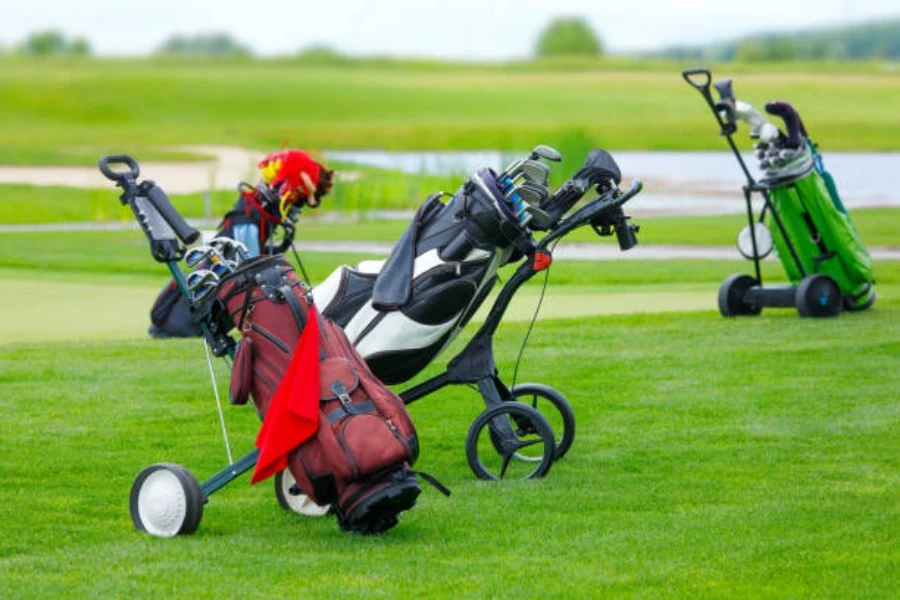 Golf trolleys were once a simple piece of golf equipment that allowed golfers to manually push their golf bags around the course, eliminating the need to carry them over their shoulders. As more consumers take up golf for recreational as well as competitive purposes golf trolleys that offer more convenience as well as easy maneuverability are in high demand. In the coming years the golf market is expecting golf trolleys to go further in terms of modern features, with additions such as Bluetooth and speaker systems set to become popular.
Google Ads reveals that overall, golf trolleys are most searched for in the lead up to the golfing season, as well as during the peak season. There is less demand for them during the winter months as not much golf is being played outdoors unless the consumer lives in a warmer climate.
Was this article helpful?