Men's tailoring is back in style. With the return of in-person events and office work, men are refreshing their wardrobes with new takes on classic tailored pieces. This article will explore the top 5 trends in men's tailoring for the spring/summer 2024 season, as seen on the runways and highlighted by industry experts. We'll look at key items like statement blazers, alt suits, and high-stance jackets to help you plan your tailored offerings.
Table of Contents
The colorful blazer
The resort-style blazer
The statement blazer
The alternative suit
The high-stance jacket
Conclusion
The colorful blazer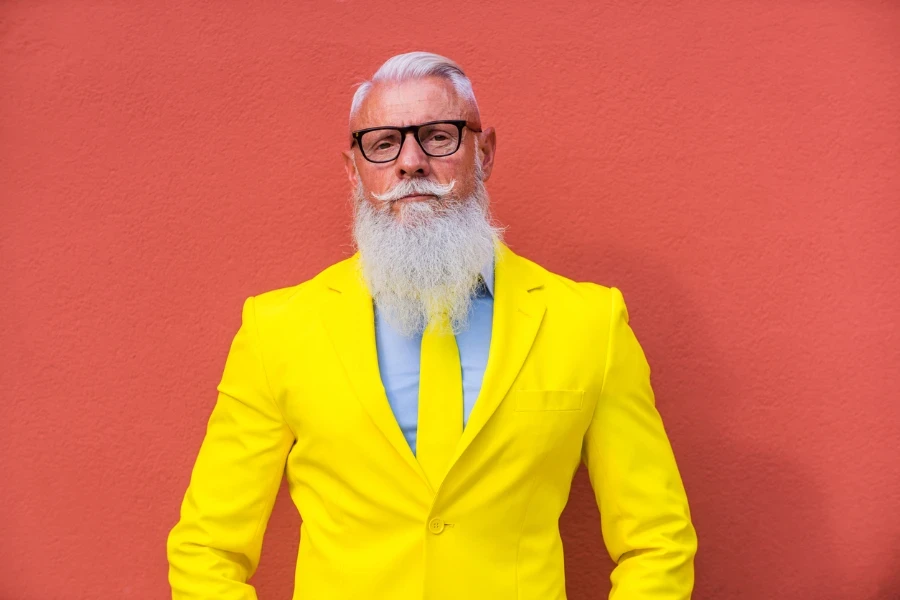 A colorfully styled blazer is predicted to be a key trend for spring/summer 2024. After years dominated by classic navy and black blazers, fashion is embracing bolder hues. Look for blazers in fashionable colors like emerald green, burnt orange, and lavender. What makes this trend wearable is its classic tailored styling – it's the color providing the interest, not wild silhouettes or patterns.
Focus on high-quality fabrics with texture and drape, like textured wools, linens, and lightweight cotton. Elevate the look with contrasting buttons or piping. Styling details to consider include a slightly cropped, higher stance cut and notched lapels. The colorful blazer allows men to incorporate fashion-forward pieces into their professional wardrobes. Pair it with neutral trousers or denim for an eye-catching look.
The resort-style blazer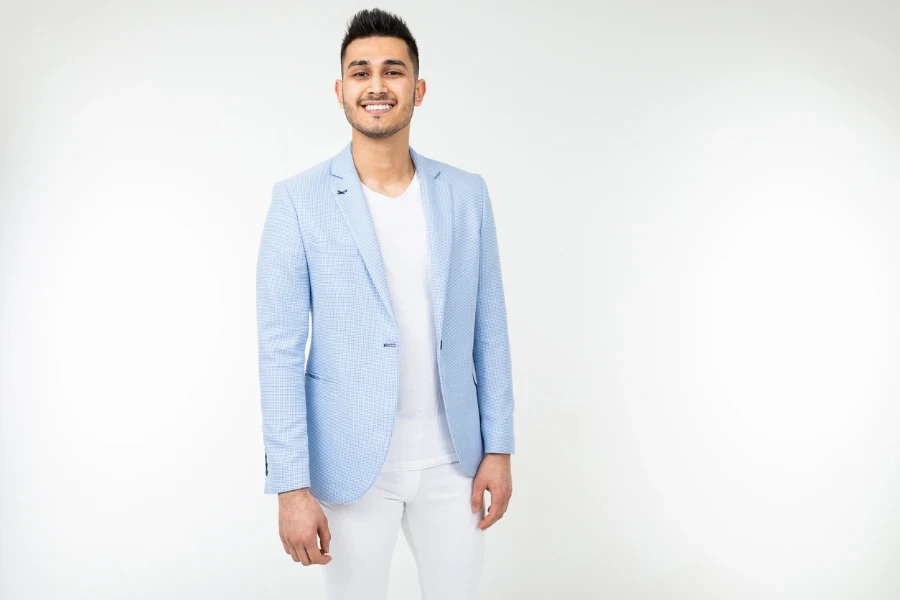 Resort-inspired lightweight blazers are expected to be popular for spring/summer 2024. These blazers have a relaxed, vacation vibe perfect for warm weather. Design details include an unlined interior, reduced shoulder padding, and metal or contrast buttons.
Classic navy is always stylish, but also consider lighter blue tones, soft greens, or sand colors. Style it dressed down with jeans or khakis for an elevated casual look. This is a great transitional blazer for the summer months when standard wool blazers are too hot. The breezy resort blazer can also be worn open over a T-shirt and shorts. Consider offering this style in sustainable fabrics like organic cotton, linen, or Tencel.
The statement blazer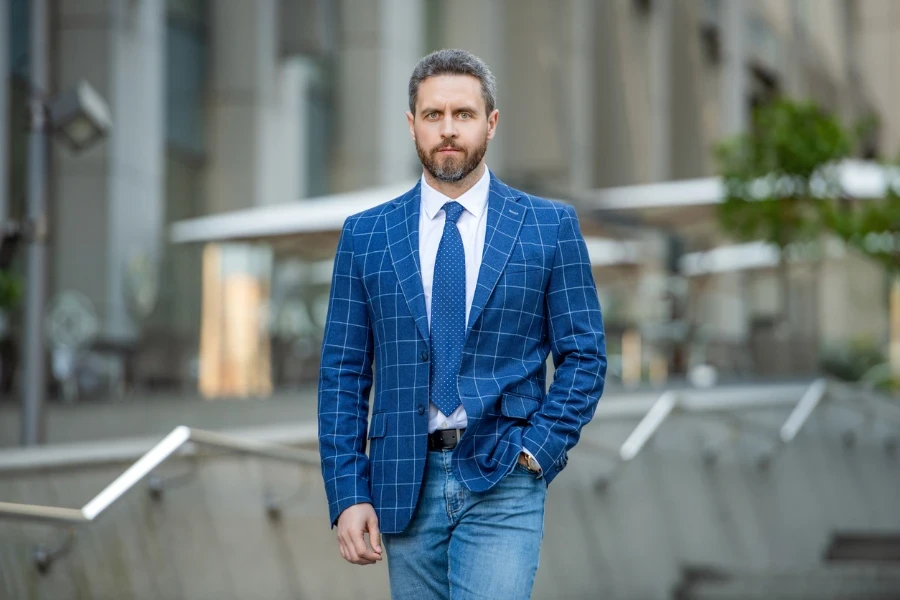 The statement blazer will make a splash in spring/summer 2024 men's tailoring. As tailoring returns to popularity, brands are experimenting with unique accents and bold styling to create eye-catching suit jackets. Look for details like contrast lapels, printed or textured fabric, cropped hemlines, and multiple closure buttons.
The statement blazer transforms a basic suit into a head-turning fashion piece. It's ideal for making tailored outfits pop for special events and social occasions. When sourcing a statement blazer, focus on high-quality material and construction – this investment piece should be built to last. Pair with simple trousers and a T-shirt to let the blazer shine.
The alternative suit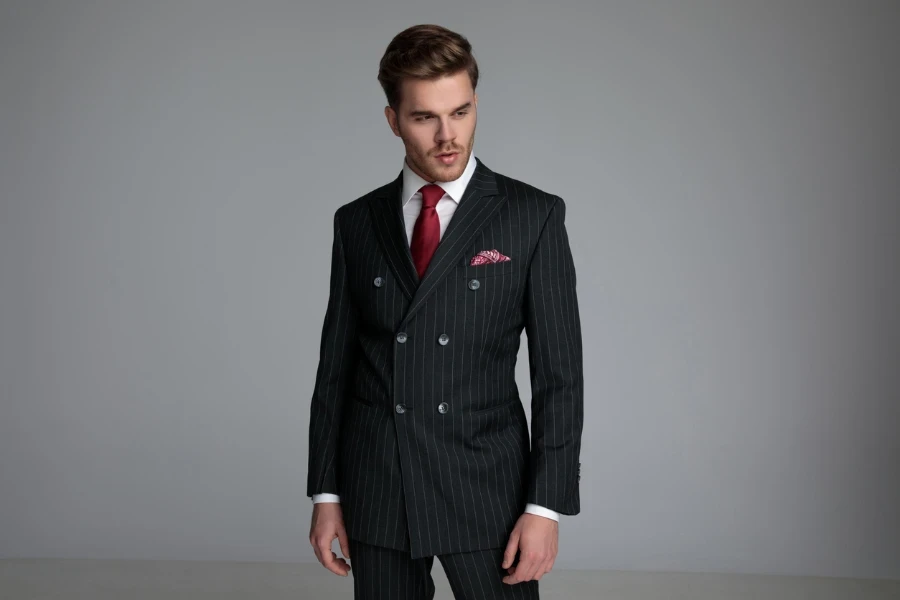 The alternative suit reimagines traditional suiting with contemporary styling cues for a modern look. As office and event dressing returns, men want tailored options beyond basic two-piece suits. The alt suit features classic pieces like a jacket and trousers but with updated details like minimal lining, workwear-inspired touches, and very little shoulder padding. The vibe is refined but relaxed.
Styling details to consider include patch pockets, topstitching, contrast buttons, and interesting jacket lapels. Make sure the fit is comfortable with natural shoulders and a soft drape. The alt suit allows men to seamlessly transition from professional meetings to casual cocktails.
The high-stance jacket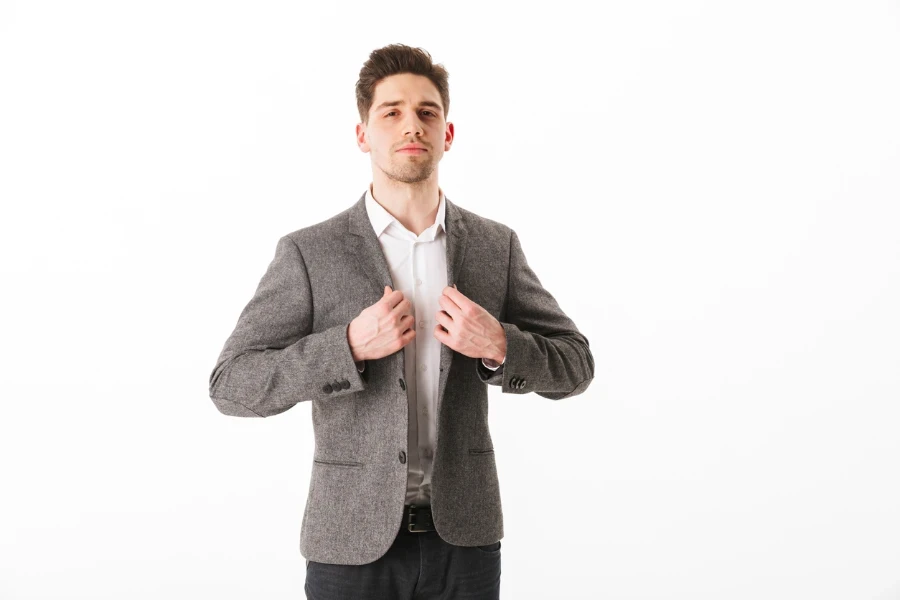 Expect to see high-stance tailored jackets as a key trend for S/S 2024. This style features a jacket closure raised several inches above the natural waist. It creates an elongated, slimming effect. The high stance is inspired by tailoring from the late 90s and early 2000s fashion.
Design details include notched lapels, a three or four-button closure, and welt or patch pockets. The styling has a retro feel while still looking sharp and contemporary. Pair this jacket with trousers at the natural waistline to emphasize the higher closure. The high-stance jacket injects freshness into classic suiting. It's ideal for men looking to experiment with silhouette while maintaining a tailored look.
Conclusion
Men's tailored clothing is moving in an exciting direction for S/S 2024. While staples like the navy blazer will always have a place, be sure to offer pieces with updated styling details, fashion colors, and lightweight fabrics perfect for warm weather. Tailoring that seamlessly transitions from professional to social settings allows men to get more use out of investment pieces. Consider circular design principles and sustainable materials to attract eco-conscious consumers.
Shoppers want tailored clothing that is built to last – both in terms of quality and enduring style. By covering all the seasonal trends from statement blazers to high-stance jackets, your brand can become a go-to destination for men looking to refresh their smart wardrobes.
Was this article helpful?